John McCain speaks out for first time since brain cancer diagnosis with light-hearted joke
Emily Shugerman
New York
Thursday 20 July 2017 16:44 Comments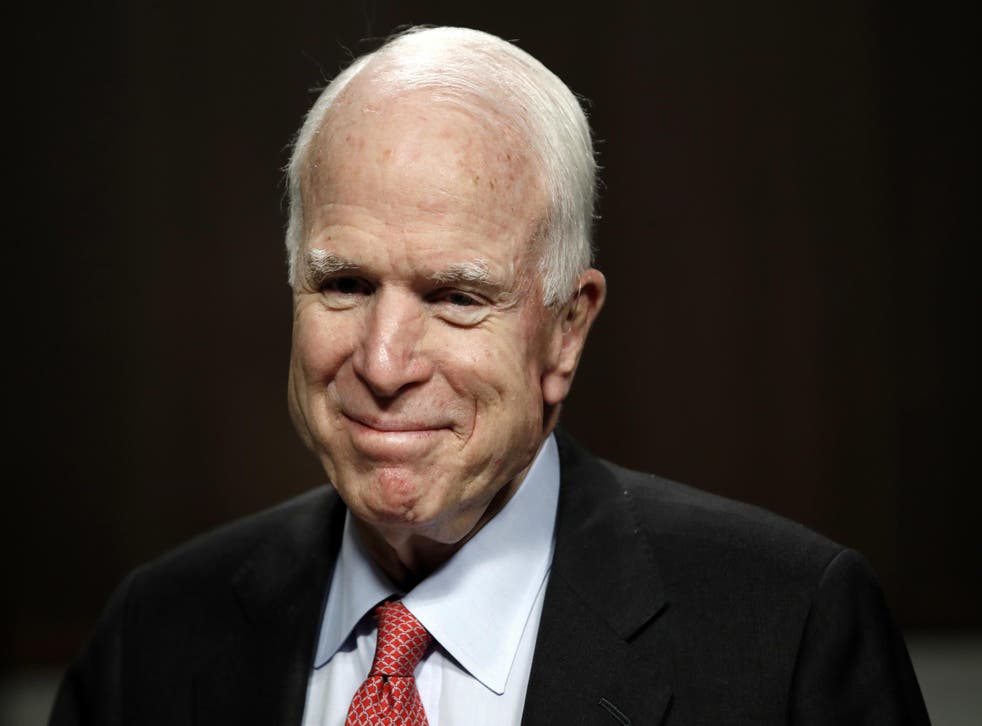 Senator John McCain has responded to the outpouring of good wishes he has received after it was announced he was suffering from brain cancer, saying "I'll be back soon, so stand-by!"
The Senator's office had announced the day before that he had been diagnosed with a glioblastoma, one of the most common but also one of the most malignant types of brain tumours.
The news was met with a flood of support for the feisty 80-year-old Senator, who has worked in public service since graduating the US Naval Academy in 1958.
Mr McCain thanked his well-wishers on Thursday, tweeting: "I greatly appreciate the outpouring of support - unfortunately for my sparring partners in Congress, I'll be back soon, so stand-by!"
The 30-year Senate veteran is known for taking a principled stance on issues, even if it means disagreeing with his party – and his president.
Shortly before his diagnosis was revealed, Mr McCain had issued a statement urging his fellow Republicans delay their long-awaited vote on Obamacare in order to receive feedback from citizens, governors, and members of both parties.
13 ways to help prevent cancer

Show all 13
The Senator has also been an outspoken critic of the President, first vowing not to vote for him over the Access Hollywood tapes, and later pushing for a thorough investigation of Mr Trump's ties to Russia.
The President in a statement on Wednesday called Mr McCain a "fighter".
"Melania and I send our thoughts and prayers to Senator McCain, Cindy, and their entire family," he said. "Get well soon."
Experts have said Mr McCain's tumour – which doctors discovered during a surgery to remove a blood clot over his left eye – is a particularly aggressive variety. Treatment will likely include surgery, radiation, and chemotherapy. Even with treatment, median survival for glioblastoma is 12 to 18 months.
In their statement, Mr McCain's office said the Senator is "confident that any future treatment will be effective".
Register for free to continue reading
Registration is a free and easy way to support our truly independent journalism
By registering, you will also enjoy limited access to Premium articles, exclusive newsletters, commenting, and virtual events with our leading journalists
Already have an account? sign in
Join our new commenting forum
Join thought-provoking conversations, follow other Independent readers and see their replies