Judge holds Trump in civil contempt, requires him to pay $10k a day he flouts subpoena
'Donald Trump does not believe he is above the law,' Trump's lawyer said.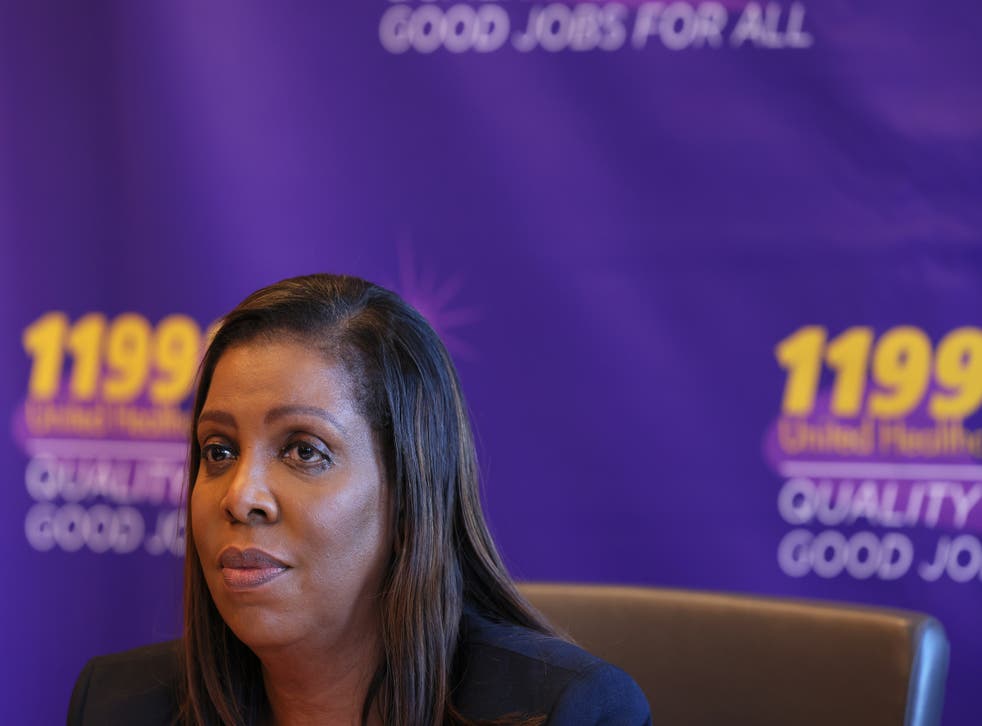 Leer en Español
A New York judge sided with the state's attorney general Letitia James's request that former president Donald Trump pay $10,000 for each day that he flouts a subpoena into a tax probe by her office.
Ms James's office filed a motion with the state Supreme Court earlier this month, saying the sum was "sufficient to coerce his compliance" with a court order put in place in February. This comes after Judge Arthur Engoron said in a ruling that the former president and his children Don Jr and Ivanka needed to testify in an investigation from the attorney general's office."
"Mr Trump, I know you take your business seriously and I take mine seriously. I hereby hold you in civil contempt and fine you $10,000 per day until you purge that contempt," Mr Engoron said on 25 April.
Ms James for her part, hailed the decision.
"Today, justice prevailed," she said in a statement. "For years, Donald Trump has tried to evade the law and stop our lawful investigation into him and his company's financial dealings. Today's ruling makes clear: No one is above the law."
Ms James's office is investigating whether the Trump Organization misstated the value of certain assets on financial statements, loan applications and tax submissions.
Later on Monday, Judge Engoron also ordered Cushman & Wakefield – a real estate firm that handled appraisals for several Trump properties, including the 40 Wall Street skyscraper in Manhattan and Trump National Golf Club in Los Angeles – to comply with subpoenas issued in connection with the case following the Ms James' request.
"For the second time today, a judge has made clear that no one is above the law," the attorney general said in a statement.
"Cushman & Wakefield's work for Donald J Trump and the Trump Organization is clearly relevant to our investigation, and we are pleased that has now been confirmed by the court," she said. "Our investigation will continue undeterred."
Mr Engoron, a judge for the Supreme Court for the 1st Judicial District of New York, questioned why it was taking so long. Assistant attorney general Kevin C Wallace said a big reason was the lack of cooperation from the Trump organisation and described the company as a "closely held, family company," according to Law & Crime.
Mr Wallace also stated that despite the case focusing on a high-profile individual, the probe never went out of line.
"We've tried to be as thorough and complete as possible," he said. "We've tried to be fair."
But Mr Trump's lawyer Alina Habba disputed that characterisation.
"It is truly a fishing expedition," she said and said that the Trump organisation is "right on schedule" with the probe.
"This is a political crusade," she said and responded to Mr Engoron's question of when it ends by saying, "We wonder the same thing."
Conversely, assistant attorney general Andrew Amer said that the president had his day in court to plead his case and lost. Since then, Mr Amer said that the office received no documents on 31 March and only "boilerplate" objections from Mr Trump.
"Our patience is at an end, and so should the court's," he said.
But Mr Engoron faulted the office for allowing him to not produce previously provided records.
"You gave him an inch and he took a mile," Mr Engoron said.
But Ms Habba said that Mr Trump did comply with the subpoena.
"Our documents were produced," she said. She also said that Mr Trump does not use text messages or emails, which creates an "appearance of non-compliance."
"Donald Trump does not believe he is above the law," she said.
Register for free to continue reading
Registration is a free and easy way to support our truly independent journalism
By registering, you will also enjoy limited access to Premium articles, exclusive newsletters, commenting, and virtual events with our leading journalists
Already have an account? sign in
Register for free to continue reading
Registration is a free and easy way to support our truly independent journalism
By registering, you will also enjoy limited access to Premium articles, exclusive newsletters, commenting, and virtual events with our leading journalists
Already have an account? sign in
Join our new commenting forum
Join thought-provoking conversations, follow other Independent readers and see their replies