Hope Hicks resigns: The Trump administration officials who have left since he took office
Departure of communications chief underscores Trump administration's unusually high rate of turnover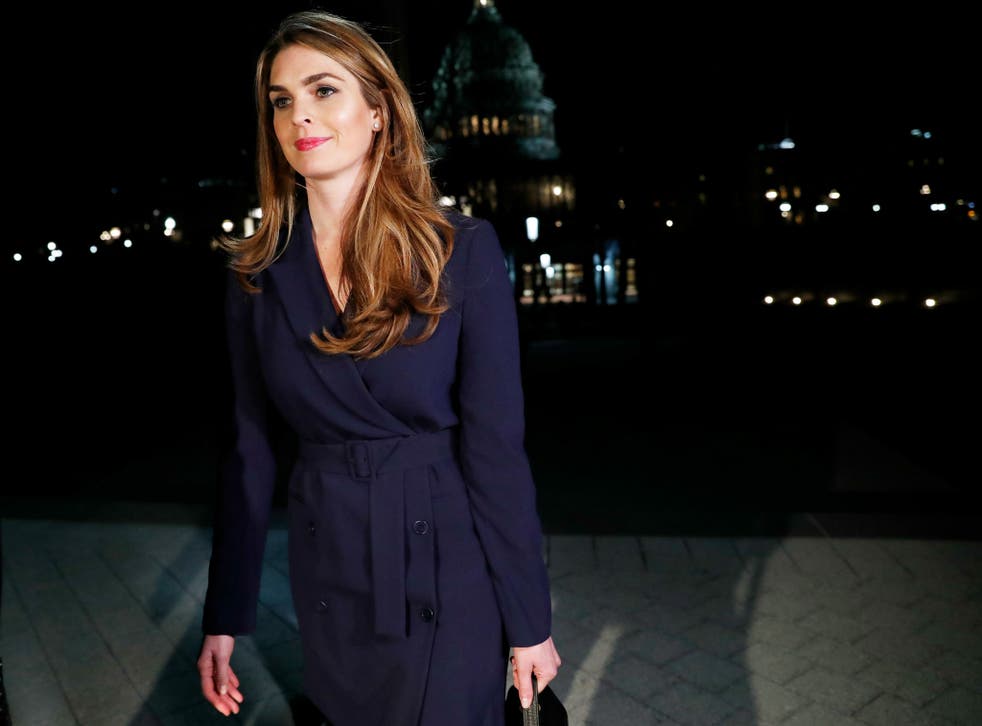 The exit of White House Communications Director Hope Hicks is only the latest departure for an administration that has churned through senior staff.
President Donald Trump has been in office for a little over a year, and in that time the makeup of his inner circle, and other areas of his administration, has changed dramatically.
Below is a list of the people who have left so far:
Hope Hicks
Before her decision to leave the administration, Ms Hicks had been Mr Trump's longest-serving aide, according to the White House. She signed on back when Mr Trump's candidacy was widely seen as a long shot.
Steve Bannon
A key architect of Mr Trump's presidential campaign, the former Breitbart news head cast himself as the guardian of Mr Trump's populist platform. While the White House cast Mr Bannon's August 2017 decision to leave the administration as amicable, the relationship between Mr Trump and Mr Bannon disintegrated upon publication of a book that quoted Mr Bannon disparaging the President's family.
World news in pictures

Show all 50
Reince Priebus
The President's decision to make this former Republican National Committee chair his chief of staff was seen as building a bridge to a Republican establishment that had largely rejected Mr Trump. But the President was said to chafe at Mr Priebus, who resigned in July of 2017.
Michael Flynn
Mr Trump's initial National Security Adviser lasted less than a month. Mr Flynn resigned after it emerged he had lied about his conversations with Russia's ambassador to the US. Mr Flynn later pleaded guilty to lying to the FBI about discussions with then-Ambassador Sergey Kislyak.
Rob Porter
Described as a stabilising influence in a chaotic White House, the former Staff Secretary resigned in early February after his ex-wives publicly alleged he had physically abused them. Mr Porter has denied their claims as false.
Sally Yates
The President dismissed Ms Yates from her post as acting Attorney General in January after she refused to defend his first ban on refugees and travellers from Muslim-majority countries.
Katie Walsh
After an early effort to repeal Barack Obama's healthcare law ended in defeat, Ms Walsh - then Mr Trump's deputy chief of staff and an ally of Mr Priebus - left the White House for a job with the pro-Trump outside organisation America First Policies.
Tom Price
The former Health and Human Services Secretary stepped aside in September of 2017 after reports revealed he had traveled using chartered flights that cost hundreds of thousands of dollars.
Brenda Fitzgerald
Running the Centers for Disease Control and Prevention (CDC) and investing heavily in the tobacco industry, whose products are a leading cause of preventable death, represented too great a conflict for Ms Fiztgerald to stay in the CDC job. She stepped down in January of 2018.
Anthony Scaramucci
Blink and you might have missed Mr Scaramucci's brief tenure. He was fired by Chief of Staff John Kelly in July of 2018, days after he launched into a profanity-laced tirade blasting other administration members during a phone call with a reporter.
Sean Spicer
The Trump administration's first Press Secretary resigned in July of 2017, about a week before the ouster of Mr Priebus, after objecting to the appointment of Mr Scaramucci.
Michael Dubke
Yet another former member of the Trump White House's communications team, Mr Dubke resigned from his post as communications director in May of 2017.
Michael Short
Mr Scaramucci appeared to preview the departure of Mr Short, a press aide, telling POLITICO in July of 2015 he planned to fire Mr Short in an effort to stem the flow of leaks. He resigned shortly thereafter.
James Comey
The decision to dismiss Mr Comey as FBI director in May of 2017 was one of the most consequential of Mr Trump's presidency. A little over a week after Mr Trump fired Mr Comey, citing his unhappiness with a investigation into Russian interference in the 2016 election, former FBI director Robert Mueller was appointed Special Counsel overseeing the probe.
Andrew McCabe
Mr Come was not the only FBI official who failed to survive Mr Trump's first term. Acting FBI director Andrew McCabe stepped down in January amid mounting criticism - including from the President - of how his agency was handling the Russia probe. He announced his retirement in late January of 2018.
Sebastian Gorka
A former deputy assistant to the President, Mr Gorka greeted his August 2017 ouster with a letter warning darkly of internal "forces that do not support the MAGA promise", a reference to Mr Trump's populist "Make America Great Again" campaign slogan.
Walter Shaub
Former White House ethics directors from prior administrations have not been shy about denouncing what they call the Trump administration's glaring conflicts of interest, even joining a lawsuit over the President's private business empire. After stepping down as White House ethics director in July of 2017, Mr Shaub has similar emerged as a vocal critic.
Omirosa Manigault Newman
After first establishing a connection to Mr Trump as a contestant on the Apprentice, Ms Newman landed a job as an aide in the White House. Official explanations for her departure have shifted: the White House said in December of 2017 she had resigned, then shifted in February of 2018 to "we let her go".
Derek Harvey
Tapped by Mr Flynn to serve on the National Security Council, Mr Harvey resigned in July of 2017.
Dina Powell
A deputy national security adviser who specialised in the Middle East, Ms Powell announced in December of 2017 she would be resigning in early 2018. Administration officials said it had always been her plan to depart after one year of service.
Join our new commenting forum
Join thought-provoking conversations, follow other Independent readers and see their replies