Mike Pence says victory in Afghanistan is 'closer than ever before' in surprise visit to the country
The Vice President addresses troops in a secret visit to the war-torn country
Emily Shugerman
New York
Friday 22 December 2017 16:51 Comments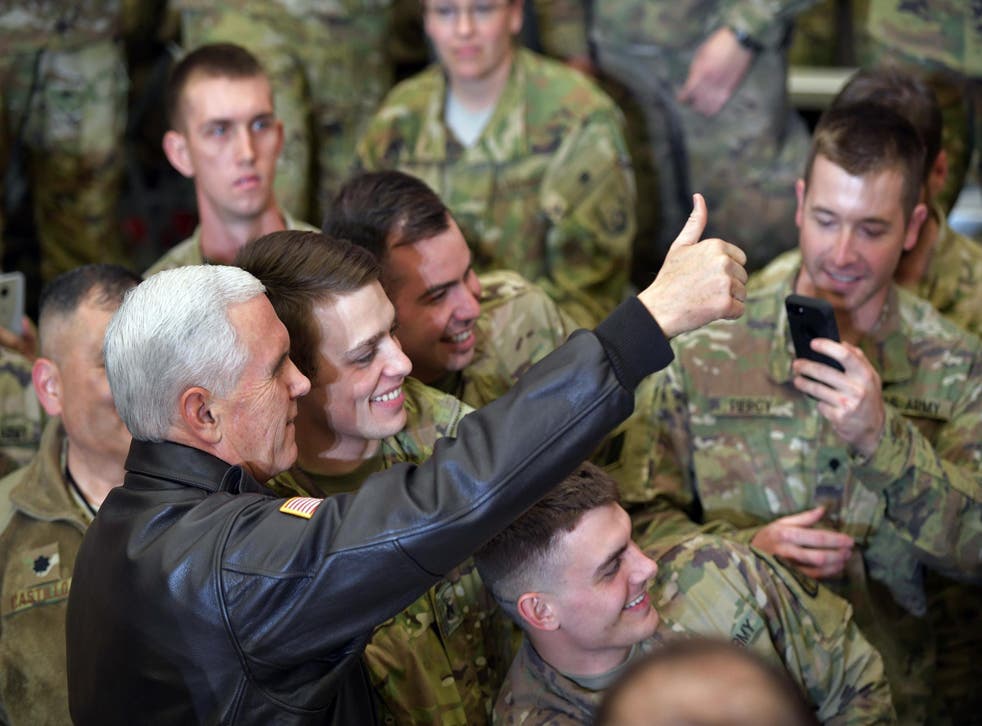 Vice President Mike Pence has claimed that victory in Afghanistan is "closer than ever before" in a surprise trip to the war-torn country.
Mr Pence met with Afghan leaders and addressed US troops in a brief visit intended to promote President Donald Trump's four-month-old military strategy for the country.
"The road before you is promising, but it's perilous. And this commander-in-chief is clear-eyed about the threats you face and the challenges that lie ahead," Mr Pence told troops at the US's Bagram military base. "But today, let me assure you: President Trump has your back."
Mr Pence also met with Afghan President Ashraf Ghani and Afghan Chief Executive Abdullah Abdullah in Kabul, assuring them that the US was "here to see this through".
The Vice President is the highest-ranking member of the Trump administration to visit Afghanistan to date. He planned the trip in secret and flew in on an unmarked C-17 transport plane to minimise security risks.
Afghanistan: Between Hope and Fear

Show all 16
When Defence Secretary James Mattis visited the country in September, the Taliban fired rockets at the airport where his plane was parked. Secretary of State Rex Tillerson visited in October, but remained in the military base and had Afghan leaders flown in from Kabul to meet him.
Still, Mr Pence assured the troops that Mr Trump's strategy to stabilise the region was working.
"We've dramatically increased American airstrikes," the Vice President said. "And together with our Afghan partners, we've put the Taliban on the defensive. We've prevented them from launching a major campaign against a provincial capital for the first time in three years."
President Trump Delivers Remarks Regarding Afghanistan
Mr Trump, who regularly criticised America's involvement in Afghanistan on the campaign trail, sent nearly 4,000 more troops to the country this autumn. He also plans to send hundreds more US Army trainers to the region next year, as part of what he calls a "fight to win" strategy.
US officials estimate the number of troops in the country could reach nearly 16,000 by early next year – almost double the number stationed there when former President Barack Obama left office.
Mr Trump outlined his strategy for ending the 16-year-old war in a policy address this August, saying he would focus on attacking US enemies, "obliterating" Isis and al-Qaeda, preventing Taliban advances, and stopping terrorist attacks against Americans. He also emphasised the importance of regional cooperation with nations like Pakistan and India.
Mr Pence singled out Pakistan in his address to troops on Thursday, accusing the country of providing a safe haven to Taliban insurgents.
"President Trump has put Pakistan on notice," Mr Pence said, from a stage decorated with a Christmas tree and an inflatable Santa Claus. "As the President said, so I say now: Pakistan has much to gain from partnering with the United States, and Pakistan has much to lose by continuing to harbour criminals and terrorists."
Pakistan's Foreign Office said on Friday that Mr Pence's comments were at odds with their previous conversations with the Trump administration.
"Allies do not put each other on notice," the Foreign Office added in a statement.
Register for free to continue reading
Registration is a free and easy way to support our truly independent journalism
By registering, you will also enjoy limited access to Premium articles, exclusive newsletters, commenting, and virtual events with our leading journalists
Already have an account? sign in
Join our new commenting forum
Join thought-provoking conversations, follow other Independent readers and see their replies