Nikki Haley warns US may pull out of UN Human Rights Council over 'anti-Israel bias'
The US envoy to the UN said the council is stacked with opponents to Israel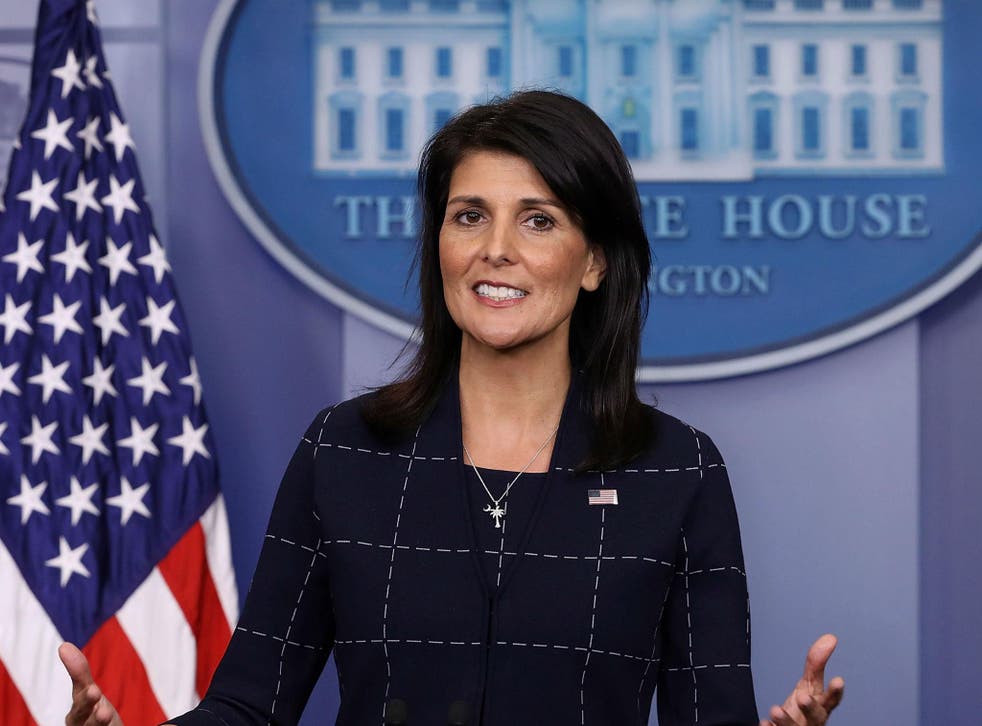 US ambassador to the United Nations Nikki Haley said the US is "reviewing its participation" in the Human Rights Council over what said is the group's "chronic anti-Israel bias".
The Geneva-based Council made up of 47 member countries is beginning a three-week session and Ms Haley said the US "sees some areas for significant strengthening" in the group.
The council's critical stance of Israel has long been a contentious issue for the US, Israel's main ally. Ms Haley has said in the past that Israel is the "only country permanently on the body's calendar".
The council's members have taken a strong position against Israel's continued occupation of territory seized in the 1967 Six-Day War, its treatment of Palestinians, and its building of Jewish settlements.
Most countries in the UN system and international bodies consider the settlements illegal since they are built in areas Palestinians consider part of an eventual independent state.
Ms Haley used Venezuela's alleged human rights violations as an example of anti-Israel bias. She noted the council pursued five resolutions against Israel in its March session but none against the government of President Nicolas Maduro.
"If Venezuela cannot [address human rights issues], it should voluntarily step down from its seat on the Human Rights Council until it can get its own house in order. Being a member of this council is a privilege, and no country who is a human rights violator should be allowed a seat at the table," she said.
Ms Haley is set to host a side event in Geneva specifically regarding the South American nation, where at least 65 people have died and hundreds have been injured in continued anti-government protests since the end of March.
Venezuela responded to Ms Haley's comment, saying the forum "needs to be free of politicisation and double standards".
The US ambassador also called on the council to vote on resolutions against Syria, Eritrea, Belarus, Ukraine and the Democratic Republic of Congo.
Some activists urged Washington to focus on abuses at home. "It's hard to take Ambassador Haley seriously on US support for human rights in light of Trump administration actions like the Muslim ban and immigration crackdowns," Jamil Dakwar, director of the human rights program at the American Civil Liberties Union (ACLU), told Reuters.
The US "must get its own house in order and make human rights at home a priority – then, it can begin to credibly demand the same of other countries abroad".
Despite remaining allies, former President Obama had an icy relationship with Israeli Prime Minister Benjamin Netanyahu.
In fact, in late December 2016 during the waning moments of the Obama administration, the UN Security Council passed a resolution condemning Israel's settlements in the West Bank and East Jerusalem. Then-UN ambassador Samantha Power chose not to veto the resolution as was normal procedure for the US.
Comparatively, Donald Trump and Mr Netanyahu seem to have a far friendlier relationship according to foreign policy experts. The Israeli leader recently hosted the US President during Mr Trump's first foreign trip.
Register for free to continue reading
Registration is a free and easy way to support our truly independent journalism
By registering, you will also enjoy limited access to Premium articles, exclusive newsletters, commenting, and virtual events with our leading journalists
Already have an account? sign in
Register for free to continue reading
Registration is a free and easy way to support our truly independent journalism
By registering, you will also enjoy limited access to Premium articles, exclusive newsletters, commenting, and virtual events with our leading journalists
Already have an account? sign in
Join our new commenting forum
Join thought-provoking conversations, follow other Independent readers and see their replies