North Korea: UN head tells Trump and Kim Jong-un 'We must not sleepwalk our way into nuclear war'
He spoke shortly before the US President made his first address to the body
Mythili Sampathkumar
United Nations
Tuesday 19 September 2017 14:14 Comments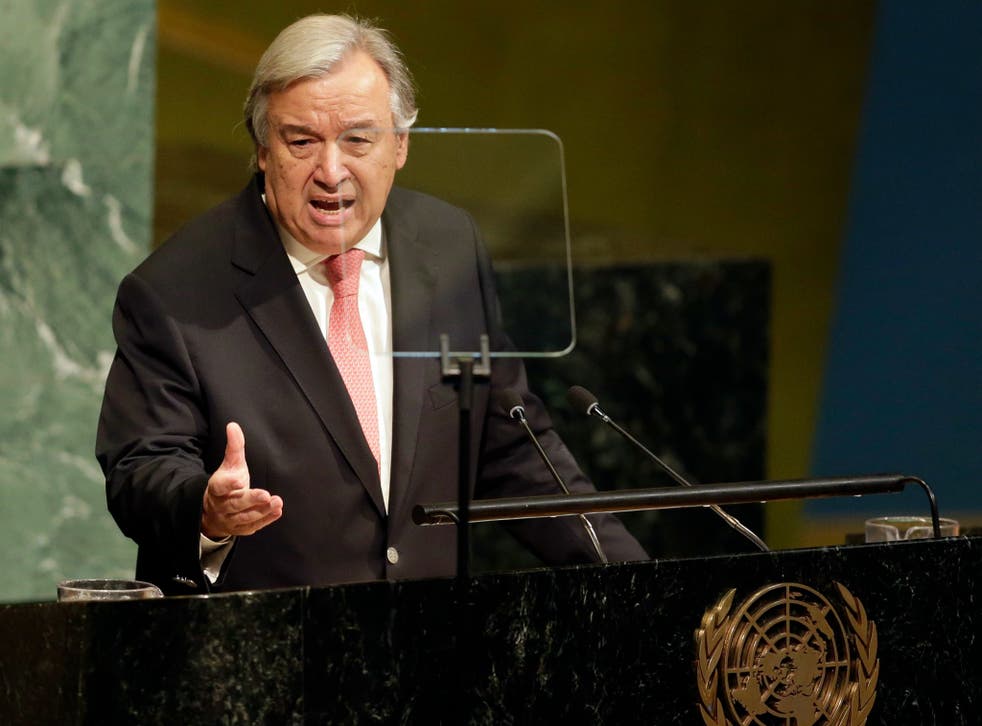 The head of the UN has issued a stark warning to Donald Trump and the leader of North Korea, saying: "We must not sleepwalk our way into nuclear war."
In the opening address to the 2017 UN General Assembly, Secretary General Antonio Guterres said that fiery talk could lead to "fatal misunderstandings". "This is the time for statesmanship," he added.
Speaking as tension between North Korea and the West continues to grow following Pyongyang's sharp escalation of its testing of intercontinental missiles and nuclear payloads and sabre-rattling from the US, Mr Guterres said "when tensions rise so does chance of miscalculation".
World news in pictures

Show all 50
Mr Guterres spoke shortly before Mr Trump was to give his inaugural address to the body he frequently disparaged while on the election campaign trail.
It is expected that Mr Trump will urge the United Nations member states on to increase the pressure on North Korea to give up its nuclear weapons.
Donald Trump urges reform in United Nations debut
Briefing journalists on the eve of his address, White House officials said Mr Trump would also target Iran's nuclear programme, single out Venezuela for criticism and refer to Islamist militants as "losers".
Reuters said in his speech, Mr Trump will also seek to lay out his "America First" vision for a US foreign policy that is aimed at downgrading global bureaucracies, basing alliances on shared interests, and steering Washington away from nation-building exercises abroad.
In his speech, he will seek to rally the world to help the United States and its Asian allies reduce North Korea to pariah status and pressure Iran to rein in everything from ballistic missile launches to interference in Syria.
In his speech, Mr Guterres made an appeal for unity. He said our world was increasingly integrated but that the "sense of global community is being disintegrated".
He added: "Mobility - I do not see it as a threat, though some do. We do not just face a refugee crisis, but one of solidarity."
Register for free to continue reading
Registration is a free and easy way to support our truly independent journalism
By registering, you will also enjoy limited access to Premium articles, exclusive newsletters, commenting, and virtual events with our leading journalists
Already have an account? sign in
Join our new commenting forum
Join thought-provoking conversations, follow other Independent readers and see their replies