Donald Trump's highest-profile tech backer Peter Thiel fears 'this whole thing ends in disaster'
Leading Silicon Valley backer said to be growing increasingly frustrated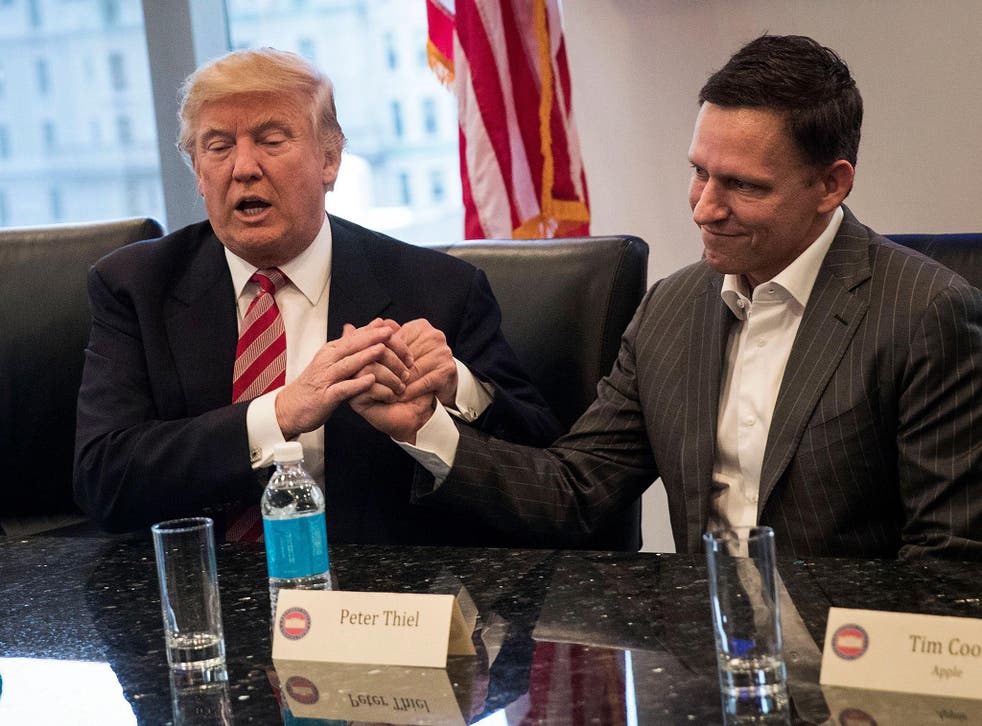 Silicon Valley's most high-profile backer of Donald Trump's presidential campaign has reportedly begun disparaging the President's erratic administration and even warning it may collapse in "disaster".
Even as many technology industry executives remained wary of Mr Trump's candidacy, PayPal founder Peter Thiel became a vocal supporter. Mr Thiel's vision of limited government aligns with a central plank of Republican orthodoxy, and his libertarian-minded aversion to foreign entanglements mirrors Mr Trump's isolationist stance. His backing of Mr Trump won him a speaking spot at the 2016 Republican National Convention in which Mr Trump officially secured his party's nomination.
"When Donald Trump asked us to make America great again, he's not suggesting a return to the past - he's running to lead us back to that bright future," Mr Thiel said of Mr Trump, whom he called the only candidate to be "honest" about the fact that "fake culture wars only distract us from our economic decline."
Trump speech concludes Republican Convention
But according to associates of Mr Thiel who spoke anonymously to BuzzFeed, the 49-year-old has soured on Mr Trump as his administration has churned through staffers, been engulfed by an investigation of potential ties between the campaign and Russia, and failed to register any significant legislative wins despite unified Republican control of Washington.
During his RNC speech, Mr Thiel said of presumptive Democratic nominee Hillary Clinton: "Her incompetence is in plain sight." Now he has begun using the word "incompetent" to refer to his chosen presidential candidate's administration, which he reportedly suggested had an even chance of unravelling.
"There is a 50 per cent chance this whole thing ends in disaster," BuzzFeed quotes Mr Thiel telling associates.
It offers the latest instance of Mr. Trump's ties to Silicon Valley fraying. After agreeing to advise the administration on economic issues, Tesla CEO Elon Musk stepped away in response to Mr Trump pulling the United States from the Paris climate accords. The tech industry, which relies on a steady flow of foreign labour, was generally lukewarm on Mr. Trump's latest immigration proposal.
President Donald Trump life in pictures

Show all 16
Join our new commenting forum
Join thought-provoking conversations, follow other Independent readers and see their replies