Presidential election: Who will win between Donald Trump and Hillary Clinton, and what are the odds?
Comparing the odds to the polling data can to show where the value is 
James Moore
Wednesday 26 October 2016 10:51 Comments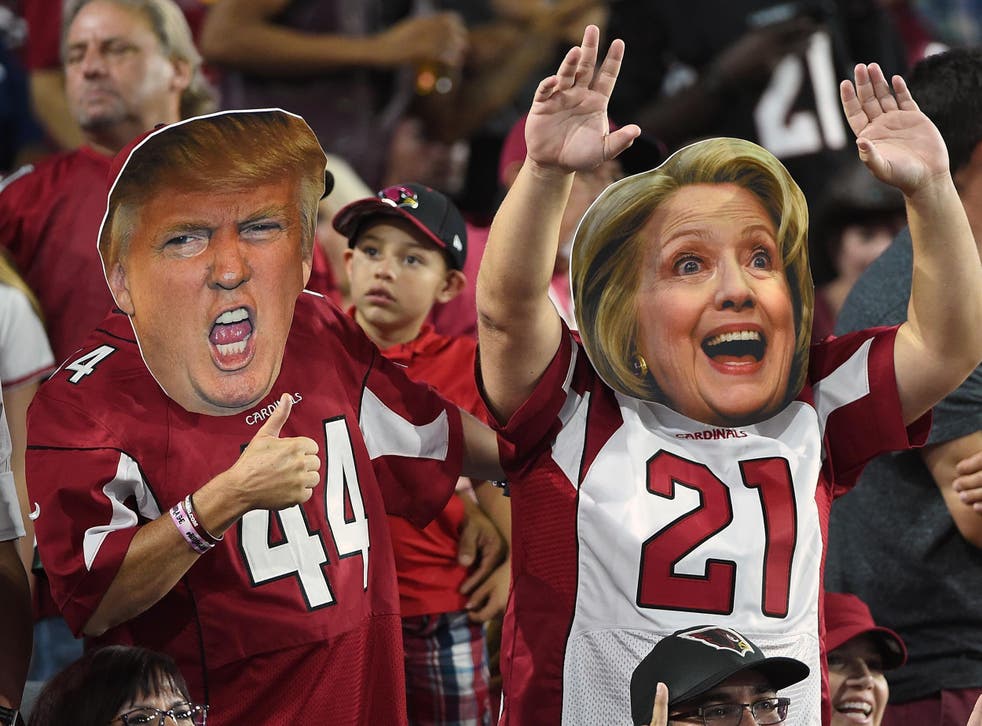 Betting on elections is one way to add a bit of spice to a results night, particularly if you get bored of an endless stream of commentators saying much the same thing on your TV screen/radio/website of choice.
The eccentricities of the US system make for an unusually wide range of markets, some of which are quite unique.
Without further ado here's a look at some of the best of them, with a few choice suggestions as to where to put your money.
Where possible I've used the forecasts made available online by the excellent FiveThirtyEight.com which uses polling and other data to produce a percentage chance for each candidate in each state, as well as a forecast for the overall result.
These have been compared to the percentage chances implied by the betting odds.
I looked to find any incidences where the bookies' prices are out of whack - the state of Utah is a particularly glaring example.
The betting odds are otherwise largely very similar to the odds implied by FiveThirtyEight, so your betting will have to be based more on your opinion as opposed to a more or less scientific analysis of where the value lies.
Where possible I've used oddschecker.com to find the best prices, which were correct at the time of writing.
Who will win, Clinton or Trump?
The obvious starting point, which I've put in even though, as a gambling medium, it wouldn't appear to be terribly exciting as things stand.
Hilary Clinton is the red hot favourite. Even Donald Trump's campaign manager Kellyanne Conway has admitted that "we are behind", not that it's stopped her candidate from tweeting outlier polls showing him ahead whenever they appear.
In the absence of Julian Assange getting back his internet access and disclosing some really incendiary information through his Wikileaks, the Presidency would appear to be Hilary Clinton's to lose.
She is a shade off being a 1-5 favourite with the bookies. Some might consider that an attractive price, and more of an investment than a gamble given her opponent's appetite for (self) destruction.
As I revealed in The Independent last week, the betting patterns on the US election have looked frighteningly to those seen in the run up to the EU referendum in the UK, with lots of small bets in for Trump. Oddschecker lists a Trump victory as the most popular bet on the site.
However, the leaders of the Brexit campaign were far more disciplined than Trump is, even though they blew many of the same dog whistles. And there was nothing like the revelations about Trump's attitudes towards women to muddy the waters of their campaign.
Interestingly Bwin's best price of 19-100 (nearly 1-5) on Clinton implies a chance of victory of just over 83 per cent while FiveThirtyEight puts her chances at 86.3 per cent based on polling. This suggests that Bwin is offering a modest value for money bet. But you're never going to get rich backing 1-5 chances and FiveThirtyEight's polls plus model, incorporating historical and economic data in addition to polling, is in more line (83.9 per cent chance of Clinton victory) with the betting odds.
Donald Trump's campaign admits for the first time that he is losing
The electoral college
Now this is where it gets interesting. Sporting Index has a spread of 325-335 electoral college votes for Clinton (it is the college that decides the winner not the popular vote), which would represent a landslide victory on a par with the one Barak Obama scored over Mitt Romney in 2012. He secured 332 votes.
How does that spread spread stack up against the exhaustive analysis that FiveThirtyEight conducts to produce its state by state forecasts?
If it has called all the states correctly using polling data, Clinton would win 354 votes in the college making buying the spread the clear choice. However, included in that tally are some toss ups such as Arizona, Nevada, Iowa, Ohio and North Carolina which between them account for 56 votes.
Clinton could lose that lot and still come up, erm, trumps with 298 college votes (she needs to secure 270). But buyers of the spread would be left nursing a nasty loss.
If Clinton takes North Carolina it gets us to 313, within sight of the spread. Arizona takes us to the edge of it and Ohio would all but seal the deal.
That's where things get just a little sticky. Ohio is a toss up, and the polls plus model calls Arizona for Trump.
Mind you, were Clinton to take one or two of the states called for Trump by FiveThirtyEight then your winnings on this market would be considerable. The Washington Post, for example, has moved even deep red Texas from a Trump certainty to "leaning Republican". Texas! Well, it does have a substantial Hispanic population. Those who feel spread betting is too rich for their blood might like to take the 2-1 on Clinton to get 330-359 electoral college votes with SkyBet. That looks a decent bet to these eyes.
Utah
There aren't that many interesting betting opportunities when it comes to individual states because there aren't that many states in play. One that shouldn't be in any normal election is Utah.
However, it is because, by contrast to evangelicals like Jerry Falwell who have been backing Trump despite the revelations about his personal conduct, many followers of the mormon faith aren't that pleased with what they have seen in him. There are a lot of mormons in Utah and turnout among them tends to be high.
Voting for Hilary Clinton is beyond the pale for most them, but Evan McMullen, a co-religionist and former CIA operative who is running as an independent, is polling strongly in the state as a handy none of the above candidate. Yet FiveThirtyEight still rates Trump's chances of winning in Utah at better than 77 per cent and better than 82 per cent using polls plus. That makes the best price 6-5 on Trump to take this state available with Coral (implying a chance of winning 45.5 per cent) look like real value.
What did Donald Trump say during the second presidential debate?

Show all 8
Ohio
FiveThirtyEight says Clinton has a better than 59 per cent change of winning this state but if there is one swing state that Trump might capture it's this one.
The polls plus model cuts Clinton's chances to 53 per cent (see above) and the best priced 13-8 on Trump with William Hill represents value given how close the polls say the race is in a part of America where Trump's message on jobs and trade has been resonating.
If you're thinking of buying the spread, it wouldn't be a bad idea to hedge your position by backing Trump to win Ohio with Hill's.
Specials
There are any number of these kicking about. My favourite is whether Trump will accept the election result or not. The 11-4 available on "no" looks like value to my eyes. The same bookie also offers 11-4 on Clinton's share of the popular vote coming in at between 47 and 49.99 per cent.
That also looks worthy of a wager based on FiveThirtyEight forecast for Clinton to take 49.5 per cent or 49 per cent using polls plus.
Register for free to continue reading
Registration is a free and easy way to support our truly independent journalism
By registering, you will also enjoy limited access to Premium articles, exclusive newsletters, commenting, and virtual events with our leading journalists
Already have an account? sign in
Join our new commenting forum
Join thought-provoking conversations, follow other Independent readers and see their replies