Blinken says Russian attack plans for Ukraine go beyond 'conventional' weapons
US Secretary of State's remarks raise the possibility that Russia's attack plans for Ukraine could include the use of nuclear, biological, or chemical weapons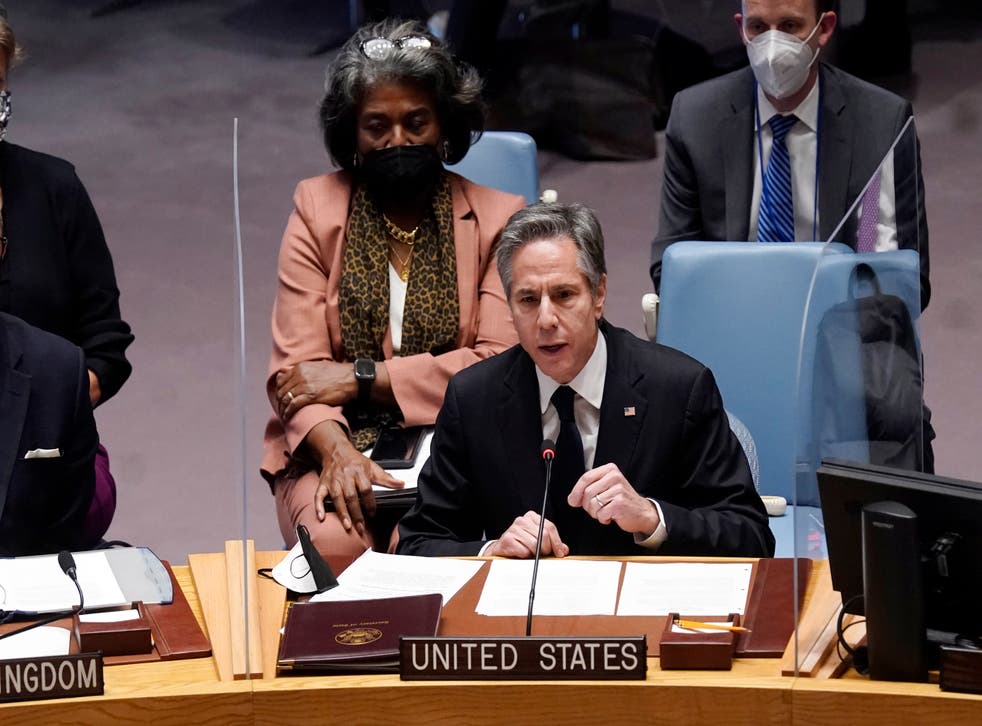 US Secretary of State Antony Blinken on Thursday said Russia's plans for an invasion of Ukraine go beyond the use of "conventional" weapons and urged Moscow to renew diplomatic efforts rather than launch what would be the largest land invasion in Europe since the end of the Second World War.
"Conventional attacks are not all that Russia plans to inflict upon the people of Ukraine," said Mr Blinken, who addressed an emergency meeting of the UN Security Council to discuss the ongoing crisis.
Live updates: Latest on Ukraine crisis
Mr Blinken's suggestion that Russian plans on inflicting attacks using other than "conventional" weapons raises the possibility that Moscow could choose to employ chemical, biological, or even nuclear weapons against Ukrainians.
Asked whether the Secretary of State's comments reflected an understanding that Russia could employ weapons of mass destruction against Ukraine, a State Department spokesperson told The Independent: "We have nothing to add to the Secretary's remarks".
One Russian ally, Belarusian leader Alexander Lukashenko, said on Thursday that his country could host nuclear weapons if threatened by tensions between Russia and the West. And while Russia is a signatory to international conventions banning the use of chemical weapons, another Russian ally — Syrian dictator Bashar al-Assad — has used chemical weapons in the long-running civil war in his country.
Mr Blinken also warned the security council that the over 150,000 troops Russia has amassed on its side of Ukraine's Eastern frontier, in Belarus, and in the Russian-occupied Ukrainian province of Crimea are "preparing to launch an attack against Ukraine in the coming days" and said Russian claims of a troop drawdown in the border region do not match what the US sees happening on the ground.
He said Russia will begin by implementing plans to "manufacture a pretext for its attack".
"This could be a violent event that Russia will blame on Ukraine, or an outrageous accusation that Russia will level against the Ukrainian government. We don't know exactly the form it will take," he said. "It could be a fabricated so-called terrorist bombing inside Russia, the invented discovery of a mass grave, a staged drone strike against civilians, or a fake — even a real attack —using chemical weapons".
The top US diplomat also warned that Russia might describe the false flag attack as "ethnic cleansing" or "genocide," a characterisation he said he did not "take lightly" as a descendant of Holocaust survivors.
Next, he said Russia would "theatrically" begin high-level "emergency meetings" on the manufactured crisis, to be followed by "proclamations" from Moscow declaring the necessity of a response "to defend Russian citizens or ethnic Russians in Ukraine".
Mr Blinken said those proclamations would begin with "Russian bombs and missiles" raining down on Ukrainian territory, along with cyberattacks and electronic warfare to shut down "key Ukrainian institutions" and jam communications.
"After that, Russian tanks and soldiers will advance on key targets that have already been identified and mapped out in detailed plans," he said, adding that the US believes Moscow intends to target Kiev.
The Secretary of State's comments came just hours after US President Joe Biden told reporters the risk of a Russian attack against Ukraine remains "very high," and followed Russia's expulsion of Bartle Gorman, the deputy chief of the US mission in Moscow.
Mr Blinken also said he had sent a letter to Russian foreign minister Sergei Lavrov proposing a meeting between the two top diplomats next week in Europe to "discuss the steps that we can take to resolve this crisis without conflict ".
"As lead diplomats for our nations, we have a responsibility to make every effort for diplomacy to succeed, to leave no diplomatic stone unturned," he said, adding that the US and its allies are "presenting every opportunity for" Moscow to demonstrate a commitment to diplomacy.
And while he predicted that the Russian response to his remarks would be "more dismissals" or complaints about the US "stoking hysteria" or declarations that Russia has "no plans" to invade, Mr Blinken said Russia's government can still announce "with no qualifications, equivocation or deflection" that it will not invade Ukraine.
"It can be clearly stated plainly to the world, and then demonstrated, by sending your troops, your tanks, your planes, back to their bases and hangers, and sending your diplomats to the negotiating table," he said.
"In the coming days, the world will remember that commitment — or the refusal to make it".
Register for free to continue reading
Registration is a free and easy way to support our truly independent journalism
By registering, you will also enjoy limited access to Premium articles, exclusive newsletters, commenting, and virtual events with our leading journalists
Already have an account? sign in
Register for free to continue reading
Registration is a free and easy way to support our truly independent journalism
By registering, you will also enjoy limited access to Premium articles, exclusive newsletters, commenting, and virtual events with our leading journalists
Already have an account? sign in
Join our new commenting forum
Join thought-provoking conversations, follow other Independent readers and see their replies