Steve Bannon to be questioned by House's Trump-Russia investigation
The President has had a major falling out with his former ally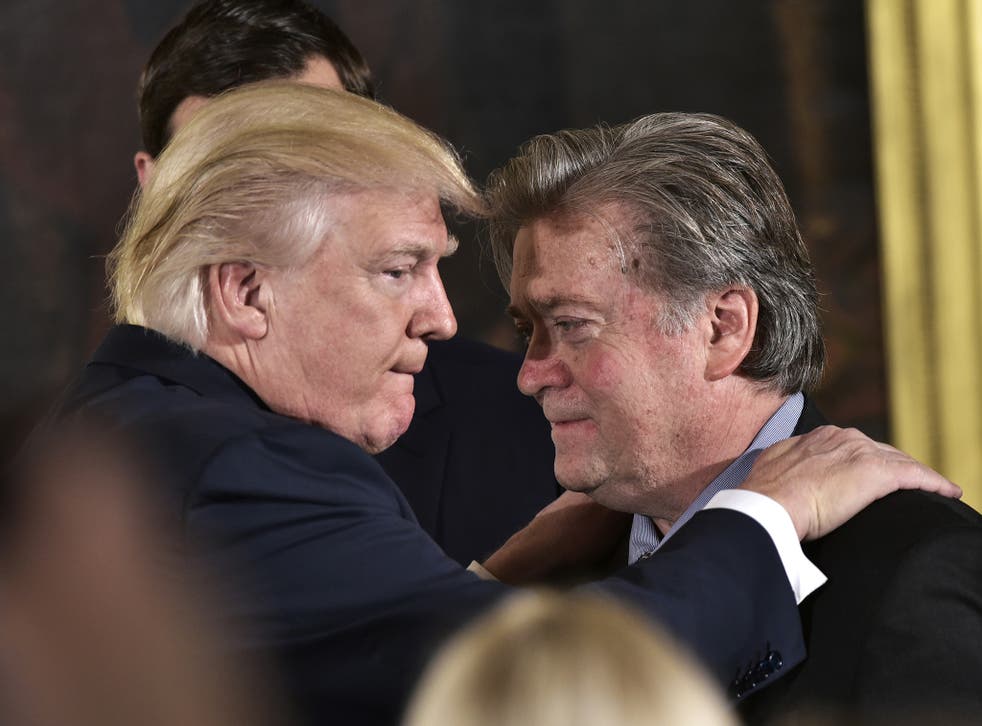 Donald Trump's former top strategist is to appear before congressional investigators probing possible collusion between the Trump campaign and Russia's alleged meddling in the election.
Steve Bannon, who was fired by Mr Trump last summer after spending the first six months of the administration as one of the most powerful people in the White House, is to be questioned on Tuesday by members of the House Intelligence Committee. Reports suggest the committee members will focus on the months Mr Bannon spent on Mr Trump's campaign.
Mr Bannon, 64, joined Mr Trump's campaign in August 2016 at a time when it was facing many problems and when few believed the former reality television star could overcome the challenge of Democrat Hillary Clinton. As it was, Mr Bannon was credited with urging Mr Trump to maintain his aggressive, unapologetic and populist stance, seeking to tap into frustration and anger among many working class Americans. When Mr Trump won, Mr Bannon was rewarded with an office in the White House and a senior job.
But in recent weeks Mr Bannon has fallen out badly with Mr Trump. The former strategist was a source for many of the claims contained in Michael Wolff's controversial and incendiary book, Fire and Fury: Inside the Trump White House.
He claimed that a meeting Mr Trump's eldest son had with a Kremlin-linked Russian lawyer was "treasonous" and that the President was lacking a "brain trust". He claimed that Mr Trump's daughter, Ivanka Trump, was "dumb as a brick".
Mr Trump was said to be furious about the publication of the book and the apparent betrayal it contained.
Steve Bannon: There's a 'special place in hell' for Republicans who don't vote for Roy Moore
His lawyers sought to halt its publican and the President attacked Mr Bannon, saying he had lost his mind after leaving the White House and that his only skill was leaking stories to the media that made him look good.
Mr Bannon subsequently apologised and said his comments were not directed as Mr Trump's eldest son, but rather former campaign manager Paul Manafort. Mr Manafort is one of four former Trump associates who have been indicted by the separate investigation being carried out by Special Prosecutor Robert Mueller.
World news in pictures

Show all 50
Yet the row has cost Mr Bannon dearly. His chief patron, Rebekah Mercer, whose farther is a major Republican donor and shareholder in Breitbart News announced her support for Mr Trump. Earlier this week, it was announced that Mr Bannon was leaving the influential conservative website.
"I'm proud of what the Breitbart team has accomplished in so short a period of time in building out a world-class platform," Mr Bannon was quoted as saying in the announcement.
Earlier on Thursday, the Daily Beast said Mr Bannon had retained lawyer Bill Burck, of the firm Quinn Emanuel, to help him prepare for the hearing of the committee, which is chaired by Republican Devin Nunes. It said Mr Bannon plans to "fully cooperate" with investigators.
Mr Manafort and his deputy Rick Gates have pleaded not guilty to a total of 12 charges, including money laundering. Meanwhile, Mr Trump's former national security adviser Michael Flynn, and former foreign policy adviser, George Papadopoulos, have pleaded guilty of charges of lying to the FBI and are cooperating with Mr Mueller's probe.
Join our new commenting forum
Join thought-provoking conversations, follow other Independent readers and see their replies