Trump attacks Republican leaders Paul Ryan and Mitch McConnell over debt ceiling 'mess'
If Congress fails to raise the debt ceiling, the government could default on its debt
Alexandra Wilts
Washington DC
Thursday 24 August 2017 16:59 Comments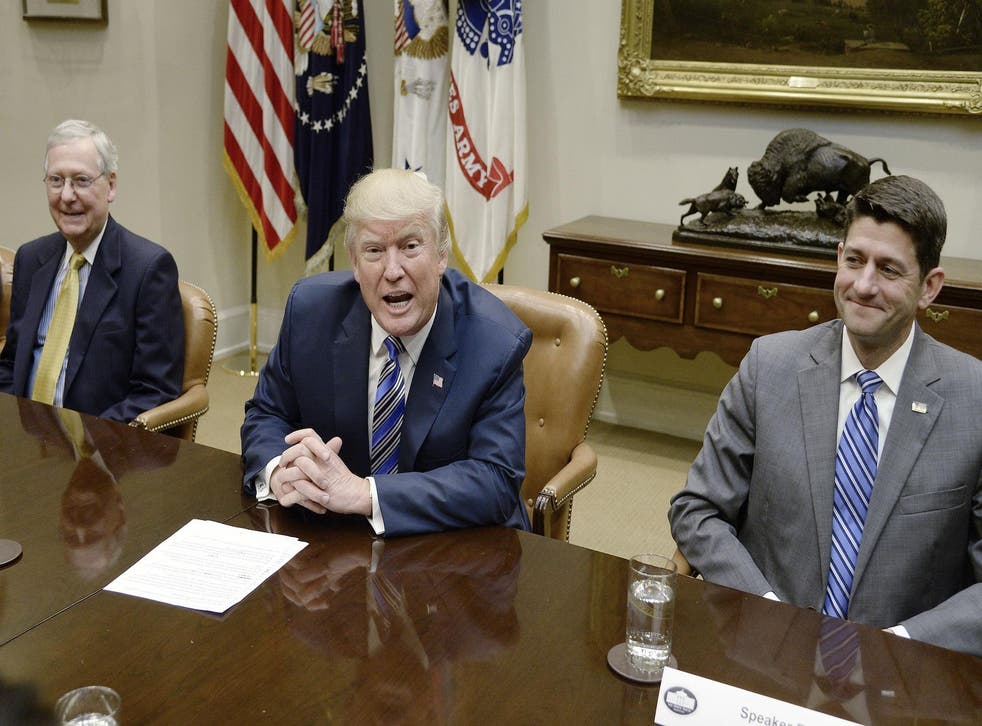 Donald Trump has once again harshly criticised Republican leaders that he needs to advance his policy agenda – this time over how to raise the amount of money the government can borrow to pay its debts.
Further displaying party disunity, Mr Trump on Twitter expressed frustration with Senator Majority Leader Mitch McConnell and House of Representatives Speaker Paul Ryan, saying they did not heed his advice to attach legislation increasing the US's debt ceiling to a measure on veterans affairs.
"I requested that Mitch M & Paul R tie the Debt Ceiling legislation into the popular V.A. Bill (which just passed) for easy approval," Mr Trump wrote in a Twitter post.
"They ... didn't do it so now we have a big deal with Dems holding them up (as usual) on Debt Ceiling approval. Could have been so easy-now a mess!" he added.
The Veterans Affairs bill – which is intended to expedite the appeals process for veterans who were denied disability benefits – passed the House and Senate with bipartisan support earlier this summer. Any Republican attempt to raise the nation's debt ceiling will also need the support of Democrats.
Seven months into his presidency, Mr Trump seems to be trying to run the government the way we ran his multi-billion dollar company, observers suggest, despite the vastly different organisations and incentives of employees.
The President's management style, which has involved him publicly threatening members of Congress on Twitter, could become a real issue if reported rifts worsen between Republican leaders and the former real estate tycoon. Poor relations could undercut attempts to cut taxes, pass a budget and rebuild infrastructure. Some on Capitol Hill are already said to be concerned about Mr Trump's brinkmanship; he has threatened a government shutdown if Congress does not provide funding for his oft-promised border wall, even though a shutdown could be a disaster for Republicans.
"I don't think a government shutdown is necessary and I don't think most people want to see a government shutdown, ourselves included," Mr Ryan said on Wednesday.
The Treasury Department has said the $19.9 trillion cap on the amount the federal government may borrow to pay its debts must be raised by 29 September. If Congress fails to increase this amount, the government could default on its debt, and many economists have warned that economic growth could slow down significantly as a result.
Federal debt is the amount of money the government currently owes for spending on payments such as Social Security, Medicare benefits, military salaries, interest on the national debt and tax refunds.
"With the White House, House and Senate under one party control, the American people expect and deserve a plan from Republicans to avert a catastrophic default and ensure the full faith and credit of the United States," said Nancy Pelosi, the top Democrat in the House.
Iran's 'Trumpism' contest

Show all 10
"With so much at risk for hard-working families, Republicans need to stop the chaos and sort themselves out in a hurry," she added.
Raising the debt ceiling is one of the must-pass measures Congress will take up when it returns from recess on 5 September.
Congress will have about 12 working days from its return to approve spending measures to keep the government open. While the budget and debt cap are separate, they are likely to become entangled.
Mr Trump's Treasury Secretary Steve Mnuchin has been pushing for a "clean" raise to the debt ceiling, meaning one that is not attached to spending cuts or any other bills. But conservative Republicans – who don't want to increase the US's borrowing limit without also cutting federal spending in the process - have been emboldened by weeks without complete clarity from the White House.
Democrats are likely to oppose any proposed deep cuts to federal spending.
Mr McConnell and Mr Ryan have repeatedly said the debt ceiling would be raised without issue.
Speaking at an event with Boeing employees in suburban Seattle on Thursday, Mr Ryan insisted Congress would "pass legislation to make sure that we pay our debts." He added, "I'm not worried that's not going to get done because it's going to get done."
Mr Ryan also said he and Mr Trump are in "constant contact" to work on a policy agenda, adding "for me it's really important the president succeeds, because if he succeeds then the country succeeds."
Later, in an interview with CNBC, Mr Ryan said he did not view Mr Trump's tweets as "going after me." He also said the idea of tying debt ceiling legislation to the veterans bill had been considered, but that they still have more options.
Mr McConnell said earlier in the week that "there is zero chance – no chance – we won't raise the debt ceiling."
Mr McConnell and Mr Trump are reported to be in a "political cold war", according to the New York Times, and have apparently not spoken to each other in weeks. Relations between the pair appeared to frost after Mr McConnell failed to secure enough Republican votes for a bill that would have overhauled the Affordable Care Act, otherwise known as Obamacare.
"The only problem I have with Mitch McConnell is that, after hearing Repeal & Replace for 7 years, he failed! That should NEVER have happened!" Mr Trump also tweeted on Thursday.
During an event in Kentucky on Thursday following Mr Trump's morning tweets, Mr McConnell did not address the reported rift between the President and congressional Republicans. Instead, he spent a portion of time criticising the previous administration of former President Barack Obama.
"This new administration in Washington and this Congress is interested in getting America growing again," Mr McConnell said.
The majority leader, in a statement released on Wednesday, had attempted to tamp down reports that his relationship with Mr Trump has soured.
"The President and I, and our teams, have been and continue to be in regular contact about our shared goals," he said. "We have a lot of work ahead of us, and we are committed to advancing our shared agenda together and anyone who suggests otherwise is clearly not part of the conversation."
However, at the event in Kentucky, Mr McConnell joked that running the Senate was "a little bit like being the groundskeeper at a cemetery. Everybody's under you, but nobody's listening."
On Thursday afternoon, White House Press Secretary Sarah Huckabee Sanders said she thinks the relationships between Mr Trump and Republican leaders on Capitol Hill "are fine."
"Certainly there are going to be some policy differences," Ms Sanders said during a White House briefing. "But there are also a lot of shared goals and that's what we're focused on."
She added: "We're disappointed that Obamacare, they failed to get it repealed and replaced, but at the same time, President Trump has worked with leader McConnell to reach out to other members and to work on those shared goals and we're going continue to do that when the senate comes back from recess."
It is clear that there may be some tough negotiations ahead. Republican Senator Lindsey Graham said raising the debt ceiling and securing the US border was a "good combination" and suggested Republicans force Democrats into difficult votes over the borrowing limit.
"Let's put them in a box when it comes to the debt ceiling. The president is not crazy to attack the Congress. He's not crazy to think of ways to put Democrats in a bad spot regarding the debt ceiling. They do this all the time to us," Mr Graham said.
Register for free to continue reading
Registration is a free and easy way to support our truly independent journalism
By registering, you will also enjoy limited access to Premium articles, exclusive newsletters, commenting, and virtual events with our leading journalists
Already have an account? sign in
Join our new commenting forum
Join thought-provoking conversations, follow other Independent readers and see their replies