Trump blames Democrats for immigration impasse: 'All they do is resist'
Mr Trump says he'll provide protections for Dreamers in exchange for funding to build his long-promised border wall 
Alexandra Wilts
Washington DC
Friday 02 February 2018 05:33 Comments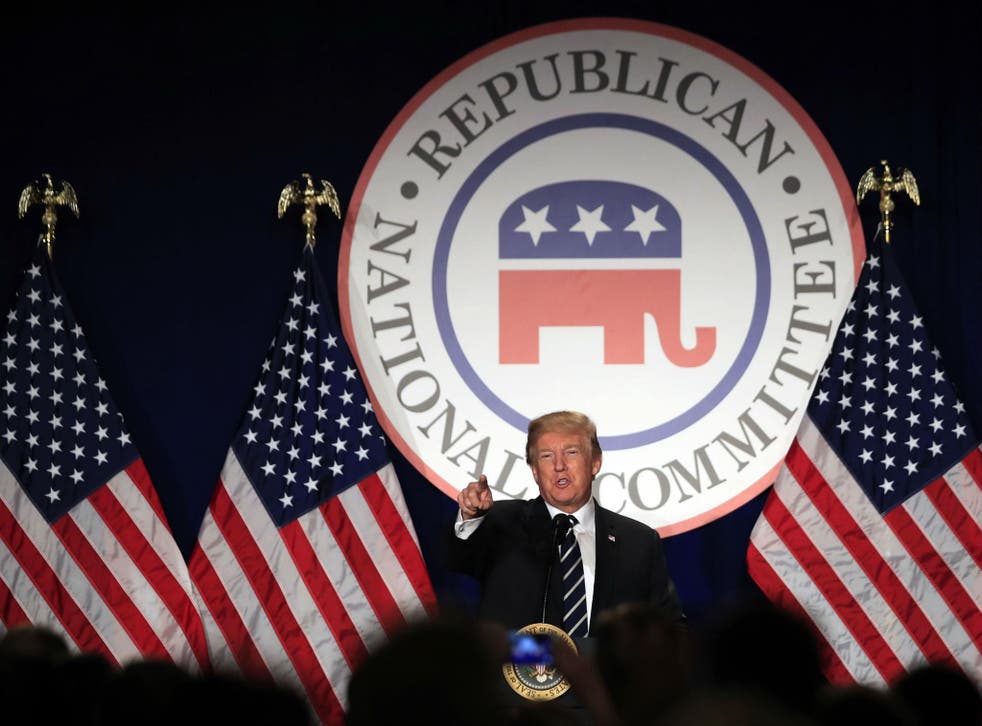 President Donald Trump has again blamed Democrats for the deadlock on immigration legislation, a quick departure from the conciliatory tone he had aimed for during his State of the Union address earlier this week.
"You know, the name is resist. That's the name of their movement," Mr Trump said at the Republican National Committee's winter meeting. "'Resist.' That's all they do is resist. I don't know if they're good at it, they can't be too good at it because we're passing a lot of things."
Mr Trump has had one major legislative accomplishment since becoming President last January: the passage of $1.5 trillion tax package in December.
"I wouldn't say their resistance is extremely successful," Mr Trump added at the RNC winter meeting.
The President also said Democrats have been absent from the immigration negotiating table.
"You know, the Democrats are AWOL. They're missing in action," the president said. "We're saying, 'where are they? We have a proposal, we never hear from them.'"
"Because I don't think they want to solve the DACA problem," Mr Trump added, referring to the Deferred Action for Childhood Arrivals programme that expires in March. The programme gives deportation reprieves to hundreds of thousands of immigrants brought to the US illegally as children – so-called Dreamers.
Donald Trump's first year: in pictures

Show all 29
Last Friday, Mr Trump released his immigration proposal that would provide a legislative solution for DACA. But the framework has already drawn strong opposition from Democrats because of what the President wants in return.
Mr Trump said he would grant about 1.8m Dreamers legal status, including a path to citizenship – in exchange for increased enforcement, the construction of his long-promised border wall, and a restructuring of legal immigration channels that moves away from reuniting families and gives priority to higher-skilled immigrants.
Earlier on Thursday, Mr Trump also spoke at the Republicans' retreat in West Virginia, working to rally members of his party behind his agenda.
"The Republican Party certainly hasn't quit," Mr Trump said. "If we did, we wouldn't be here today, we would be sitting home saying, boy, that was a tough year. Instead, that was one of the greatest years in the history of politics."
Mr Trump again took the time to bash Democrats.
"They'd rather see us not do well than see our country do well. And that's not good. That's not good. They need to change," Mr Trump said.
Register for free to continue reading
Registration is a free and easy way to support our truly independent journalism
By registering, you will also enjoy limited access to Premium articles, exclusive newsletters, commenting, and virtual events with our leading journalists
Already have an account? sign in
Join our new commenting forum
Join thought-provoking conversations, follow other Independent readers and see their replies