Billionaire behind $20 million Trump impeachment campaign calls President an 'urgent threat'
Tom Steyer now has billboards in Times Square urging people to sign petition calling for impeachment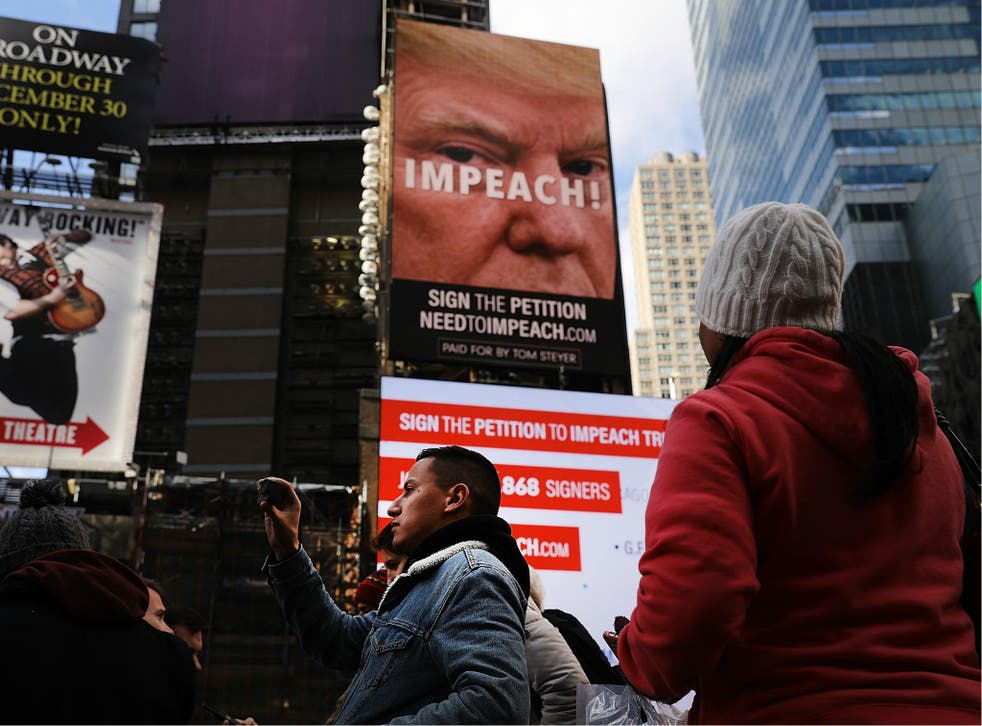 Billionaire Tom Steyer has defended his campaign $20m campaign to impeach President Donald Trump, saying he is an "urgent threat to the American people".
Mr Steyer, a former hedge fund manager and longtime Democratic contributor, said on CNN that he felt he had no option to sit and "do nothing", having paid for a number of television advertisements and billboards in Times Square..
He said the President has "performed in a lawless" manner throughout his campaign and time in office, referring to the ongoing FBI and Congressional investigations into possible collusion between Mr Trump's campaign team and Russian officials during the 2016 election.
"The fact of the matter is this President has performed in a lawless way throughout the campaign and throughout his presidency and he is an urgent threat to the American people," Mr Steyer said on CNN's State of the Union. "So to sit here and wait doing absolutely nothing is the wrong thing to do. The American people want this man impeached."
He added that he does not feel he is feeding into the narrative put out by Mr Trump, who has labelled the investigations a "witch hunt".
Mr Steyer noted that his repeated call for impeachment does not necessarily mean Mr Trump will immediately leave office.
Impeachment "is actually a process," he noted, adding that it just means that the "House puts him up for a trial with the Senate…[which] goes through all the evidence in front of the American public."
Mr Steyer, worth an estimated $1.6bn, contributed more than $91m on Democratic candidates in 2016.
House Democrats start impeachment proceedings against Donald Trump
He has spent at least $20m on his "Need to Impeach" campaign, including prominent billboards in one of the busiest intersections in the world: New York's Times Square.
The billboards show the count of signature's Mr Steyer's impeachment petition has gotten - up to 2.5m at this point. It features the phrase "Impeach!" over a picture of the president.
The electronic billboard ads appear in various places throughout the area for 10 minutes every hour and will run through to 1 January 2018, including during television coverage of the famous New Year's Eve ball drop.
World news in pictures

Show all 50
In accompanying television spots, Mr Steyer said: "It's up to all of us to stand up to this president, not just for impeachable offenses, but also to demand a country where everyone has a real chance to succeed."
The intended audience of the billboards may not be actual New Yorkers, who did not vote for former resident Mr Trump and have not given him a warm reception when he has returned for visits.
Of 356,000 people who walked through the square on average each day in October were Americans not living in New York City. Another third were international visitors.
There is some speculation that Mr Steyer may run for fellow Democrat Senator Dianne Feinstein's seat in the upcoming election, but he only said on CNN that he has not ruled out the possibility.
"I don't need to rule it out and I can have time to think about it," Mr Steyer said.
Join our new commenting forum
Join thought-provoking conversations, follow other Independent readers and see their replies