Donald Trump says his trip to visit victims of Las Vegas shooting 'is a sad day for me, personally'
The President calls the deadliest mass shooting in US history a 'very sad thing'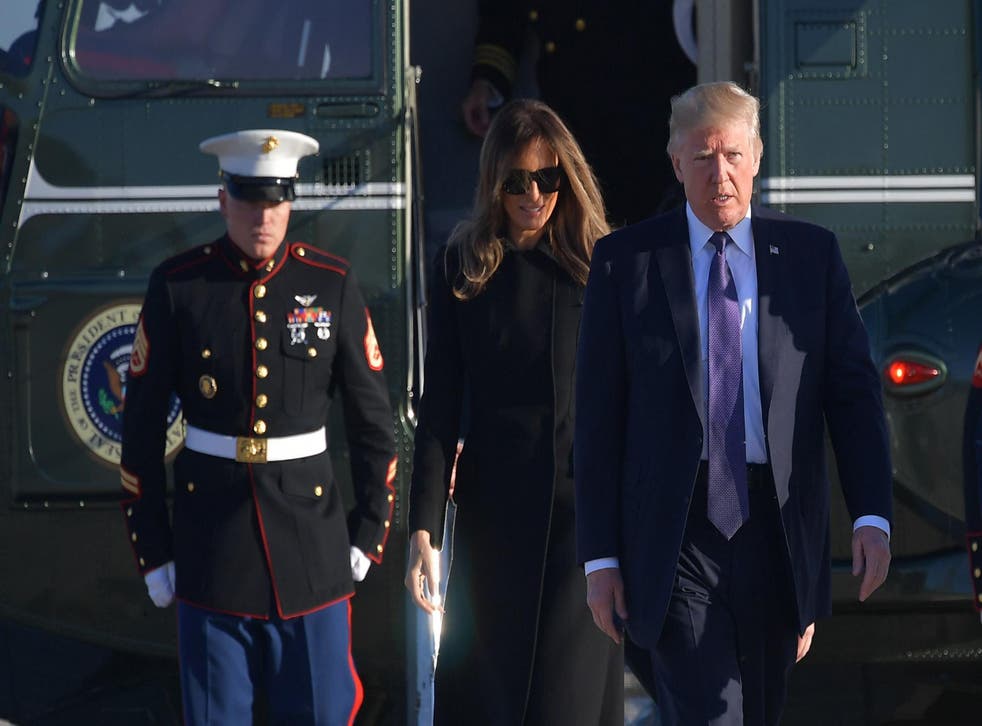 US President Donald Trump has said his trip to visit the victims of a mass shooting in Las Vegas is a sad day for him, personally.
Boarding a helicopter to the Nevada city, Mr Trump told reporters the shooting was a "very sad thing".
"We're going to pay our respects and to see the police, who have done really a fantastic job in a very short time," Mr Trump said of his trip. "...It's a very, very sad day for me, personally. Thank you."
The President was scheduled to visit Las Vegas for three hours on Wednesday, just days after a lone gunman opened fire on a country music concert. The shooting, which injured more than 500 people killed at least 58, was the deadliest in US history.
In a speech shortly after the shooting, Mr Trump called it an "act of pure evil".
"Melania and I are praying for every American who has been hurt, wounded or lost the ones they loved so dearly in this terrible, terrible attack," he said.
Las Vegas shooting – in pictures

Show all 15
He added: "We pray for the entire nation to find unity and peace, and we pray for the day when evil is banished and the innocent are safe from hatred and from fear."
Asked whether he would use the opportunity to speak about gun control, however, he said: "Perhaps that will come. But that's not for now."
The President and the First Lady planned to meet with patients, doctors, and first responders from the shooting during their trip to Las Vegas. They had returned the day before from Puerto Rico, where they surveyed the damage from Hurricane Maria.
Las Vegas shooting: What we know so far
Police are still searching for a motive in the Las Vegas shooting.
The shooter, identified by police as 64-year-old Stephen Paddock, was a divorced retiree who lived in nearby Mesquite, Nevada. He was a frequent gambler who enjoyed VIP status at various Las Vegas casinos, according to NBC News.
On 1 October, he began shooting at concert-goers from his 32nd-floor hotel room in Mandalay Bay Resort and Casino. He fired for approximately nine minutes, before shooting and killing himself when a SWAT team arrived.
Police later found more than 20 weapons in Paddock's hotel room, along with various cameras placed around the room. Police believe he used the cameras to monitor those approaching.
Sheriff Joseph Lombardo, who leads the Las Vegas Metropolitan Police Department, said Mr Trump had called him the day after the shooting. He thanked the President for his support and prayers.
"My warmest condolences and sympathies to the victims and families of the terrible Las Vegas shooting," Mr Trump tweeted that day. "God bless you!"
Join our new commenting forum
Join thought-provoking conversations, follow other Independent readers and see their replies