Latest 2020 election updates as Trump doubles down on mail-in ballot fraud allegations
Follow the latest updates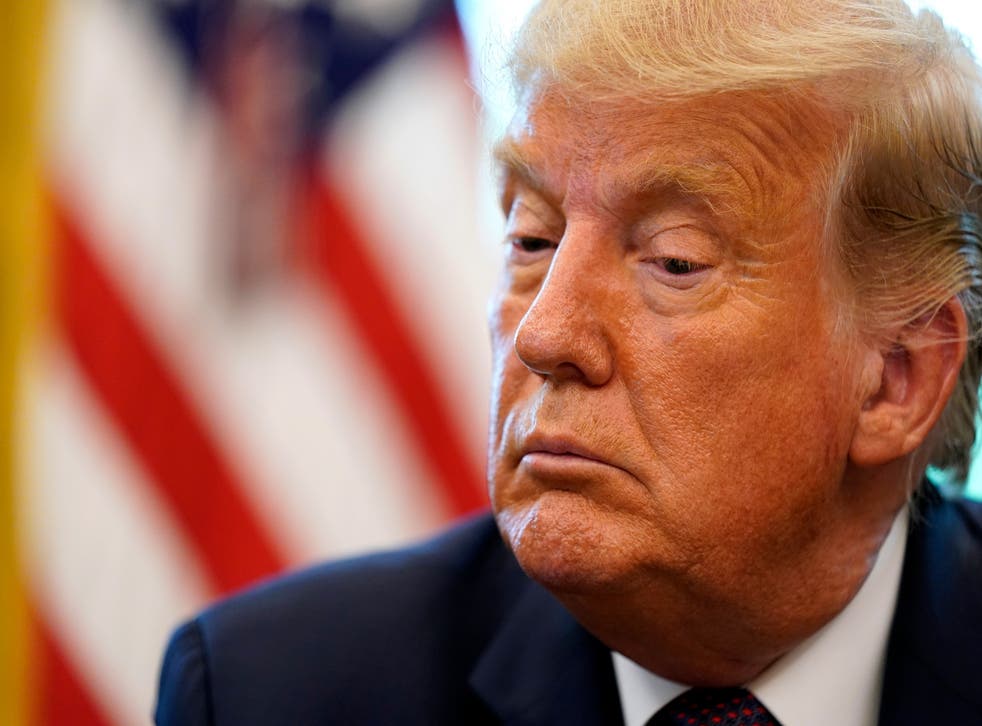 Twitter has added a warning to a tweet by Donald Trump in which the president appears to again call on supporters to try to vote twice. According to the platform, the president's post "violated the Twitter Rules about civic and election integrity".
The update comes after a volley of Tweets in which the president threatened those behind the Mueller inquiry into alleged links between the Trump campaign and the Kremlin, saying "a big price must be paid".
Elsewhere, Dr Anthony Fauci has said that Americans cannot expect a return to pre-coronavirus normality until the end of 2021, despite Donald Trump's claim the country had "rounded a corner" in tackling the disease.
See below to read how the day's political action unfolded.
1599949494
President Donald Trump is encouraging residents in Nevada to sign up for his presidential campaign rallies over the weekend.
Mr Trump posted a series of tweets on Saturday night marking his campaign trail through the state and encouraged people to "join [him] tomorrow night in Henderson".
The president's enthusiasm follows a rocky lead up to the events as on Wednesday, Adam Laxalt, the co-chair of Trump's campaign in Nevada, shared on Twitter on Wednesday that the president's planned rally venues were cancelled.
It was later reported by The Nevada Independent that officials said the Saturday rally would be in violation of the state governor's restrictions amid the coronavirus pandemic.
Following the news, the Trump campaign said the rallies would still be held, but the Saturday night rally was moved from Reno to the much-smaller airport in Minden.
Nevada, which holds six electoral votes in the upcoming presidential campaign, has become a battleground state for the election.
Louise Hall
12 September 2020 23:24
1599947612
President will visit California next week to see devastation caused by wildfires
Donald Trump will visit California on Monday where officials will brief him on the devastation brought by the wildfires, the White House's deputy press secretary has confirmed.
Mr Trump, who has been largely silent on the fires until Friday, when he commended the "28,000+ Firefighters and other First Responders who are battling wildfires" across the west coast.
At least 20 people have been killed in California as thousands of firefighters struggled to contain the blazes. Meanwhile, tens of thousands of structures have been destroyed and more than 3.1 million acres have burned, The Los Angeles Times reported.
The visit will follow the the president's campaign stop in Nevada
Louise Hall
12 September 2020 22:53
1599946362
Trump doubles down on condemnation of Mueller investigation as a 'scam'
In his third tweet attacking the Mueller investigation on Saturday, the president once again labeled the 2016 probe a "scam".
"All that time and money spent, and it turns out that the Mueller Investigation was a total SCAM!", Mr Trump tweeted Saturday evening.
The comments come only hours after Mr Trump launched an initial series of broadsides against his political opponents earlier the same day, referencing reports that members of the special counsel's team "wiped" their phones for different reasons during the investigation.
"So now we find out that the entire Mueller "hit squad" illegally wiped their phones clean just prior to the investigation of them", the president said early on Saturday, similarly calling the report a "Scam" and insisting "a big price must be paid".
Louise Hall
12 September 2020 22:32
1599945093
Trump supporters less likely to evacuate homes in event of hurricane: study suggests
Supporters of Donald Trump are 11 per cent less likely to evacuate the path of a hurricane after conservative media introduced "hurricane scepticism", according to a new study.
Researchers found that 34 per cent of Florida residents who likely voted Republican in the 2016 election evacuated their homes ahead of Hurricane Irma in 2017, Justin Vallejo reports.
By contrast, of those who likely voted for Hilary Clinton in the 2016 election, 45 per cent were estimated to have evacuated before the September storm.
'These results support our findings of the Limbaugh-driven emergence of hurricane scepticism'
Louise Hall
12 September 2020 22:11
1599944241
'A major threat to our Democracy'
Donald Trump has once again lashed out at the in-mail voting in the US, labeling it a 'major threat to our democracy' and doubling down on unfounded claims that widespread mail-in voting in the 2020 election amidst the coronavirus pandemic would lead to voting fraud.
The tweet came just hours after Twitter added a warning to a tweet by Mr Trump in which he appeared to again call on supporters to try to vote twice. According to the platform, the president's post "violated the Twitter Rules about civic and election integrity".
The president made similar remarks on Wednesday suggesting people should vote both by mail and in-person to check if their ballots are tabulated or if they're able to vote a second time.
The president, who has previously admitted to using the mail-in ballot system in the past, has repeatedly attacked mail-in voting, a method that Democrat representatives have pushed to ensure is widely available amid the coronavirus pandemic.
Documented cases of mail-ballot fraud are extremely rare and experts have said successful mail-in fraud by foreign actors by mailing out fake ballots would be near impossible, according to a report by Reuters.
Louise Hall
12 September 2020 21:57
1599938493
Trump to hold public events in Nevada, state officials concerned campaign won't abide by coronavirus restrictions
President Trump will hold public events in Nevada on Saturday and Sunday as part of his campaign's push to shore up votes in the state ahead of the November election.
The Trump team had originally planned rallies at airport hangars in Reno and Las Vegas, but those were scuttled by state officials due to concerns the campaign would not abide by COVID-19 restrictions, The Associated Press reports.
Mr Trump has scheduled an event in Minden, about 72 kilometres south of Reno, on Saturday night. He plans to host a "Latinos for Trump" roundtable Sunday morning in Las Vegas, followed by an evening rally at a manufacturing facility in neighbouring Henderson.
Mr Trump's appearance in Nevada highlights the growing importance of state's 270 electoral votes as the race against his rival, Joe Biden, looks tight in a number of pivotal states.
Both candidates have spent about $4.5 million in Nevada, while Trump has made $5.5 million in future reservations in the state and Biden has allocated $2.5 million, according to the ad tracking firm Kantar/CMAG.
1599935555
Trump to visit California for briefing on wildfires after several campaign stops
President Trump is slated to visit California on Monday where he will be briefed by officials on the impact of the wildfires that have for weeks been devastating the Golden States.
The White House said on Saturday that Mr Trump will visit McClellan Park in Sacramento County, an area that has served as the base for firefighter operations in California.
The California visit will mark the last day of a three-day tour through the West as part of the president's campaign for a second term. Mr Trump is scheduled for campaign events in Nevada and Arizona.
1599934148
Iran blasts Bahrain's plan to normalise relations with Israel
Iran on Saturday strongly condemned Bahrain's plan to normalise relations with Israel, calling it a shameful and ignominious move by the Gulf Arab county.
Iran's Foreign Ministry said Bahrain's normalization "will remain in the historical memory of the oppressed and downtrodden people of Palestine and the world's free nations forever."
Bahrain's announcement on Friday comes after the Trump administration last month helped broker a similar pact between the United Arab Emirates and Israel.
"This is a truly historic day ... So interesting that it's on 9/11," Mr Trump told reporters on Friday. "When I took office, the Middle East was in a state of absolute chaos."
The agreements between Bahrain, UAE, and Israel are part of a broader push by the Trump administration to find common ground with countries that share US wariness of Iran. Tehran's archrival Saudi Arabia may also be close to a deal.
1599929567
Trump officials altered CDC reports in line with president's political message, report says
Communications officials at the US Department of Health and Human Services (HHS) suggested changes to language in Centres for Disease Control science reports to put them in line with the president's political message, a report has claimed.
A federal official told CNN that HHS political appointee Paul Alexander regularly added his input, often interpreted by CDC officials as political in nature, to weekly CDC science reports that the HHS had demanded to see before their release.
The source reportedly told the broadcaster that some federal health officials at the CDC believe the interference was undertaken in an attempt to change the communications so they did not contradict the president.
In a statement to CNN, HHS spokesman Michael Caputo defended the actions of Mr Alexander.
"Dr Paul Alexander is an Oxford educated epidemiologist and a methodologist specialising in analysing the work of other scientists. Dr Alexander advises me on pandemic policy and he has been encouraged to share his opinions with other scientists," the statement read.
"Like all scientists, his advice is heard and taken or rejected by his peers."
Louise Hall
12 September 2020 17:52
Join our new commenting forum
Join thought-provoking conversations, follow other Independent readers and see their replies