Donald Trump insists he is not firing Rex Tillerson and that he still 'calls the final shots'
The President says rumours that his Secretary of State is leaving are 'fake news'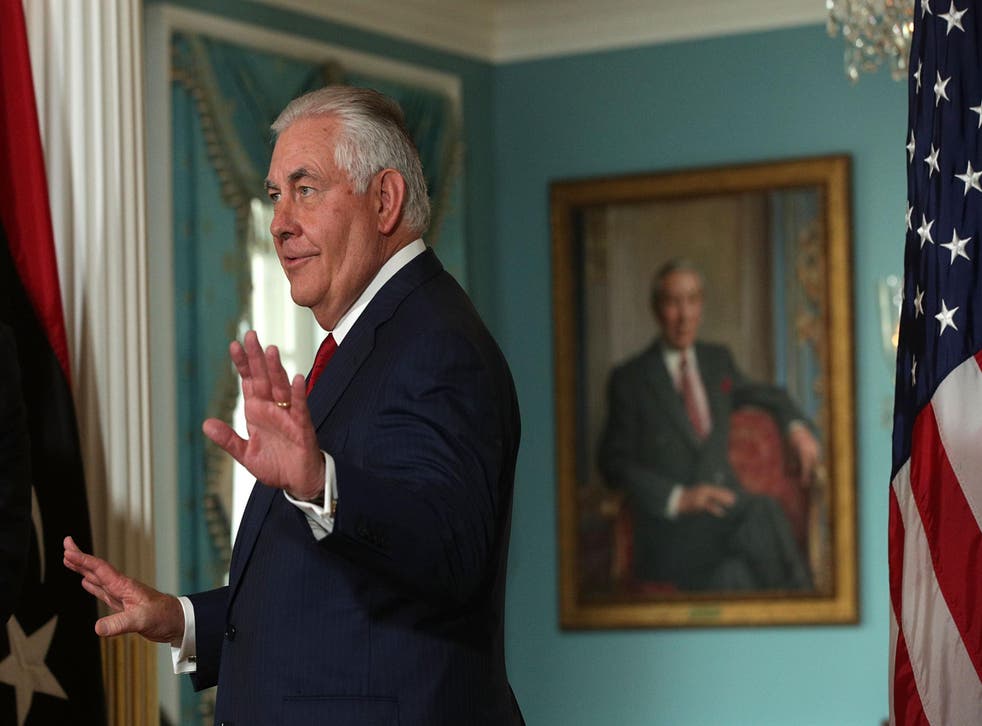 President Donald Trump has insisted that Rex Tillerson is not being fired, despite persistent rumours that the Secretary of State is on his way out.
"The media has been speculating that I fired Rex Tillerson or that he would be leaving soon - FAKE NEWS!" the President tweeted, employing his pet phrase. "He's not leaving and while we disagree on certain subjects, (I call the final shots) we work well together and America is highly respected again!"
Multiple reports earlier this week suggested Mr Trump was planning to oust Mr Tillerson and install CIA Director Mike Pompeo in his place. Mr Trump has reportedly taken a liking to Mr Pompeo's forceful style and strong opinions in the presidential daily briefings.
Asked on Thursday whether he still wanted Mr Tillerson in the job, the President replied only: "He's here. Rex is here".
White House Press Secretary Sarah Huckabee Sanders also seemed uncertain about Mr Tillerson's job status, telling reporters: "When the President loses confidence in someone, they will no longer serve here."
With his tweet on Friday, however, Mr Trump appeared to be trying to quell the rumours – some of which had been swirling for months.
Donald Trump's international Presidential trips

Show all 22
In June, Politico reported that Mr Tillerson had "blown up" at a White House aide, accusing the administration of torpedoing his nominees for State Department positions and leaking damaging information about him to the media. The interaction "stunned" those who witnessed it, according to four people with knowledge of the situation.
In October, multiple outlets claimed Mr TIllerson had considered leaving his job over the summer, and had to be talked into staying by Vice President Mike Pence. He was also accused of calling the President a "moron" to other officials at a closed-door meeting at the Pentagon.
Rex Tillerson evades answering whether he called Trump a moron
In a hastily scheduled news conference shortly thereafter, Mr Tillerson claimed there had "never been a consideration in my mind to leave".
"I serve at the appointment of the President, and I am here for as long as the President feels I can be useful to achieving his objectives," he said.
The President and Secretary of State have also sparred on more serious issues, including the diplomatic crisis in North Korea.
Mr Tillerson reported last month that he had opened diplomatic channels with Pyongyang, where the military is testing missiles and nuclear weapons with increasing frequency. Shortly afterward, Mr Trump tweeted that he had told the Secretary of State to stop "wasting his time" with North Korean leader Kim Jong-un.
"Save your energy Rex," he tweeted, "we'll do what has to be done!"
Register for free to continue reading
Registration is a free and easy way to support our truly independent journalism
By registering, you will also enjoy limited access to Premium articles, exclusive newsletters, commenting, and virtual events with our leading journalists
Already have an account? sign in
Register for free to continue reading
Registration is a free and easy way to support our truly independent journalism
By registering, you will also enjoy limited access to Premium articles, exclusive newsletters, commenting, and virtual events with our leading journalists
Already have an account? sign in
Join our new commenting forum
Join thought-provoking conversations, follow other Independent readers and see their replies