US Senator says he's '99% sure' members of Trump's team will face criminal charges
Richard Blumenthal thinks Paul Manafort and Michael Flynn are headed for indictments
Emily Shugerman
New York
Wednesday 27 September 2017 15:34 Comments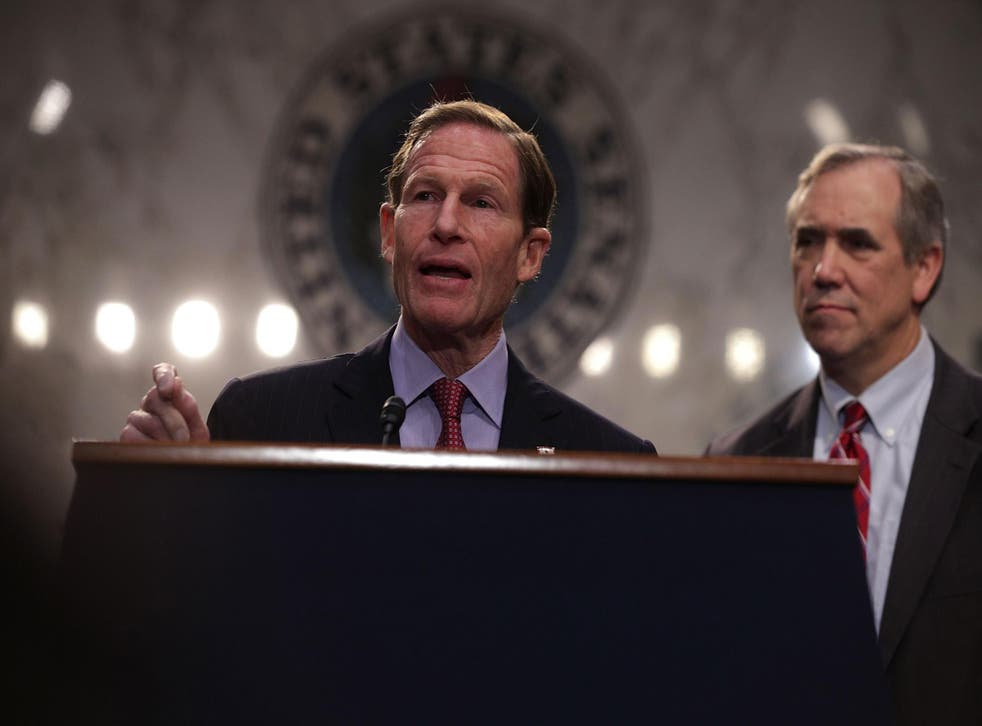 Members of Donald Trump's campaign team will almost certainly be indicted as a result of probes into Russian meddling in the election, a US Senator has said.
"I'm about 99 percent sure there will be some criminal charges from this investigation," said Senator Richard Blumenthal, a member of the Senate Judiciary Committee and former state's attorney general.
The Judiciary Committee is one of several Congressional committees investigating possible Trump team collusion with Moscow. The committee recently asked the CIA to turn over information related to Russian meddling, and also questioned the man responsible for an unverified, incendiary dossier of information about Mr Trump's relationship with the country.
Mr Blumenthal said he is uncertain if the President himself will face charges, but is convinced that other members of his campaign team will.
Paul Manafort and Michael Flynn "are the most prominent," he told Politico, "but there may well be others."
Mr Flynn previously served as the administration's national security adviser. He resigned shortly after inauguration day, when it was discovered that he had mislead the Vice President and others regarding his conversations with Russian officials.
The biggest names involved in the Trump-Russia investigation

Show all 17
Mr Manafort, the President's former campaign manager, has become a central target of the investigations. The Republican consultant previously worked as a political adviser in Ukraine, helping elect a pro-Russia candidate as the country's president.
The Washington Post recently reported that Mr Manafort had offered private briefings to Oleg Deripaska – a Ukrainian billionaire and associate of Russian President Vladimir Putin – during the campaign.
The Justice Department's special counsel, Robert Mueller, is said to be investigating Mr Manafort for possible violations of tax laws, money-laundering prohibitions, and requirements to disclose foreign lobbying. FBI agents raided the consultant's Northern Virginia home this summer, looking for evidence of secret offshore bank accounts.
Liam Neeson calls for Trump-Russia whistleblowers
Roger Stone, a longtime informal adviser to Mr Trump, told reporters on Tuesday that Mr Manafort expects to be indicted. Mr Stone said he believes this is an attempt to "flip" the consultant on other members of the Trump campaign.
"I've known Paul Manafort for over 40 years, and I don't believe he is going to do that," Mr Stone said, according to the New York Times. "He is not going to lie, and that would be a lie."
Mr Blumenthal, however, has warned former Trump associates not to count on the President's loyalty.
"Any witness counting on a Russia investigation pardon should think again," he tweeted last month. "Trump's loyalty is limited, witnesses can still be compelled to testify, and the pardons apply only to federal crimes."
Register for free to continue reading
Registration is a free and easy way to support our truly independent journalism
By registering, you will also enjoy limited access to Premium articles, exclusive newsletters, commenting, and virtual events with our leading journalists
Already have an account? sign in
Join our new commenting forum
Join thought-provoking conversations, follow other Independent readers and see their replies