Trump says he would 'love to see a shutdown' if Democrats refuse to back immigration proposals
Members of Congress need to reach a deal by midnight on Thursday night to keep the government open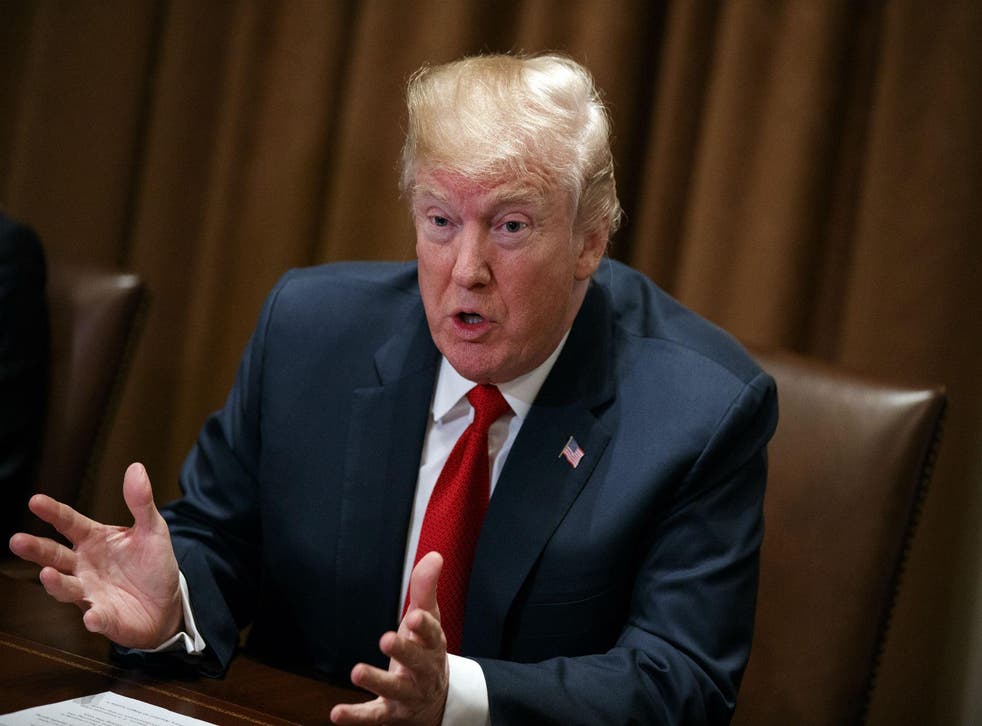 President Donald Trump has said he would "love to see a shutdown" if Democrats do not meet his demands for tighter border security.
"I'd love to see a shut down if we can't get this stuff taken care of," Mr Trump told reporters after a meeting with law-enforcement officials to discuss gang-related violence.
"If we have to shut it down because the Democrats don't want safety," he added "Let's shut it down."
While combative, Mr Trump's comments about how the US needs tighter border security measures or risk another shutdown appear to have little to do with the ongoing budget negotiations on Capitol Hill. The President has frequently been accused of making comments that are odds with Republican talking points.
On the other end of Pennsylvania Avenue, Senate leaders were confident about their prospects of avoiding a shutdown, sharply contrasting with the President's stark position.
Senate Majority Leader Mitch McConnell said he was "optimistic" that he would soon be able to reach a deal with Democrats.
Many legislators seem to have little appetite for a repeat of January's three-day government shutdown, which was largely the result of an impasse on immigration. Democrats had demanded that Republican leaders agree to the rough outlines of a measure that would provide protections for dreamers, the term given to undocumented migrants brought to the US as children.
Trump claims that American judge's 'Mexican heritage' resulted in unfair treatment during 2016 lawsuit
The issue had been brought to the forefront of congressional matters after Mr Trump announced in September that he was rescinding the Deferred Action for Childhood Arrivals programme, the Obama-era policy that had granted dreamers deportation reprieves. The shutdown only ended after Mr McConnell promised to bring a DACA bill to the Senate floor for debate.
In budget negotiations this time around, many Senate Democrats seem to have put their immigration policy demands on the backburner for now, and a new budget deal appears to be taking shape.
"Even though a deal has eluded us for months, negotiators are now making significant progress," Senate Democratic Leader Chuck Schumer said on the Senate floor. "The Republican leader and I have been working together quite productively. We are closer to an agreement than we have ever been."
But the House and Senate are expected to diverge on their short-term budget bills that would fund the government for another six weeks, slowing down the process. Both chambers of Congress must pass the same bill before it can head to the President's desk to be signed.
Mr Schumer and Mr Mitch McConnell intend to award whopping spending increases to both domestic federal programmes and the Pentagon. The House bill is not expected to include the same increases, and many House conservatives are likely to oppose raising nondefence spending.
"I'm for increasing defence, but then holding the line on non-defence," said Republican Representative Jim Jordan, according to The Hill.
This means House Speaker Paul Ryan could have to turn to Democrats to round up the votes needed to avert a shutdown.
While immigration may not be the main issue in this week's budget talks, it's not going away anytime soon.
DACA expires on March 5, and White House Chief of Staff John Kelly has suggested that Mr Trump will not extend the deadline. This means that Congress has less than a month to pass a permanent legislative solution to the programme.
The immigration proposal the President recently offered to Congress has drawn strong opposition from Democrats, whose support is expected to be necessary for the Senate to pass a bill. Republicans hold a slim 51-49 majority in the 100-member upper chamber, meaning an immigration bill would need the votes of nine Democrats – if Republicans play by the rules – to move forward.
Mr Trump has said he would grant about 1.8m dreamers legal status, including a path to citizenship – in exchange for increased enforcement, the construction of his long-promised border wall, and a restructuring of legal immigration channels that moves away from reuniting families and gives priority to higher-skilled immigrants.
Join our new commenting forum
Join thought-provoking conversations, follow other Independent readers and see their replies