Twitter under huge pressure to explain how one of its employees silenced Donald Trump
The President's account was silenced for 11 minutes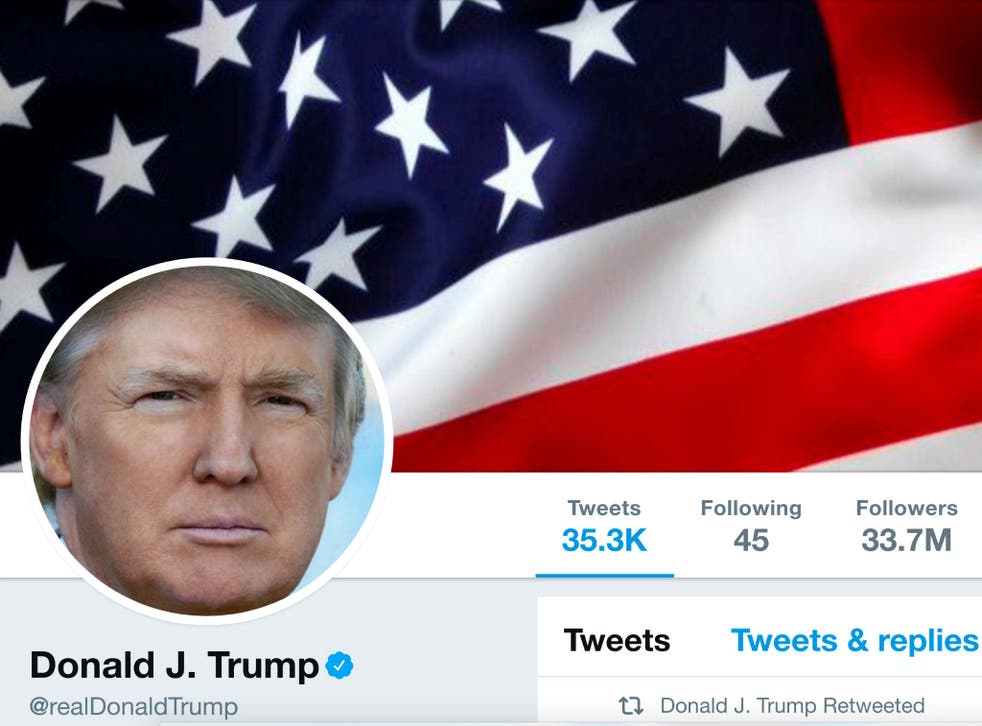 A departing Twitter employee's temporary deactivation of Donald Trump's account has the technology giant facing scrutiny over how a worker was able to silence one of the world's most influential and high-profile online voices.
For 11 minutes, the @realdonaldtrump account was offline – an uncharacteristic silence from an account that has become a prolific platform for the President's thoughts. It was soon reinstated.
After initially saying the account was deactivated due to "human error", Twitter clarified that "this was done by a Twitter customer support employee who did this on the employee's last day" and that "an internal review" had begun.
On Friday, the company was at pains to point out that it had "implemented safeguards to prevent this from happening again". Adding – perhaps in an attempt to try and head-off questions over the situation – that the platform takes the actions of the employee "seriously" despite not being able to share details of security updates and internal investigations.
But given Mr Trump's prominence, and his ability for trying to direct US policy in 140 character, the episode prompted a swirl of questions about what safeguards the site uses to prevent its employees from arbitrarily taking down accounts.
Twitter declined to comment on its rules around which types of employees have the power to suspend accounts, or about whether the customer service employee may have violated those rules. The New York Times later reported that the person who took down the account was not a full-time employee but a contractor, with Twitter employing a mix of both.
Citing current and former Twitter employees, the paper also reported that the site allows hundreds of its employees to access and disable the accounts of so-called "Very Important Tweeters". Although that number may have fallen with the implementation of any new measures
The teams that are most likely to possess the access to deactivate accounts at Twitter are the Trust and Safety team, who are the employees alerted if a user flags a case of harassment or another safety issue – or the Customer Support team, who are there to help if you find you can no longer access your account.
Any access to accounts would need to be logged, especially for a VIP account. As for checking direct messages employees would need to get legal permissions, according to one former Twitter engineer speaking to CNN.
JK Rowling in tweets

Show all 5
The issue with Mr Trump's Twitter account could not seemingly have come at a more inopportune time for the company, with all of Twitter, Google and Facebook all facing hearings in the US Congress about the Russia's meddling in the 2016 presidential election. All three companies have been given a tough grilling by both those in the Senate and the House. All three companies have agreed they could have done better during the election.
Twitter said it identified 2,752 accounts controlled by Russian operatives and more than 36,000 "bots" that tweeted 1.4 million times during the election, having previously told lawmakers it found only 201 accounts linked to Russia, but they faced criticism from Senator Mark Warner of Virginia, the top Democrat on the Senate Intelligence Committee who thought the numbers still seem to slow
"I'm concerned that Twitter seems to be vastly underestimating the number of fake accounts and bots pushing disinformation. Independent researchers have estimated that up to 15 per cent of Twitter accounts – or potentially 48 million accounts – are fake or automated," Mr. Warner said.
The hearings have also helped to increase scrutiny on how technology companies handle the information they are given by users.
Donald Trump tweets racist 'Pocahontas' slur about Senator Elizabeth Warren
As for Mr Trump thoughts on the deactivation, he suggested his account's temporary shuttering reflected its potency.
"My Twitter account was taken down for 11 minutes by a rogue employee", Mr Trump wrote. "I guess the word must finally be getting out-and having an impact".
While it was unclear what the former employee's motive was, Mr Trump's Twitter account regularly generates controversy and offends some people as the President lashes out at his perceived enemies.
The cycle has become a regular feature of American politics: the President tweets something inflammatory, and a backlash ensues. At times even the President has contradicted members of his own administration or surprised them with policy announcements.
Some users hailed the employee who deactivated Mr Trump's account as a hero, arguing that the President violates the site's rules against abusive tweets.
The site reserves the power to suspend or permanently shut down accounts. It recently announced it was updating its rules around sexual harassment and violence-inciting tweets, prohibiting messages that glorify violence and broadening its definition of non-consensual sexual images.
After Mr Trump tweeted in September that North Korean leaders "won't be around much longer" if they continued their belligerent rhetoric, North Korean Foreign Minister Ri Yong Ho said the President's tweets amounted to a "declaration of war".
Suddenly faced with the specter of a Twitter-induced nuclear conflict, some users began asking why Mr Trump's bellicose rhetoric didn't constitute abuse.
Twitter responded by saying "we hold all accounts to the same rules" and noted that among the factors it uses to determine whether a tweet violates those rules were "newsworthiness" and "whether a Tweet is of public interest" – both designations that would seem to apply to Mr Trump.
Join our new commenting forum
Join thought-provoking conversations, follow other Independent readers and see their replies