Trump expresses 'frustration' with Mitch McConnell in clash over healthcare reform
But he needs the Senate Majority Leader to pass any legislation 
Alexandra Wilts
Washington DC
Thursday 10 August 2017 21:09 Comments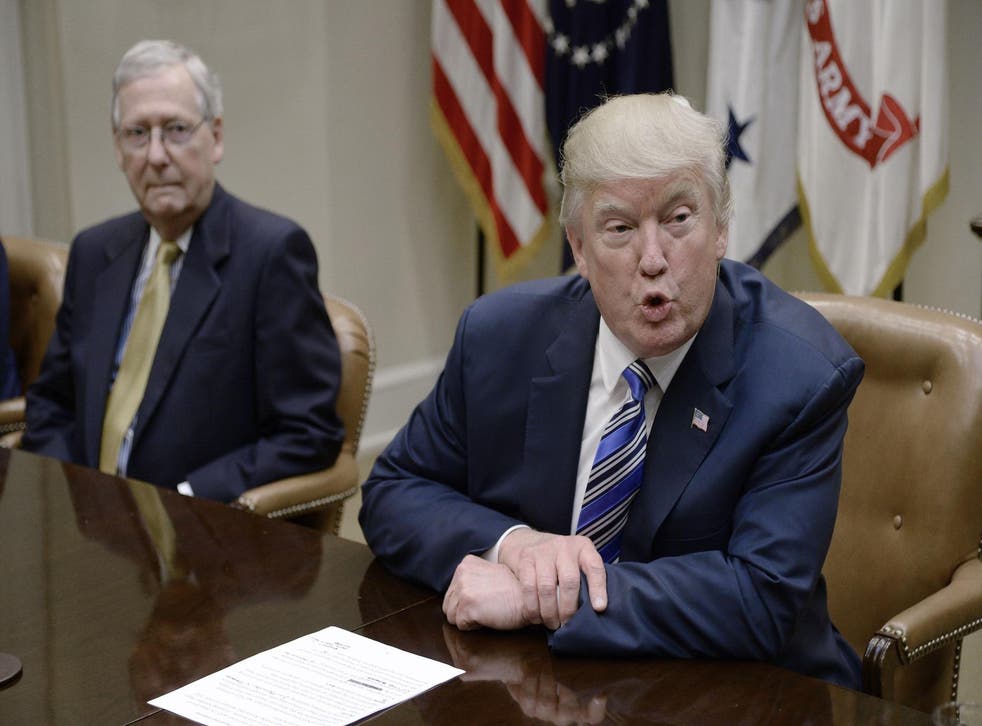 Donald Trump has said he may consider asking Senate Majority Leader Mitch McConnell to step down down if the upper chamber's top Republican fails to accomplish the President's legislative laundry list.
Asked if Mr McConnell should resign, Mr Trump said: "I'll tell you what, if he doesn't get repeal and replace done, if he doesn't get taxes done, meaning cuts and reform, and if he doesn't get a very easy one done – infrastructure ... then you can ask me that question."
Mr Trump had previously blasted Mr McConnell for the Senate's failure to pass a healthcare bill before members of Congress left Washington for the August recess.
"Mitch, get back to work and put Repeal & Replace, Tax Reform & Cuts and a great Infrastructure Bill on my desk for signing. You can do it!," Mr Trump wrote in his latest tweet.
Earlier on Thursday, Mr Trump tweeted, "Can you believe that Mitch McConnell, who has screamed Repeal & Replace for 7 years, couldn't get it done. Must Repeal & Replace ObamaCare!"
When asked about Mr Trump's relationship with the majority leader on Thursday, White House Press Secretary Sarah Huckabee Sanders told reporters: "You can see the president's tweets. Obviously there's some frustration. I don't have anything more to add."
Mr Trump's attack on Mr McConnell appears to be in response to the majority leader's comments at a Rotary Club gathering saying the perception that Congress is underperforming "is because too many artificial deadlines – unrelated to the reality of the complexity of legislating – may not have been fully understood."
"Our new president, of course, has not been in this line of work before. And I think he had excessive expectations about how quickly things happen in the democratic process," Mr McConnell said.
On Wednesday, Mr Trump tweeted: "Senator Mitch McConnell said I had 'excessive expectations,' but I don't think so. After 7 years of hearing Repeal & Replace, why not done?"
Before the President posted his first critical tweet, he reportedly called Mr McConnell to express his disappointment, according to the New York Times.
Ms Sanders said she did not know how long their conversation was, but that "healthcare was certainly discussed."
Thousands march against Donald Trump in LGBT rights parade

Show all 8
Mr Trump and Congress failed to secure a major legislative victory during the President's first 200 days in office. The Senate's Republican leaders also suffered a heavy loss less than two weeks ago when they were unable to garner enough support for legislation that would have rolled back portions of the Affordable Care Act, otherwise known as Obamacare.
After his last defeat on healthcare, Mr McConnell said the Senate would move on to other matters. But Mr Trump has continued to tweet about the issue, and wrote that "unless the Republican Senators are total quitters, Repeal & Replace is not dead!"
Pundits have said that publicly targeting Mr McConnell may not be a good strategy for the President, as he needs the majority leader as an ally to pass any legislation, especially a tax code rewrite.
Register for free to continue reading
Registration is a free and easy way to support our truly independent journalism
By registering, you will also enjoy limited access to Premium articles, exclusive newsletters, commenting, and virtual events with our leading journalists
Already have an account? sign in
Join our new commenting forum
Join thought-provoking conversations, follow other Independent readers and see their replies