Vester Flanagan: Virginia gunman planned attack on WDBJ colleagues 'for weeks'
Reporter Alison Parker and cameraman Adam Ward were killed on-air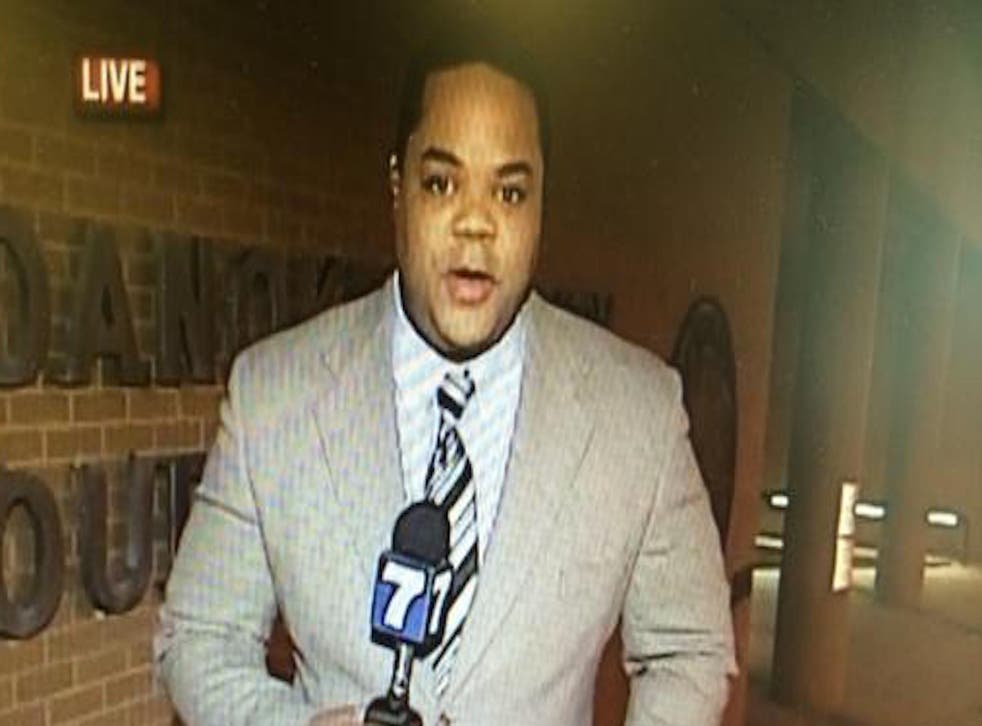 The gunman who shot dead two former colleagues during a live TV broadcast had a troubled history with the local news network – and may have been planning the attack for weeks.
Vester Flanagan, 41, killed 24-year-old reporter Alison Parker and cameraman Adam Ward, 27, on Wednesday in Virginia during a live segment for local news channel WDBJ.
Following the attack, he posted films of the shooting online and faxed a 23-page "manifesto" to ABC News in which he expressed admiration for other mass shooters - such as the Virginia Tech killer, Seung-Hui Cho.
In the weeks ahead of the shooting, the news channel claims they were repeatedly contacted by an individual called Byrce Williams – Flanagan's broadcasting name – attempting to pitch an unknown story and requesting a fax number.
The channel said it received a faxed manifesto in Byrce Williams' name at 8.26am on Wednesday. The document – received two hours after the shooting – claimed the attack on a Charleston church in South Carolina was the "tipping point" for his attack.
In the rambling manifesto, in which Flanagan claims he faced discrimination as "a black gay man", he continued: "I've been a human powder keg for a while… just waiting to go BOOM!!!!"
ABC also claimed that Flanagan legally bought a gun, which sources identified as a Glock 19, from a local shop.
The gun is reportedly similar to the firearm used by Seung-Hui Cho, referred to as "my boy" in the manifesto. State police have also confirmed in early August Flanagan rented a Chevrolet Sonic.
Now court documents, obtained by The Huffington Post, allegedly indicate Flanagan – who had been ordered to seek mental health counselling by the station – had been filmed by Mr Ward as he was escorted from WDBJ headquarters following his dismissal in 2013.
Flanagan allegedly told the cameraman to "lose your big gut" and swore at the camera.
The internal memos indicating the confrontation surfaced as part of a $25,000 lawsuit Flanagan brought against the news station in 2014, claiming wrongful dismissal.
When presented with a dismissal letter in February 2013, Flanagan allegedly told WDBJ employees: "You better call police because I'm going to make a big stink."
Staff called police and Flanagan was allegedly escorted from the building by officers. It was then that Mr Ward reportedly caught Flanagan leaving on camera.
Flanagan, hired in 2012 as an office assistant and news reporter, accused the station of racial and sexual discrimination, a charge disputed by WDBJ executives who told the court they investigated his claims and found them "meritless".
The court documents also reveal Flanagan had requested the personnel files of Ms Parker and Mr Ward.
The lawsuit, filed in Roanoke City General District Court, was later dismissed for lack of evidence. It is unclear whether a settlement was reached – although Flanagan claimed in his faxed manifesto the station had paid out.
As the latest information about the shooter emerges, his family apologised to the victims, telling reporters his actions were "a shock to everyone".
In pictures: Virginia shootings

Show all 13
"It is with heavy hearts and deep sadness we express our deepest condolences to the families of Alison Parker and Adam Ward," Amber Bower, who went to secondary school with Flanagan, said in a statement from his family.
Following the shooting, Flanagan was pursued by police and shot himself. He later died in hospital from his wounds. A woman, Vicki Gardener, was also injured in the on-air confrontation but is believed to be in a stable condition.
Register for free to continue reading
Registration is a free and easy way to support our truly independent journalism
By registering, you will also enjoy limited access to Premium articles, exclusive newsletters, commenting, and virtual events with our leading journalists
Already have an account? sign in
Register for free to continue reading
Registration is a free and easy way to support our truly independent journalism
By registering, you will also enjoy limited access to Premium articles, exclusive newsletters, commenting, and virtual events with our leading journalists
Already have an account? sign in
Join our new commenting forum
Join thought-provoking conversations, follow other Independent readers and see their replies