Duelling stories, palace silence and Diana's shadow: What really happened in Harry and Meghan's paparazzi car chase?
Couple claimed they were involved in a 'near catastrophic car chase' with paparazzi after leaving an event in Manhattan. But that narrative was called into question when competing accounts emerged. Bevan Hurley explains what we know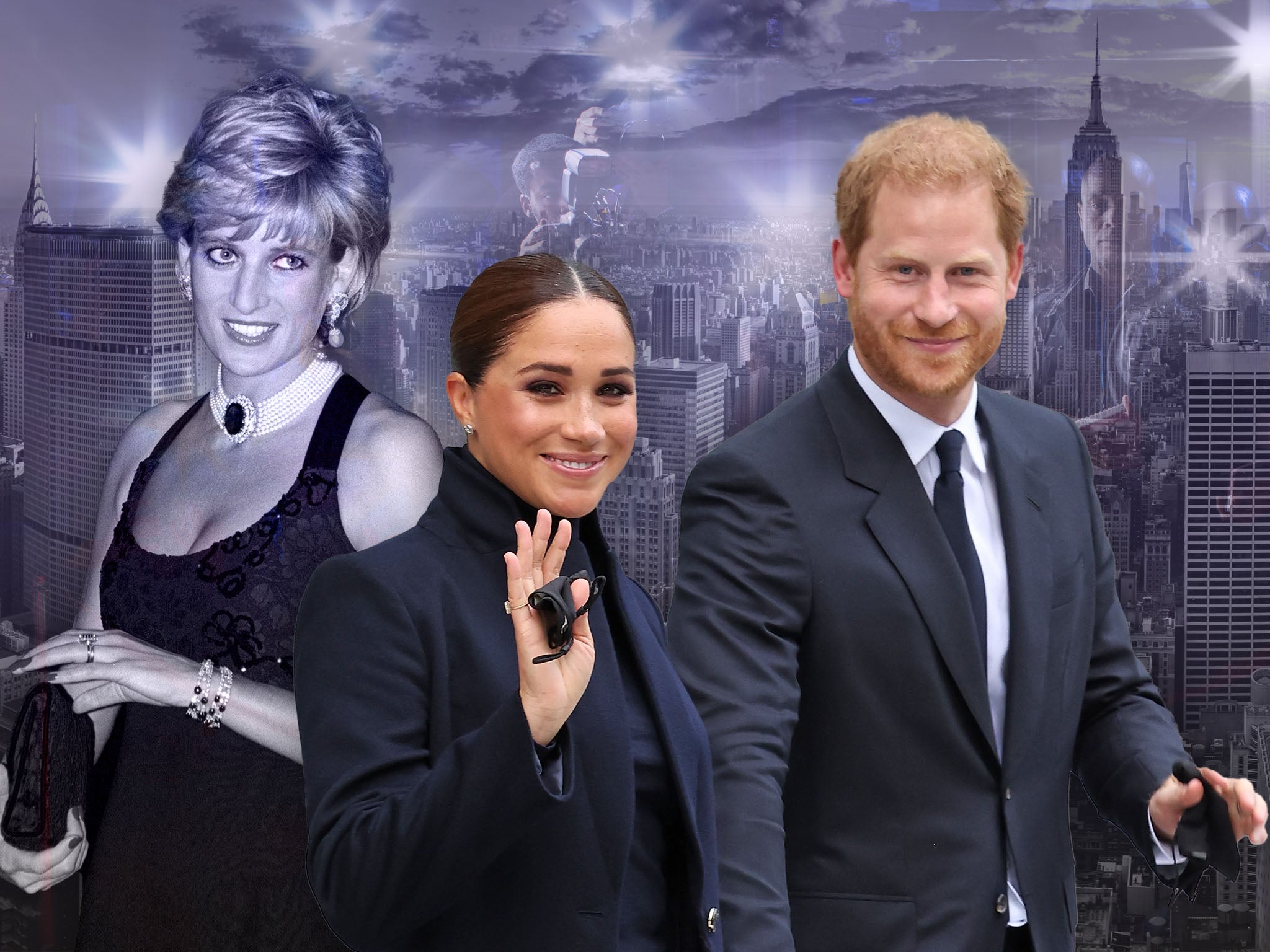 Prince Harry and his wife Meghan claim they narrowly avoided a "catastrophic" collision while being pursued by paparazzi after leaving a charity event in New York.
The royal couple said were followed by photographers in half a dozen vehicles with blacked-out windows, on scooters and bikes after exiting the Women of Vision Awards at Manhattan's Ziegfeld Ballroom on 16 May, their official spokesman said the following day.
But in the hours after the spokesman's statement, several differing accounts emerged which suggested the incident might not have been as dramatic as initially portrayed.
The couple, accompanied by Meghan's mother Doria Ragland, were involved in several close calls but there was no car accident or injuries, law enforcement said.
The incident quickly drew comparisons to the death of Harry's mother Princess Diana after a high-speed pursuit in Paris in 1997.
Buckingham Palace, meanwhile, has refused to comment on the matter involving the Duke of Sussex, who has long been a vocal critic of press intrusion into his family's lives.
Here's what we know about the incident.
Why were Harry and Meghan in New York?
Meghan had been in New York to accept the Ms. Foundation Women of Vision Award with Black Voters Matter co-founder LaTosha Brown.
It was her first public engagement since skipping the coronation of King Charles in London earlier this month.
Ms. is an American feminist magazine co-founded in 1971 by activist Gloria Steinem, who was in attendance at the event.
In her acceptance speech, Meghan told how she had been inspired by reading the magazine as a child.
"It allowed me to recognise that part of my greater value and purpose in life was to advocate for those who felt unheard, to stand up to injustice, and to not be afraid of saying what is true and what is just and what is right," according to the Associated Press.
The gala event kicked off a $100m fundraising campaign for the Ms. Foundation.
The pursuit
The couple and Ms Ragland left the Ziegfeld Ballroom on West 54th St at about 10pm and got into an SUV as a crowd of onlookers and photographers surrounded them, according to video posted to social media.
Video obtained by a celebrity news site then showed the couple stuck in traffic several blocks away from the ballroom in a yellow New York City taxicab, as photographers recorded them through the windows.
The cab was being escorted by NYPD vehicles with flashing lights.
According to a spokesperson their vehicle was then followed by a "ring of highly aggressive paparazzi" for two hours.
The "swarm" of pursuing photographers included at least six vehicles, scooters and bicycles.
NYPD protective officers assigned to protect the couple followed Harry and Meghan in a separate car, and attempted evasive maneuvers to get away from the paparazzi, a law enforcement source told CNN.
The photographers on bikes and scooters mounted sidewalks to try to keep up, narrowly missing pedestrians, according to the source.
There were reportedly several near-collisions, but no accidents.
The Sussexes were reportedly staying at a friend's private residence and did not want to compromise their friend's security by going directly home.
After driving around the Siegfried Ballroom for an hour, the NYPD directed Harry and Meghan's car to the 19th Precinct on East 67th St to calms the situation, ABC7 reported.
There they switched into a Yellow TaxiCab, which was immediately swarmed by photographers, driver Sukhcharn Singh later told the Washington Post.
The driver said he drove around the block before Harry and Meghan went back to the police station.
When the midnight shift of patrol officers at the precinct used the vehicles to cause a chokepoint on the block that allowed security teams to get Harry and Meghan into traffic and away.
Police released a statement on Wednesday afternoon that played down the danger to the couple. It said "numerous" photographers had made the Sussexes' transport "challenging," but that there were no reported collisions, injuries or arrests.
According to reports, the potential traffic violations include driving on the pavement and through red lights, reversing down a one-way street, illegally blocking a moving vehicle and driving while photographing and on the phone.
What Harry and Meghan are saying
A spokesperson for Harry and Meghan released the following statement on Wednesday.
"Last night, The Duke and Duchess of Sussex and Ms Ragland were involved in a near catastrophic car chase at the hands of a ring of highly aggressive paparazzi.
"This relentless pursuit, lasting over two hours, resulted in multiple near collisions involving other drivers on the road, pedestrians and two NYPD officers."
The spokesperson said that while "being a public figure comes with a level of interest from the public, it should never come at the cost of anyone's safety."
"Dissemination of these images, given the ways in which they were obtained, encourages a highly intrusive practice that is dangerous to all in involved."
New York Mayor critical of paparazzi's actions
Mayor Eric Adams was critical of the paparazzi's actions on Wednesday. He told reporters that while he hadn't received a full briefing about the incident, the chase had been "reckless and irresponsible".
"Two of our officers could have been injured," he said during a media briefing.
"This is a densely populated city. I don't think there's many of us who don't recall how his mum died, and it would be horrific to lose innocent bystanders in a chase like this, and for something to have happened to them as well."
Mr Adams said he found it "hard to believe" that there was a two hour high speed chase through crowded Manhattan streets.
He said investigators were working to determine the exact duration of the chase, and that any type of pursuit in New York was "extremely dangerous".
Cab driver and member of Sussexes' security detail speak out
Chris Sanchez, a member of the Sussexes security team, told CNN in an exclusive interview on Wednesday that he "had never" come close to the chaos he experienced on Tuesday night.
"What we were dealing with was very chaotic. There were about a dozen vehicles: cars, scooters and bicycles," Mr Sanchez said. "The public [was] in jeopardy at several points. It could have been fatal. They were jumping curbs and red lights. At one point they blocked the limousine and started taking pictures until we were able to get out."
"[I] was concerned about [Prince Harry and his wife] but more about the public because they [the paparazzi] were being so erratic," Mr Sanchez added. "People were on sidewalks and crossing streets and the [paparazzi] were crossing red lights. We did everything by the letter of law."
But the taxi driver who picked up the Sussexes from the New York City Police Department's 19th precinct, where they had gone to in an attempt to lose paparazzi, told the Washington Post he didn't feel threatened. The driver said Meghan and Harry's security asked him to drive back to the station out of concern their location would be shared with more people.
"I don't think I would call it a chase," Sukhcharn Singh told the Post. "I never felt like I was in danger. It wasn't like a car chase in a movie. They were quiet and seemed scared but it's New York—it's safe."
Paparazzi deny Harry and Meghan's characterisation
Backgrid USA Inc, the agency that hired four freelance photographers to cover the charity event, put out a statement on Thursday saying the couple were "not in immediate danger at any point" during an alleged two-hour paparazzi car chase.
Instead, the agency insisted that one of the four SUVs escorting the Duke and Duchess of Sussex in New York was "driving in a manner that could be perceived as reckless".
It added that it does "not condone any form of harassment or illegal activity" and will conduct a "thorough investigation into the matter".
Harry and Meghan 'not contacted by royal family'
The Duke and Duchess of Sussex have not been contacted by the royal family after claiming to have been involved in a "near-catastrophic" car chase, the PA news agency understands. A Buckingham Palace spokeswoman declined to comment.
When the spokesperson was asked if King Charles planned to get in contact with his son, the spokesperson repeated that the Palace will not be commenting.
Diana's death and legacy
Harry's mother, Princess Diana, was killed in a high-speed chase in a Parisian tunnel in 1997 while trying to flee the paparazzi.
In his memoir Spare, Harry wrote extensively about the trauma of his mother's death and of his anger at the ongoing press intrusion into the lives of the Royal Family.
Harry and Meghan withdrew from their official royal roles in 2020 and moved to the United States in part because of what they described as intense media harassment.
The couple live with their two children Archie, 4, and Lilibet, 1, in Montecito, California.
A suspected stalker was arrested at their home during their trip to New York.
Harry is currently suing three British tabloid publishers over alleged phone hacking and unlawful snooping.
In 2021 Meghan won an invasion of privacy case against the publisher of the Daily Mail.
What the New York press is saying
The Rupert Murdoch-owned New York Post wrote in a front page article headlined "Duke (and Duchess) of Hazard", that the"chase wasn't exactly the high-drama debacle that their reps made out".
Citing law enforcement sources, it said that "the supposed ordeal wasn't nearly as dramatic as the couple claimed".
The NY Daily News took a more sympathetic tone with a front page story headlined "Scary Echo of Diana".
It noted that the paparazzi chase eerily recalled the former Princess of Wales' death in Paris in 1997.
Join our commenting forum
Join thought-provoking conversations, follow other Independent readers and see their replies