Armenian genocide: Thousands march around world to commemorate and demand recognition for atrocity
Anniversary comes one day after prime minister resigns following nearly two weeks of protests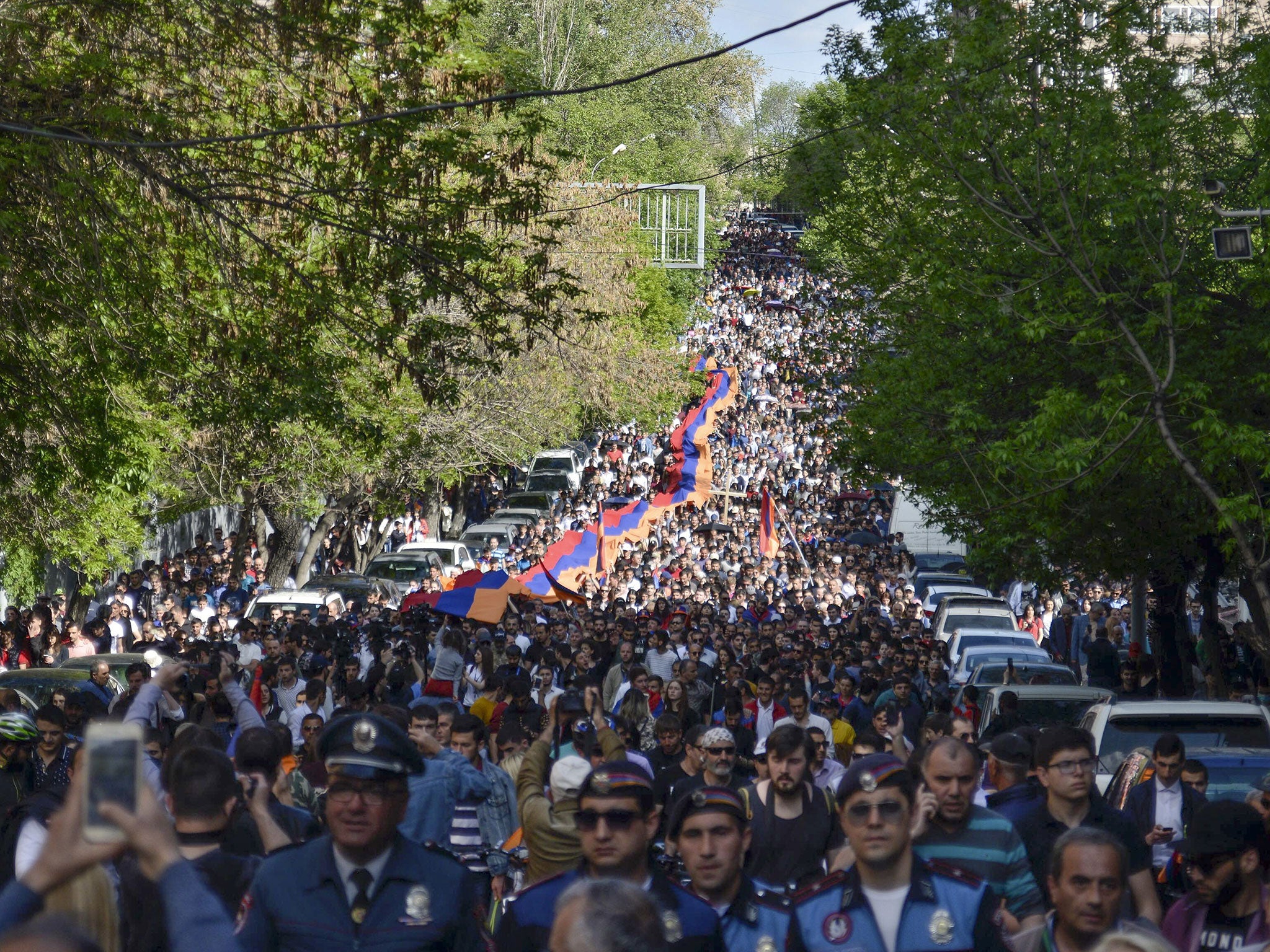 Thousands of people have marched around the world to commemorate the deaths of an estimated 1.5 million Armenians by Ottoman Turks and demand recognition for the atrocity as a genocide.
Armenians and many historians consider the killings during the First World War to be a genocide.
Although Turkey, a successor to the Ottoman Empire, accepts many Christian Armenians were killed in fighting during the war, the Muslim-majority country vehemently denies the killings in 1915 amounted to a genocide.
On Tuesday, thousands of Armenian-Americans took to the streets of Los Angeles, waving Armenian and American flags and carrying signs reading "1915 never again" and "Turkish denial must end."
The city's mayor, Eric Garcetti, marched alongside the demonstrators, saying in a speech the genocide was "a human tragedy."
"To be a part of the human family we must accept our tragedies," Mr Garcetti said. "And all of us will say, 'Never again."'
Many called for a formal recognition of the genocide from countries such as the United States, Turkey and the United Kingdom, where it is recognised by the devolved governments of Northern Ireland, Scotland and Wales but not England.
Donald Trump has called it "one of the worst mass atrocities of the 20th century" but stopped short of using the word genocide.
Turkey's president, Recep Tayyip Erdogan, said the country has a responsibility to share the pain of its Armenian citizens over the "1915 events."
In Yerevan, Armenia's capital, tens of thousands of Armenians marched to a hilltop memorial dedicated to the victims of the massacres.
Thousands were led by a politician who forced the country's prime minister to resign earlier this week, after which he said he was ready to take the reins of power and would maintain pressure on the ruling elite until they agreed to real change.
After 10 days of protest, Serzh Sargsyan, the prime minister, who had previously served as Armenia's president for a decade, announced his resignation.
Nikol Pashinyan, who played a key role in ousting Mr Sargsyan, said he was ready to become the country's next prime minister.
Some chanted Mr Pashinyan's name and waved the national flag as they marched alongside him to mark the anniversary of the 1915 killings.
World news in pictures
Show all 50
The country's acting prime minister, Karen Karapetyan, an ally of the ousted Mr Sargsyan, said it was important to stay united amid the political turmoil.
"We are going through a very difficult stage in our new history... demonstrating to the entire world that despite difficulties and unresolved problems we are united," Mr Karapetyan said in a statement after laying flowers at the memorial to the victims of the massacres.
Several thousand protesters later took to the streets of the capital after talks between Mr Pashinyan and Mr Karapetyan were cancelled.
"We will not allow authorities to steal our victory," Mr Pashinyan told supporters. "There will be more of us here with every day until we take power."
Join our commenting forum
Join thought-provoking conversations, follow other Independent readers and see their replies