China state newspaper says Donald Trump has no idea how to lead a superpower
Experts in the US have also expressed concern about the President-elect's handling of relations with the powerful east-Asian country through a series of angry, misspelt tweets
Charlotte England
Monday 19 December 2016 13:14 Comments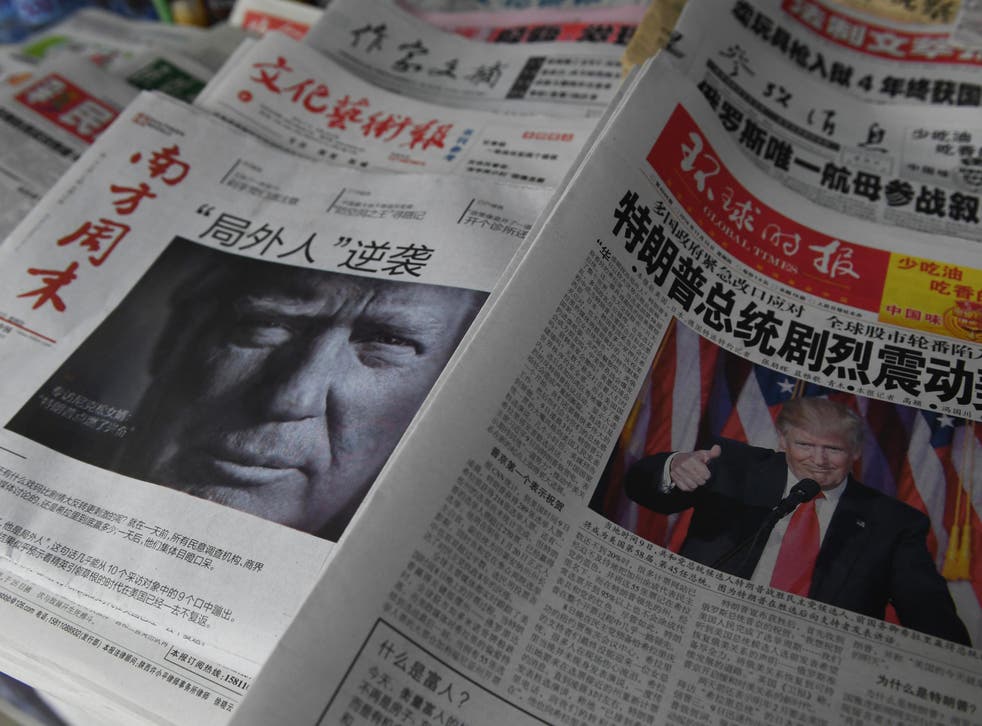 Donald Trump does not know how to lead a superpower, Chinese state media is reported to have said on Monday morning, following the President-elect's latest outburst on social media.
"Trump is not behaving as a president who will become master of the White House in a month," an editorial in the state-backed Global Times newspaper read. "He bears no sense of how to lead a superpower."
Tensions between Mr Trump and the leaders of the world's second largest economy came under additional strain last week when Mr Trump used Twitter to condemn China's seizing of a US drone which had allegedly been gathering unclassified information in international waters in the South China Sea.
Chinese officials initially indicated there would be a "smooth" resolution of the diplomatic incident, but after the President-elect's tweet, they accused Washington of "hyping up" the issue.
"China steals United States Navy research drone in international waters – rips it out of water and takes it to China in unpresidented [sic] act," Mr Trump tweeted early on Saturday morning, after it emerged the Chinese navy had seized the US naval drone.
China announced on Saturday it would return the device, but complained about Mr Trump's reaction. Despite this, Mr Trump again took to Twitter on Sunday, writing in a second post on the social network: "We should tell China that we don't want the drone they stole back.- let them keep it!"
Relations between the two countries had already been frayed by Mr Trump's decision after his election victory to speak to the Taiwanese president Tsai Ing-wen on the phone, defying a 40-year policy of abiding by the 'One-China policy', and not recognising Taiwan as an independent nation.
On Friday, President Obama cautioned Mr Trump against allowing relations with China to slip into "full conflict mode".
Foreign policy experts in the US have expressed dismay at how Mr Trump -- who has been skipping intelligence briefings, claiming he does not need them because he's smart -- has approached international relations through angry, misspelt tweets.
In its editorial, the Global Times, a nationalist-tabloid, said people in China were unsure whether the President-elects attacks on Beijing were part of attempts to wage a psychological war or simply an example of his amateurishness, the Guardian reported.
Women go on strike against Donald Trump

Show all 7
"But if he treats China after assuming office in the same way as in his tweets, China will not exercise restraint," the newspaper warned. "The Chinese government should be fully prepared for a hardline Trump."
"We should show Trump what the one-China policy is and what bottom lines in Sino-US ties he should not touch. Once he does, he is bound to suffer the same losses that he makes China suffer from.
"China should teach him some lessons so he might learn to respect China after he is sworn in."
Register for free to continue reading
Registration is a free and easy way to support our truly independent journalism
By registering, you will also enjoy limited access to Premium articles, exclusive newsletters, commenting, and virtual events with our leading journalists
Already have an account? sign in
Join our new commenting forum
Join thought-provoking conversations, follow other Independent readers and see their replies