China shows off military might as tensions flare over North Korea
Premier Xi Jinping presided over war training exercises which included a mock-target of Taiwan's presidential palace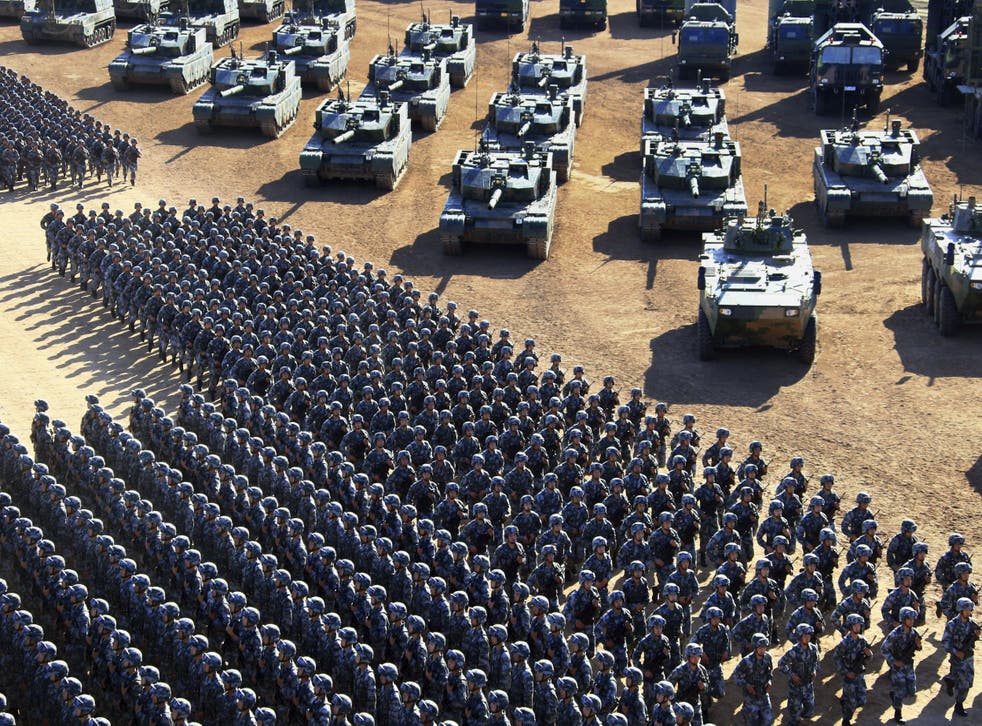 China has put on a show of massive military might, just hours after US President Donald Trump launched a fresh tirade at Beijing for doing "nothing" to rein in North Korea's nuclear and missile program.
Chinese leader Xi Jinping presided over the war zone training at the remote Zhurihe military base in Inner Mongolia as part of the celebrations of the 90th anniversary of the People's Liberation Army.
Dressed in camoflauge, he rode in an open top military jeep as he inspected 12,000 troops lined out in various formations and marches in a training base in the middle of a desert.
More than 100 fighter jets flew overhead in the show of force and almost 600 types of weaponry including heavy duty tanks were on display as Mr Jinping saluted China's "heroic military".
Beijing flexed its muscles on Sunday just hours after Mr Trump criticised Beijing in two explosive tweets for not using their leverage to halt North Korea's nuclear and missile programs.
"I am very disappointed in China," the US leader said. "Our foolish past leaders have allowed them to make hundreds of billions of dollars a year in trade, yet they do NOTHING for us with North Korea, just talk.
"We will no longer allow this to continue. China could easily solve this problem!"
He spoke out after Pyongyang conducted its second intercontinental ballistic missile test late on Friday in what it called a warning to the "beast-like US imperialists".
Mr Xi travelled in a military jeep past a long strip in a training zone lined with tanks, missile launchers and other military vehicles as tensions flared in the region.
Vehicle-mounted nuclear-capable missiles and other equipment were also on show as military aircraft flew above, including H-6K bombers, which have been patrolling near Taiwan and Japan recently. J-15 carrier-based fighters and new generation J-20 stealth fighter were also on display.
Mr Xi later greeted troops and shouted, "Hello comrades!" and "Comrades, you are working hard!" into four microphones fixed atop his motorcade as martial music blared in the background.
The troops bellowed back: "Serve the people!", "Follow the Party!", "Fight to win!" and "Forge exemplary conduct!".
The war zone training came complete with a mock-target of Taiwan's presidential palace.
World news in pictures

Show all 50
In a brief speech, Mr Xi expressed his pride in the military and demanded the troops continued "absolute loyalty" to the party.
The Chinese leader alluded to an increasingly important role for the PLA as tensions flare around the globe.
"The world is not peaceful and peace needs to be defended," he said. "Our heroic military has the confidence and capabilities to preserve national sovereignty, security and interests... and to contribute more to maintaining world peace."
He made no reference to Mr Trump's tweets but an analyst pointed out that Beijing was the US President's only option to tackle North Korea's nuclear and missile program.
"Trump has cornered himself on the North Korea issue," said Zhang Baohui, a professor of political science at Hong Kong's Lingnan University told CNN.
"North Korea defies him – the only action he can take now is with US-China relations," he added. "I think we might see some kind of unilateral measure on trade, but China may be ready for this."
Register for free to continue reading
Registration is a free and easy way to support our truly independent journalism
By registering, you will also enjoy limited access to Premium articles, exclusive newsletters, commenting, and virtual events with our leading journalists
Already have an account? sign in
Register for free to continue reading
Registration is a free and easy way to support our truly independent journalism
By registering, you will also enjoy limited access to Premium articles, exclusive newsletters, commenting, and virtual events with our leading journalists
Already have an account? sign in
Join our new commenting forum
Join thought-provoking conversations, follow other Independent readers and see their replies