India trying to deport 40,000 Rohingya Muslim over 'ties to terrorism'
Around 400,000 have fled Burma following a fresh upsurge in ethnic violence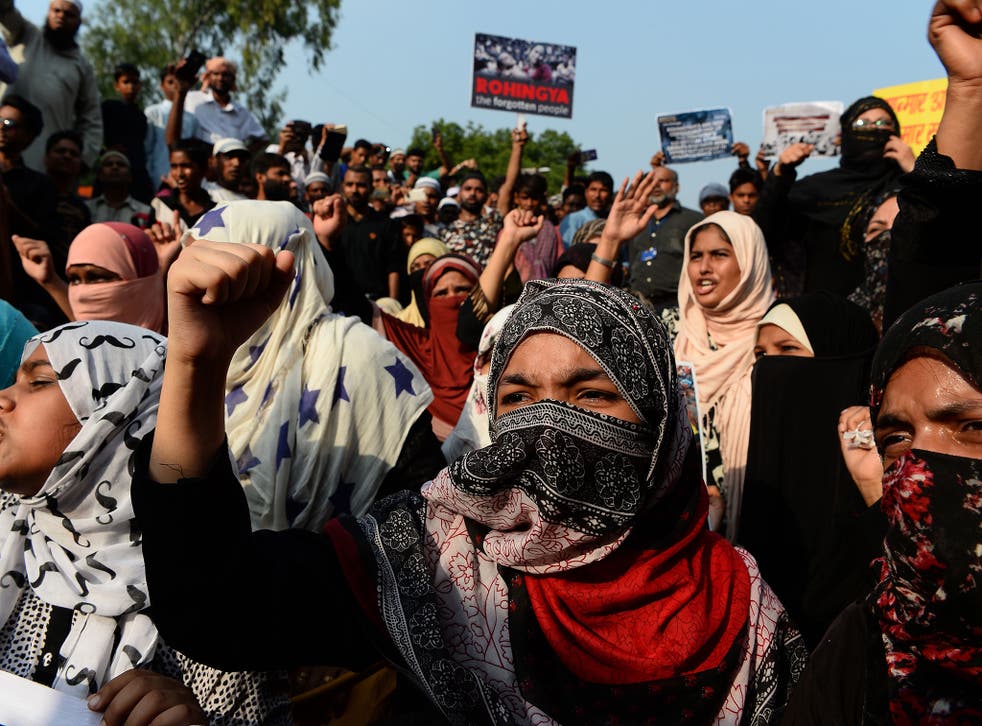 The Indian federal government is trying to deport Rohingya Muslims over their alleged "terror ties", as the ethnic minority faces a brutal military crackdown in Burma that the UN has said could amount to ethnic cleansing.
The Indian supreme court is currently hearing an appeal lodged on the behalf of the estimated 40,000 Rohingya to save them from a plan by Prime Minister Narendra Modi's Hindi nationalist government to expel them.
The country's home ministry has submitted an affidavit to the court saying it could confidentially share intelligence information with the Supreme Court showing Rohingya links to Isis and Pakistani militants.
An estimated 400,000 Rohingya have fled to Bangladesh to escape persecution in Burma since the start of a crackdown there on 25 August.
The offensive, which the United Nations branded a "textbook example of ethnic cleansing", has seen desperate refugees climbing over barbed wire border fences to escape an alleged campaign of rape and murder by Burmese soldiers in the western state of Rakhine.
Reports have emerged that the Burmese military are laying landmines along the border to stop them coming back.
But in India, the government said it had reports from security agencies and other authentic sources "indicating linkages of some of the unauthorised Rohingya immigrants with Pakistan-based terror organisations and similar organisations operating in other countries."
It also said there was information on Rohingya involvement in plots by Isis and other "extremist groups" to ignite communal and sectarian violence in India.
Rohingya refugees – in pictures

Show all 15
Senior home ministry official Mukesh Mittal said the Indian government would privately show the court material gathered from "sensitive investigations" to substantiate the claims in its affidavit.
They said the 40,000 Rohingya had arrived in India illegally four or five years ago from Bangladesh after fleeing Burma.
In a separate development, Indian police say they have arrested British national Shauman Haq, 27, near a bus stop in Delhi on Sunday and allege that he had come to India via Bangladesh specifically to recruit Rohingya to fight for al-Qaeda.
Rohingya in India voiced worries that they were being unfairly tainted by the allegations and sought more understanding for their plight.
"We feel helpless and hopeless," said Rohingya youth leader Ali Johar, who came to India in 2012 and lives with his family in a Delhi settlement.
"The world's largest democracy has given us shelter but they should handle this situation more empathetically."
Mr Modi's government has been criticised by activists for not speaking out against Burma's offensive against the Rohingya and right-wing groups in India have begun vilifying Rohingya living there.
The Rohingya are denied citizenship in Buddhist-majority Burma and regarded as illegal immigrants, despite claiming roots that date back centuries. More than 800,000 Rohingya currently live in Bangladesh.
Additional reporting by Reuters
Register for free to continue reading
Registration is a free and easy way to support our truly independent journalism
By registering, you will also enjoy limited access to Premium articles, exclusive newsletters, commenting, and virtual events with our leading journalists
Already have an account? sign in
Register for free to continue reading
Registration is a free and easy way to support our truly independent journalism
By registering, you will also enjoy limited access to Premium articles, exclusive newsletters, commenting, and virtual events with our leading journalists
Already have an account? sign in
Join our new commenting forum
Join thought-provoking conversations, follow other Independent readers and see their replies