India trains to reintroduce traditional clay tea cups in bid to reduce plastic waste
Railway stations will switch to the clay cups in a move aimed at cutting down plastic waste and to boost the income of potters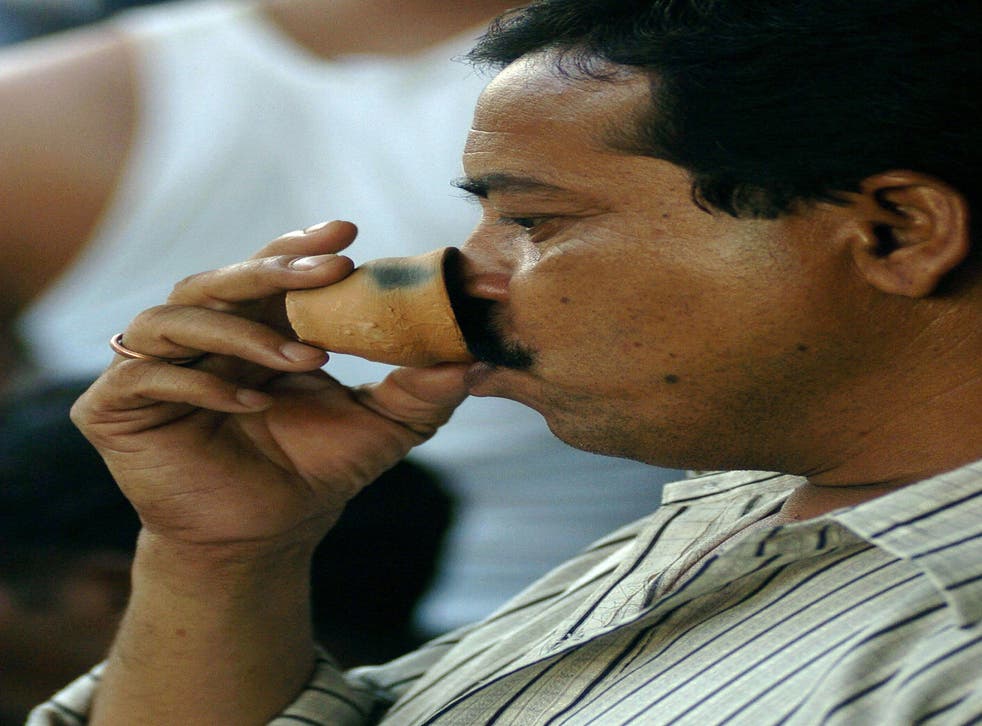 In a significant move towards reducing plastic waste, tea at all 7,000 railway stations across India will now be sold in traditional earthenware cups, popularly known as kulhads.  
The clay teacups are biodegradable, unlike plastic, said the railways minister Piyush Goyal as he announced the move as part of the government's goal of making India free from single-use plastic.
"Tea is given in kulhads at nearly 400 railway stations in the country today, and in future, it is our planning that tea will be sold only in kulhads at all the railway stations in the country. This will be the contribution of the railways towards a plastic-free India," local wire agency Press Trust of India quoted Mr Goyal as saying.  
"Kulhads will not only help reduce the use of toxic plastic and save the environment, but they will also give employment and income to hundreds of thousands of potters," he added.
The clay cups, a humble relic from India's past, are considered inherently hygienic because they are made by firing the shaped clay in extremely high temperatures in a kiln.
The idea is hardly a new one, though. Several previous railways ministers have also proposed replacing plastic cups with traditional kulhads. In 2004, then-railway minister Lalu Prasad had issued an order to start serving hot beverages in kulhads to boost potters' income and switch to a "greener" alternative.
And despite its biodegradable nature, the eco-friendliness of the clay cups is under dispute. An article published on Indian news website The Print argues that the carbon footprint involved in making a clay cup is not insignificant.  
Indraneel Ghosh, a scientist working on soil protection at Germany's Deutsche Gesellschaft für Internationale Zusammenarbeit GmbH (GIZ), an international development agency, told the news portal that to calculate the carbon footprint, one has to take into account the emissions from the baking process. Brick kilns are the largest users of coal in India after thermal power plants and the iron and steel industry. They produce a third of the carbon emissions from the industrial sector.
Though there are no estimates on carbon footprint in making a clay cup, producing one kilogram of bricks in India is estimated to produce about 195 grams of carbon in greenhouse gases, according to the report. The equivalent carbon footprint to produce a kilogram of single-use plastics is about 6 kg, though there are many more cups per kilogram of plastic compared to clay.
The same report also highlighted that the excessive use of kulhads may add to the degradation of soil quality, since the cups are made from the most fertile types of soil.
"About one kilogram of clay is required to make up to 60 small kulhads," Dr Shankar Ram, an assistant field officer in the Soil and Land Use Survey of India said.
With about 23 million daily passengers, even if a third of them sip tea in clay cups, 117 tonnes of fertile soil will be displaced and degraded on a daily basis.
Register for free to continue reading
Registration is a free and easy way to support our truly independent journalism
By registering, you will also enjoy limited access to Premium articles, exclusive newsletters, commenting, and virtual events with our leading journalists
Already have an account? sign in
Register for free to continue reading
Registration is a free and easy way to support our truly independent journalism
By registering, you will also enjoy limited access to Premium articles, exclusive newsletters, commenting, and virtual events with our leading journalists
Already have an account? sign in
Join our new commenting forum
Join thought-provoking conversations, follow other Independent readers and see their replies