Kabul attack: Death toll from Taliban bombing rises to 64 as terrorist group threatens more attacks on 'invaders'
A vehicle bomb was detonated outside a security compound in Tuesday morning's rush hour before gunmen burst inside
Lizzie Dearden
Wednesday 20 April 2016 12:38 Comments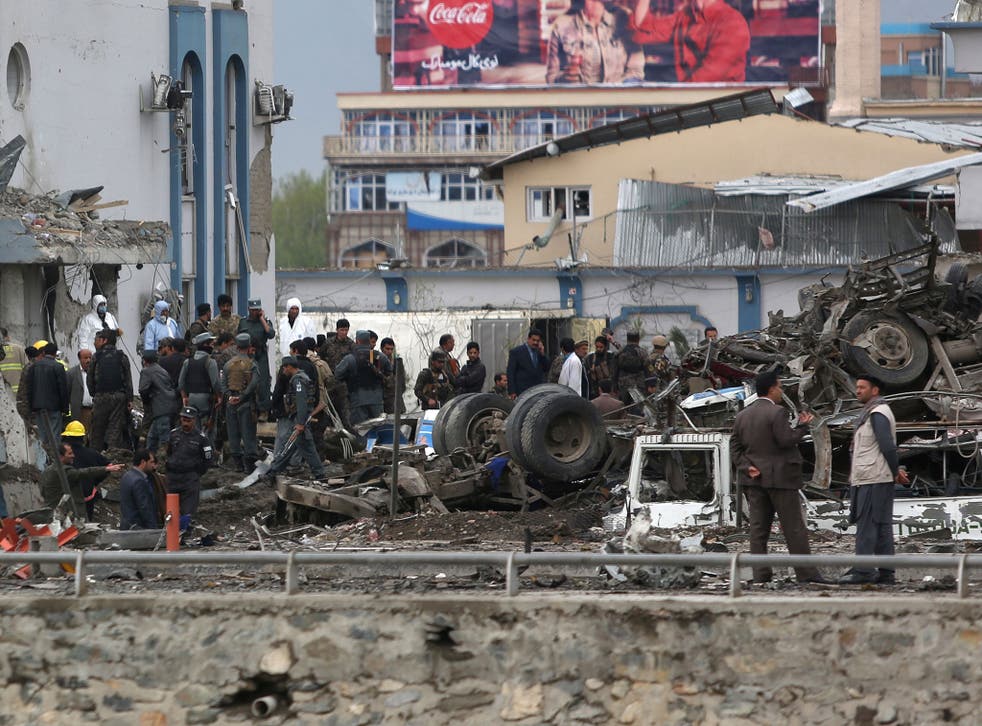 The death toll of a suicide bombing and gun attack by the Taliban in Kabul has risen to at least 64 as hundreds of victims continue to be treated for their injuries.
Afghanistan's interior ministry raised the number of those killed from the previous figure of 28 on Wednesday as recovery work continued.
Militants detonated a truck bomb at the gates of the National Directorate of Security (NDS), Afghanistan's main intelligence agency, before two gunmen broke inside and were killed in battles with security forces.
The attack hit a busy area of the capital during Tuesday morning's rush hour, injuring more than 300 people.
Witnesses described chaotic scenes after the blast, which sent a huge column of smoke into the air over the city.
"I was here when a huge explosion happened," said a witness named as Amir, who works in a nearby restaurant. "I saw three boys with severe head injuries. My uncle was injured and my brother is missing, I don't know what happened to him."
It was the worst single militant strike in Kabul since 2011, when about 60 people died in a suicide blast outside a mosque, and reinforced concerns that Afghanistan is being dragged into a worsening spiral of violence.
Taliban attacks Kabul security compound - in pictures

Show all 7
A propaganda statement issued by the Taliban said the attack targeted Department 10, a unit protecting government ministers and MPs, as part of its previously announced "spring offensive".
The terrorist group's spokesperson, Zabihullah Mujahid, said three militants carried out the assault near the Presidential Palace and Ministry of Defence.
He claimed that only "workers, key operatives and security guards" had been killed and dismissed allegations over civilian casualties.
The statement said the Taliban wanted to send a "strong message to the invaders and their lackeys," adding: "The enemy shall be shown no mercy, shall keep facing such precision strikes and key officials shall be eliminated."
President Ashraf Ghani said the assault "clearly shows the enemy's defeat in face-to-face battle" with government forces.
Philip Hammond also condemned the "appalling" attack and sent his condolences to the victims and their families.
"By rejecting the opportunity to enter peace talks and instead targeting innocent civilians, the Taliban have demonstrated their total disregard for the Afghan people," the Foreign Secretary said.
"The UK stands resolute in support of our Afghan friends, and call on the Taliban to end this senseless violence against civilians."
The American embassy in Kabul released a statement calling for continued efforts in the government's peace process.
Afghan forces retool in fight against Taliban in Helmand
"Afghanistan deserves peace and security, not attacks that victimise parents taking their children to school, workers on their morning commute, and people who have stepped forward to help defend their fellow citizens," a spokesperson said.
The Taliban controls swathes of Afghanistan, where Isis is also trying to expand its presence amid deteriorating security.
Islamists have been gathering strength since the bulk of British, American and Nato forces withdrew in 2014, sparking an exodus by hundreds of thousands of refugees and pleas by local officials for help to combat insurgents.
Afghanistan's defence minister, Masoom Stanikzai, warned last week that al-Qaeda is also gathering strength in the country and "preparing themselves for bigger attacks".
Additional reporting by AP
Register for free to continue reading
Registration is a free and easy way to support our truly independent journalism
By registering, you will also enjoy limited access to Premium articles, exclusive newsletters, commenting, and virtual events with our leading journalists
Already have an account? sign in
Join our new commenting forum
Join thought-provoking conversations, follow other Independent readers and see their replies