Missing Malaysia Airlines flight MH370: 'CIA hiding something' claims former leader Dr Mahathir Mohamad
"Airplanes don't just disappear," he wrote in a blog entry over the weekend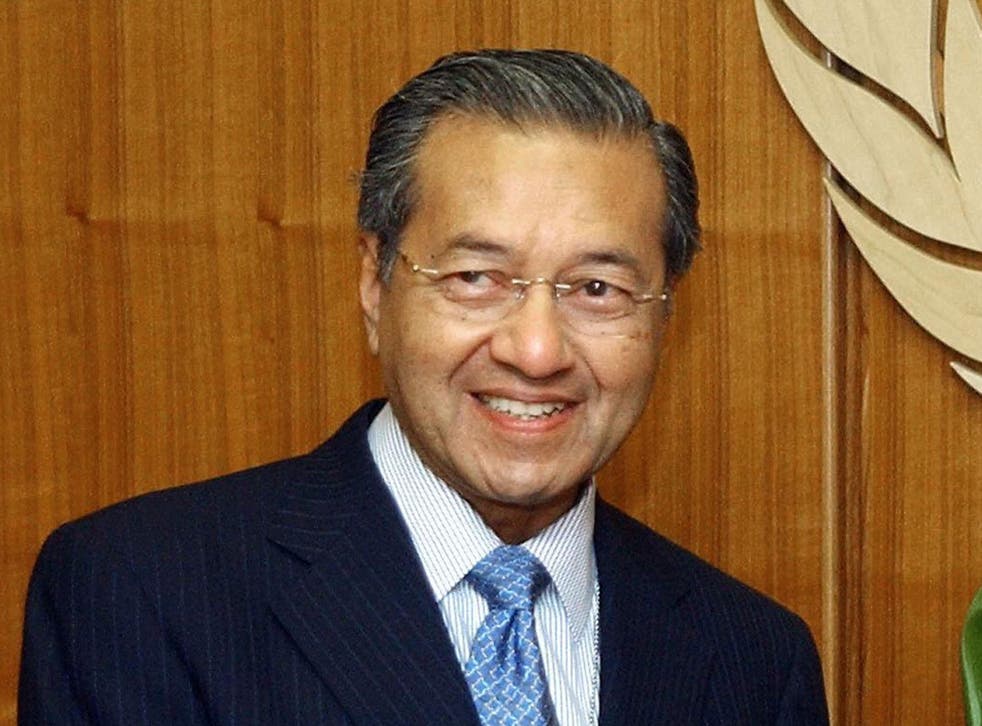 The former Prime Minister of Malaysia has accused a US intelligence agency and the Boeing aircraft firm of concealing the whereabouts of Malaysia Airlines flight MH370, which has been missing since 8 March.
In a blog entry posted on 18 May entitled 'Boeing Technology – What goes up must come down', Dr Mahathir Mohamad makes ten claims which he believes render the search operation for the aircraft, and the 239 missing crew members and passengers on board, a "waste of time and money".
"The plane is somewhere, maybe without MAS markings," reads Dr Mohamad's post on chedet.
"Someone is hiding something. It is not fair that MAS and Malaysia should take the blame," 88-year-old Dr Mahathir, who was Malaysia's prime minister between 1981 and 2003, alleges.
"Airplanes don't just disappear," the influential politician writes, adding: "Certainly not these days with all the powerful communication systems, radio and satellite tracking and filmless cameras which operate almost indefinitely and possess huge storage capacities."
In pictures: Missing Malaysia Airlines flight MH370

Show all 30
He goes on to describe his belief that MH370's GPS signals and communication systems "must have been disabled or else the ground station could have called the plane."
He also launches an attack against Boeing, in which he claims that the company could have used patented technology to return the flight to a pre-determined landing location.
Dr Mohamed goes on to cite an article published on The Flightglobal.com in 2006, which claims the CIA has the power to control aircrafts "remotely by radio or satellite if terrorists attempt to gain control of the flight deck".
"Clearly Boeing and certain agencies have the capacity to take over "uninterruptible control" of commercial airliners of which MH370 B777 is one," he writes.
"For some reason the media will not print anything that involves Boeing or the CIA. I hope my readers will read this," Dr Mohamed concludes.
Boeing said in a statement: "Since day one, the families and loved ones of those aboard Malaysia Airlines Flight 370 have been in our thoughts and prayers. Our goal, along with the entire global aviation community, is to find out what happened to the airplane—and why.
"Boeing will participate in and support the effort to find effective and efficient ways to enhance global tracking of airplanes."
His post comes after current Malaysian Prime Minister Najib Razak told CNN he did not believe experts when they told him the satellite location of debris thought to be the missing aircraft at the time.
"To be honest, I found it hard to believe," said the Prime Minister.
"It's a bizarre scenario which none of us could have contemplated so that's why when I met the team...of foremost experts in aviation industry I asked them again and again "are you sure?"'
"And their answer to me was we are as sure as we can possibly be."
Meanwhile, the search operation for the aircraft that has been missing for over three months continues.
Officials confirmed on Monday morning that a Chinese navy survey ship will start mapping the seabed off the west Australian coast this week as part of the latest phase in the search for the Malaysian airliner.
After an initial air and seabed search failed to find any trace of the wreckage, authorities this month announced a new phase over a vastly expanded seabed search area covering 60,000 square kilometers (23,000 square miles).
Join our new commenting forum
Join thought-provoking conversations, follow other Independent readers and see their replies