North Korea in 2018: World 'must guarantee Kim Jong-un regime's survival' to deter violent conflict
Pyongyang will back off from overt weapons testing and begin 'hard bargaining' with US, Prof Lee Geun predicts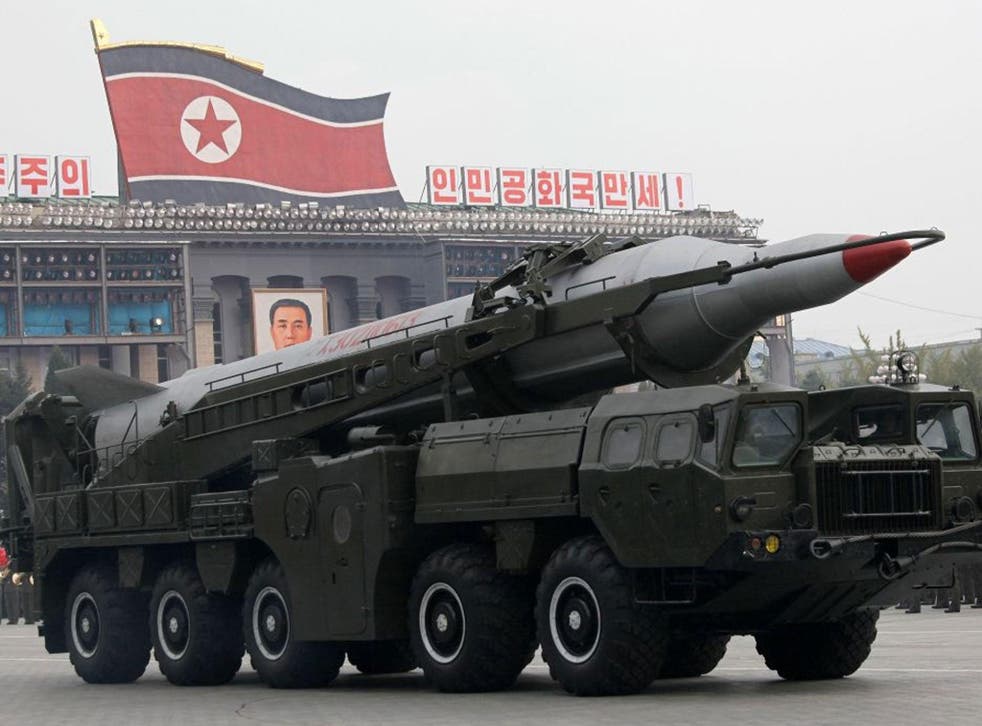 Donald Trump and other world leaders must guarantee the survival of Kim Jong-un's regime if they are to de-escalate tensions on the Korean peninsula, a leading academic has told The Independent.
Restraining Pyongyang from open conflict and beginning a peace process means accepting "at the moment" that North Korea has gained a nuclear deterrent, according to Lee Geun, of Seoul National University.
Mr Kim is a rational actor, Prof Lee says, meaning he and his top officials "can be deterred" from menacing their neighbours with weapons of mass destruction.
He says: "North Korea has taught us that it can stand economic sanctions and develop nuclear weapons.
"At the same time its pattern of nuclear development is exactly the same as other nuclear powers, meaning it has deterrence in mind… and assumes rationality of the nations."
In 2018, he believes, Pyongyang will declare its nuclear status and claim a policy of "no first use" of atomic armaments. The regime may also agree on "no proliferation", and shift focus to economic development, he says.
This year North Korea tested its sixth and most powerful nuclear device and a new, more capable intercontinental ballistic missile (ICBM), the Hwasong-15.
It is thought the projectile is capable of striking parts of the US mainland but Mr Kim's regime has not yet demonstrated it can successfully and accurately guide a warhead through atmospheric re-entry.
In response to repeated test firings Mr Trump has lashed out rhetorically, promising "fire and fury like the world has never seen" and suggesting the US will "totally destroy" North Korea's regime, including "Little Rocket Man" Mr Kim.
He and his senior officials have emphasised that "all options" are available to them.
UN security council unanimously agrees new sanctions for North Korea
Mr Kim declared in November that he had "realised the great historic cause of completing the state nuclear force" – a moment Prof Lee calls "the most important development regarding North Korea this year".
It showed Pyongyang had "attained enough confidence in terms of deterring the US attack" and planned to pursue economic development, he says.
He adds: "The next step to be taken by the North would be mass production of delivery systems and diversification of its nuclear capability without overt missile and nuclear tests – provocations – and hard bargaining for nuclear status and a peace treaty with the US."
Dr John Nilsson-Wright, a senior research fellow at Chatham House and lecturer at Cambridge University, tells The Independent he believes a no-test pledge would be required to bring the US to the table.
He says: "If [Mr Kim] wants economic development he's got to get sanctions released. And he's got something he can trade. If Kim were to say 'no more testing' and live up to that then we could take some reassurance.
"I suspect the Americans will need to see that he's serious about taking the first step."
World news in pictures

Show all 50
The North's speedy progress on weapons development – "faster than most experts expected" – will continue to put Mr Trump's administration under pressure to get results, Dr Nilsson-Wright says.
He adds: "When Donald Trump talks about all options being on the table he's not making a big change from previous administrations.
"However, what's different is Trump's style and his use of inflammatory rhetoric, and his willingness to sound quite as if he is prepared to do things that would be considered deeply provocative.
"It increases the potential that Kim Jong-un may interpret US behaviour as the first step towards a military conflict in which the US is willing to pre-emptively attack North Korea. That's a problem."
This behaviour includes scheduled military drills and power-play movements of aircraft carriers, meaning their value in reassuring allies must be balanced with the potential for mistaken intentions, Dr Nilsson-Wright says.
North Korea has regularly accused the US, Japan and South Korea of preparing for war when drills take place. General Valery Gerasimov, Russia's defence chief, warned in December that military exercises served only to "heighten hysteria and make the situation unstable".
Prof Lee says: "Taking deterrence in mind for the time being, and in the long run, the world leaders need to come up with what I would call a complete, verifiable, irreversible guarantee of North Korean regime survival which is, at the moment, no other than nuclear weapons for North Korea. In other words, they need to design a peace process that is equivalent to that."
If he felt his regime's survival was threatened "a rational Kim Jong-un" might use nuclear weapons to deter an attack, Dr Nilsson-Wright says.
Displays of respect could provide a route to genuine dialogue, he says, but Mr Trump's style and a lack of information about Mr Kim's thought processes – "a question mark in a situation full of question marks" – make divining the future difficult.
"It's like a game of diplomatic chicken," says Dr Nilsson-Wright. "The only good news is that all of the strategic uncertainty that Trump and Kim contribute to this situation has forced the international community and other countries to take this issue really seriously," he adds, with civil servants globally "working around the clock".
A UN envoy travelled to Pyongyang in December to meet top North Korean foreign officials. Jeffery Feltman, from the US, said there was an "urgent need to prevent miscalculations, and open channels to reduce the risks of conflict".
And shortly after Christmas the US and Russia agreed to continue diplomatic efforts to resolve the crisis, with Secretary of State Rex Tillerson and Sergei Lavrov, Moscow's foreign minister, agreeing that neither would accept North Korea as a "nuclear power".
US soldier Charles Jenkins who defected to North Korea stars in 1970s film
Nonetheless, Dr Colin Alexander, a political communications lecturer at Nottingham Trent University, says he thought the US might implement a "change of tack" in 2018, opening the way to a détente.
He tells The Independent: "We now have a situation where North Korea has become the next nuclear power.
"Rather than talking about preventing nuclear capability you're instead saying, 'OK, they most likely got it and they've spent many billions on it.'
"They're not going to get rid of it any time soon. That requires a change of thought and a change of approach. That's the big thing we've seen this year.
"We may see a change in tack in the rhetoric that comes out of the US, which may lead to a de-escalation. If the US is less belligerent towards North Korea, then North Korea may well be less belligerent back."
But he warned that while he detected no "movement towards war", "we're seeing a movement towards the preparation of a landscape" in which conflict could be seen as acceptable because the US wanted "to have all options available".
The "propaganda war machine" that failed to head off anti-war protests before the invasion of Iraq has been in motion for "easily the whole of this century so far" in painting North Korea as a threat, Dr Alexander says.
Register for free to continue reading
Registration is a free and easy way to support our truly independent journalism
By registering, you will also enjoy limited access to Premium articles, exclusive newsletters, commenting, and virtual events with our leading journalists
Already have an account? sign in
Register for free to continue reading
Registration is a free and easy way to support our truly independent journalism
By registering, you will also enjoy limited access to Premium articles, exclusive newsletters, commenting, and virtual events with our leading journalists
Already have an account? sign in
Join our new commenting forum
Join thought-provoking conversations, follow other Independent readers and see their replies