North Korea to test rocket that would allow it to launch hydrogen bomb at US, Kim Jong-un warns
Mr Kim has threatened to keep expanding North Korea's nuclear capabilities if the US doesn't end war games with rival South Korea
Andrew Griffin
Sunday 01 January 2017 12:57 Comments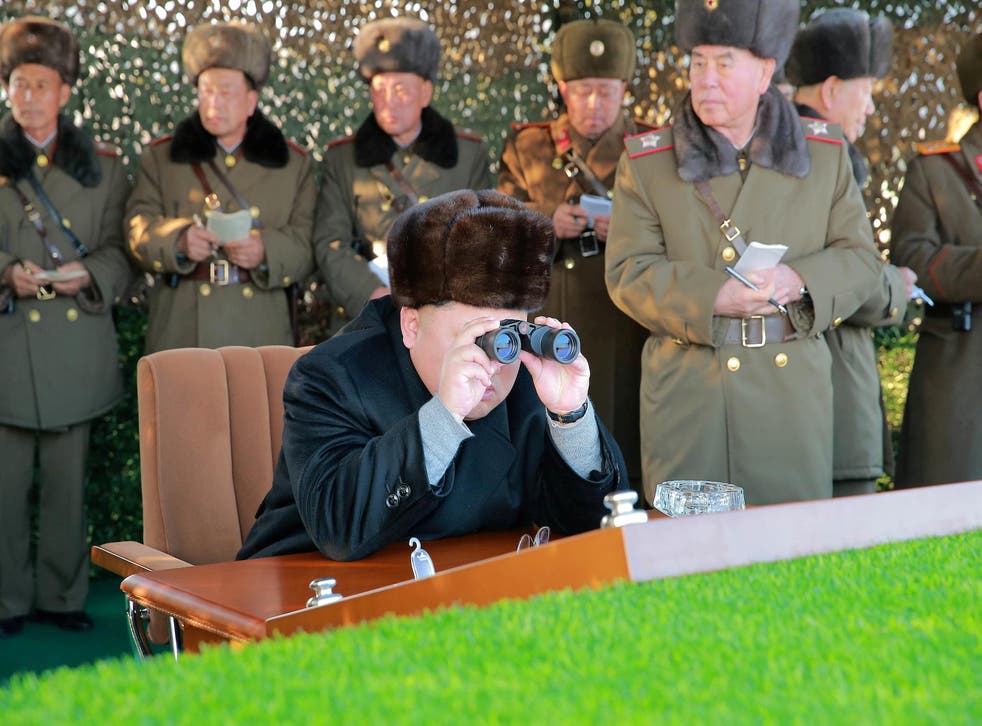 North Korea might be about to test a missile that could be launched at enemies in the US and elsewhere.
Leader Kim Jong-un has hinted that Pyongyang might be about to ring in the new year with a test of an intercontinental ballistic missile. As with much of the country's weaponry, such a missile is likely to be relatively undeveloped – but will serve as an important threat to much of the international community, after tensions with North Korea rose for much of the year.
Mr Kim told citizens at his annual new year address that the test will follow what he claims was a successful H-bomb test last year. That news caused consternation throughout the world, but the country hasn't yet demonstrated that it would be able to fire such a weapon over any distance.
The leader didn't say that the test was imminent. But the mention of it has been taken to suggest that it might be – and it could come as soon as next week, which sees Mr Kim's birthday and the anniversary of a successful nuclear test.
Life in North Korea captured with a mobile phone

Show all 30
He threatened in the address to boost his country's military capabilities further unless the US ends war games with rival South Korea, but he also said efforts must be made to defuse the possibility of another Korean war and stressed the importance of building the economy under a five-year plan announced in May.
"The political and military position of socialism should be further cemented as an invincible fortress," Mr Kim said, according to the North's official Korean Central News Agency. "We should resolutely smash the enemies' despicable and vicious moves to dampen the pure and ardent desire of the people for the party and estrange the people from it."
The address was shown on television, mixing video of Mr Kim speaking with stretches of just audio with still photos. It was less than 30 minutes long.
Under Mr Kim, who rose to power after his father's death in 2011, North Korea has made steady progress in its nuclear and missile programmes, including two nuclear tests in 2016. It recently claimed a series of technical breakthroughs in its goal of developing a long-range nuclear missile capable of reaching the continental United States.
UN resolutions call for an end to North Korea's nuclear and missile tests, but Mr Kim appears uninterested in complying.
The year ahead could be a tumultuous one in north Asia, with Donald Trump set to become the new US president on January 20, and South Korea's politics in disarray over a scandal that brought the impeachment of President Park Geun-hye.
Mr Kim indicated there will be no change in the North's nuclear policy unless Washington makes a major conciliatory first move, which, even with the advent of Mr Trump, seems unlikely.
Mr Trump has offhandedly suggested he would be willing to meet Mr Kim – but not in North Korea – and has at the same time indicated that he wants China to exert significantly more control over Pyongyang to get it to abandon its nuclear programme.
Demands from Pyongyang for the US to stop its joint military exercises with the South, and enter negotiations to sign a peace treaty formally ending the 1950-53 Korean War, have fallen on deaf ears in Washington for years amid an atmosphere of distrust and deepening hostility.
Mr Kim is in his early 30s and is in his fifth year as the North's leader.
His new year addresses, and a marathon speech at the May ruling party congress, are a contrast with his enigmatic father, Kim Jong-il, who rarely spoke in public, but he has yet to meet a foreign head of state or travel outside North Korea since assuming power, and remains one the world's most mysterious national leaders.
Additional reporting by Associated Press
Register for free to continue reading
Registration is a free and easy way to support our truly independent journalism
By registering, you will also enjoy limited access to Premium articles, exclusive newsletters, commenting, and virtual events with our leading journalists
Already have an account? sign in
Join our new commenting forum
Join thought-provoking conversations, follow other Independent readers and see their replies