Rohingya child refugees killed in elephant attack after fleeing Burma for safety of Bangladesh
Desperate refugees are building shelters on land with designated routes for elephants, leaving them at grave risk
Charlotte Beale
Saturday 14 October 2017 13:07 Comments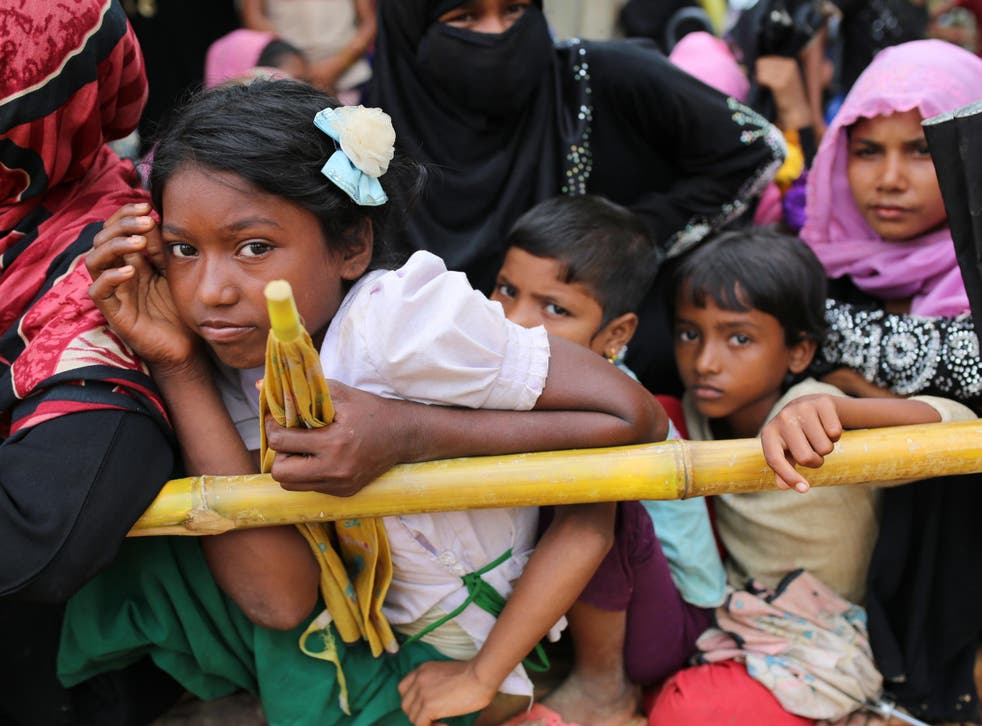 An elephant killed two Rohingya children and injured three more Rohingya refugees in Bangladesh.
A five-year-old girl died at the scene, while a 13-year-old died later in hospital, the UN's migration agency wrote on Twitter.
A three-year-old child and two others were also injured in the incident at Balukhali camp in Cox's Bazar, on Bangladesh's south-eastern border with Burma.
Two Rohingya, including a two-year-old boy, were trampled to death by an elephant in September in the same area.
Since Burma's military forces launched a brutal offensive against the country's Rohingya population on 25 August, more than 500,000 Rohingya Muslims have fled to Bangladesh.
The desperate refugees are building makeshift shelters in areas designated as wild elephant routes. Cox's Bazar, the region where Friday's attack took place, is home to around 78 of Bangladesh's 268 wild elephants. It hosts eight designated routes through forest land for the elephants to use, which keep locals safe by steering the animals away from land occupied by humans.
But the numbers of refugees fleeing to the area has required the Bangladeshi government to fell more than 1,000 acres of forest to make space for 150,000 tarpaulin shelters, Bangladesh's Secretary of Disaster Management and Relief Mohammad Shah Kamal told Reuters.
The deforestation confuses the elephants and can cause them to approach human settlements, according to AHM Raihan Sarkar, associate professor at Chittagong University's Forest and Environmental Science Institute.
"If this practice of establishing unplanned settlements on the elephants' path continues, it will not only increase human-elephant conflicts, but also cause the extinction of elephants in the country within 10-20 years" Mr Raihan Sarkar told the Dhaka Tribune in September.
The persecution of the Rohingya population has caused a humanitarian emergency in the region.
Save the Children has warned of a malnutrition crisis among the refugees. More than 14,000 children are already suffering acute malnutrition and 280,000 refugees need food urgently, including 145,000 children under five and more than 50,000 pregnant and breastfeeding women.
As the EU and the US consider targeted sanctions against Burmese military leaders, former UN Secretary-General Kofi Annan urged Burma to allow the Rohingya home from their temporary camps in Bangladesh.
Burma needs to "create conditions that will allow the refugees to return with dignity and with a sense of security", Mr Annan told an informal Security Council meeting on Friday.
"They should not be returned to camps, he said, but rather given assistance to help rebuild their homes.
Burma's actions against its Rohingya population seem like "a textbook example of ethnic cleansing", according to the United Nations High Commissioner for Human Rights.
Register for free to continue reading
Registration is a free and easy way to support our truly independent journalism
By registering, you will also enjoy limited access to Premium articles, exclusive newsletters, commenting, and virtual events with our leading journalists
Already have an account? sign in
Register for free to continue reading
Registration is a free and easy way to support our truly independent journalism
By registering, you will also enjoy limited access to Premium articles, exclusive newsletters, commenting, and virtual events with our leading journalists
Already have an account? sign in
Join our new commenting forum
Join thought-provoking conversations, follow other Independent readers and see their replies