Rohingya Muslims fleeing Burma being 'deliberately targeted' with landmines on border
'The Myanmar army is one of only a handful of state forces worldwide, along with North Korea and Syria, to still openly use antipersonnel landmines,' Amnesty International says
Sally Hayden
Sunday 10 September 2017 16:24 Comments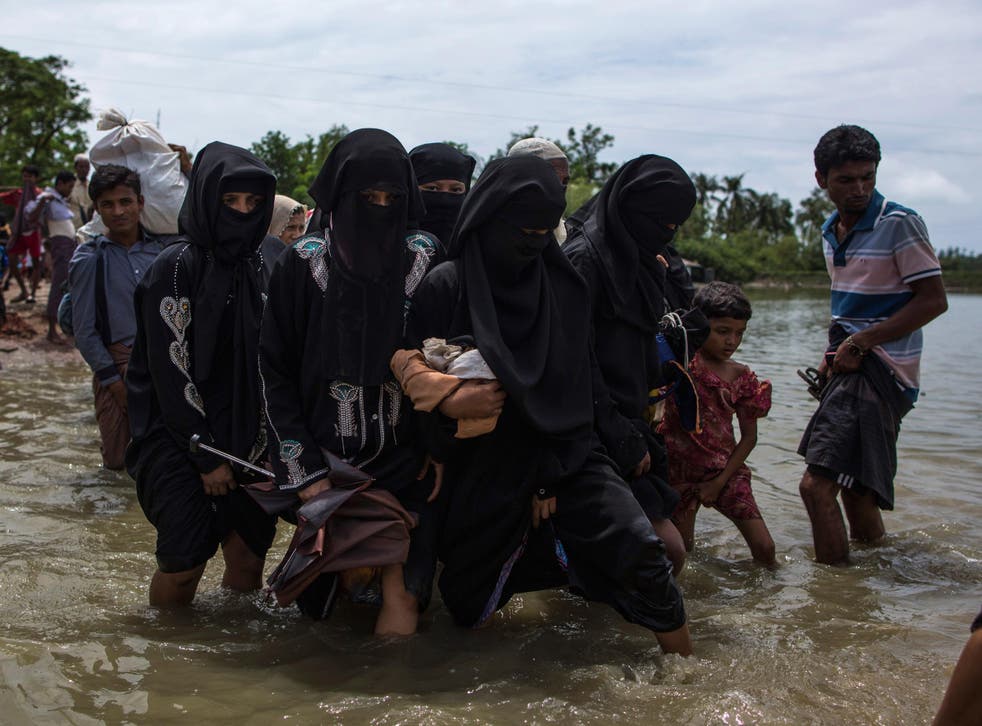 A young Bangladeshi farmer is the latest victim of land mines along the Burmese border, in what Amnesty International says is evidence of the deliberate targeting Rohingya Muslims fleeing the country.
The man, in his early 20s, had his leg blown off after stepping on a mine near the Bangladeshi village of Baish Bari.
Another man is said to have been injured after a separate blast near Amtali village in Bangladesh, another common crossing point.
Amnesty International has accused the army in Burma - also known as Myanmar - of planting the landmines, which have caused serious injuries to a least five civilians over the past week. Two of the injured were children, Amnesty said, while there are reports of the death of another man.
"There is a reason why the use of antipersonnel landmines is illegal: they kill and maim indiscriminately and can't distinguish between fighters and ordinary people," said Tirana Hassan, Amnesty International's Crisis Response Director, who has been carrying out research on the Burma-Bangladesh border
"The Myanmar army is one of only a handful of state forces worldwide, along with North Korea and Syria, to still openly use antipersonnel landmines. Authorities must immediately end this abhorrent practice against people who are already fleeing persecution."
In a separate incident on 3 September, a woman in her 50s had her leg blown off from the knee down while crossing the border from Taung Pyo Let Wal.
Kalma, a relative, told Amnesty International the woman had gone to fetch water for a shower. "A few minutes later I heard a big explosion and I heard someone had stepped on a mine. It was only later I realised it was my mother-in-law."
Landmines are illegal under a 1997 international treaty. Last week, Bangladesh's foreign secretary Shahidul Haque confirmed he had lodged a formal complaint with Burma about the landmines.
Campaigners say the threat of explosives only adds to the fears felt by the hundreds of thousands of Rohingya Muslims currently fleeing Burma.
Rohingya refugees – in pictures

Show all 15
Some 290,000 Rohingya have crossed the border to Bangladesh in the past two weeks, according to the United Nations. Another 30,000 non-Muslims have been displaced inside Burma.
The latest exodus began after Rohingya insurgent attacks on 25 August resulted in a brutal army counter-offensive. Thousands of homes have been burned down, with witnesses reporting that entire villages have been set on fire.
The military admitted nearly 400 people died in clashes which happened when soldiers conducted "clearance operations". Most of the dead were insurgents, the military claimed, while also blaming insurgents for setting villages on fire.
The plight of the Rohingya is not new. The ethnic minority has repeatedly been described as one of the most persecuted groups in the world. In 2012, Human Rights Watch accused the Burmese authorities of carrying out a "campaign of ethnic cleansing" against them.
Many of those inside Burma have been confined to camps, surviving in incredibly poor living conditions. At least 100,000 Rohingya Muslims were already in Bangladesh before the latest round of violence, having fled previously.
Register for free to continue reading
Registration is a free and easy way to support our truly independent journalism
By registering, you will also enjoy limited access to Premium articles, exclusive newsletters, commenting, and virtual events with our leading journalists
Already have an account? sign in
Join our new commenting forum
Join thought-provoking conversations, follow other Independent readers and see their replies