South Korea 'developing bomb to wipe out North Korea's power supply'
Dubbed the 'blackout bomb', the weapon spreads chemically treated graphite filaments over electrical components, which short-circuit power systems
Harriet Agerholm
Monday 09 October 2017 17:53 Comments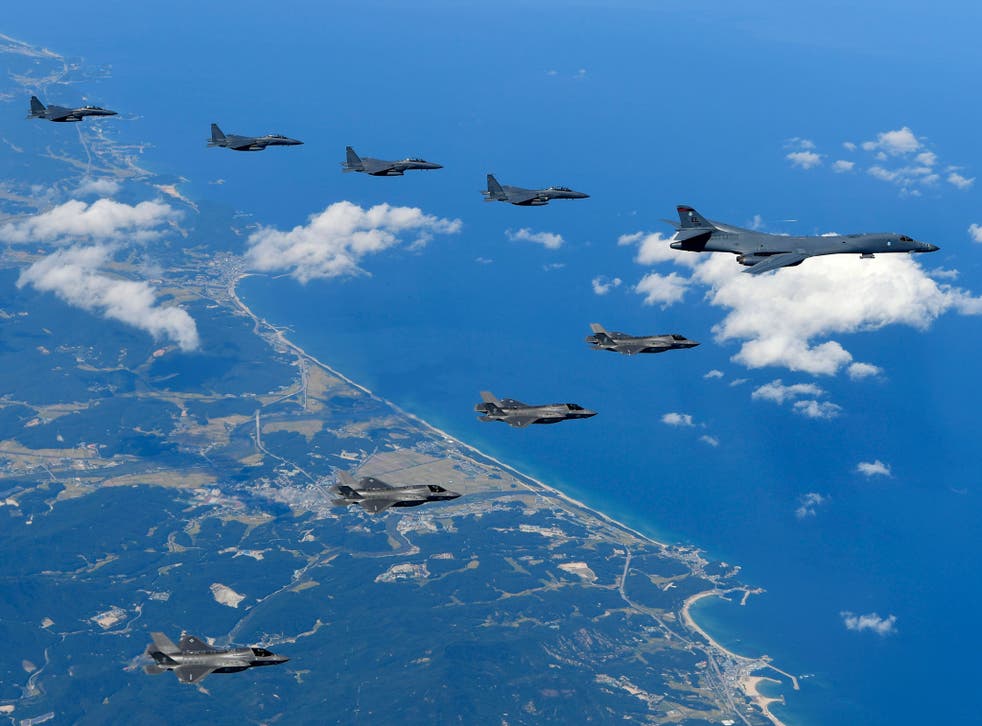 South Korea claims it has secured the technology it needs to build a non-lethal bomb that can paralyse North Korea's power systems.
Dubbed the "blackout bomb", the weapon spreads chemically treated graphite filaments over electrical components, which short-circuit power systems.
South Korea's state news agency, Yonhap, said the weapon was developed by its Agency for Defence Development, as part of a programme called "Kill Chain".
Trump: US's military solution for North Korea would be 'devastating'
"All technologies for the development of a graphite bomb led by the ADD have been secured," an unnamed military official told the agency. "It is in the stage where we can build the bombs anytime."
The defence department had asked that next year's budget include 500m Won (£330,000) for the project, but the country's finance ministry refused to award the funding.
It was not immediately clear whether the defence ministry would be able to build the bomb without the funding.
The report came hours before North Korean leader Kim Jong-un said nuclear weapons were a "powerful deterrent" that guaranteed the sovereignty of the isolated state.
North Korea propaganda video shows missiles blowing up US targets
Tensions in the Korean Peninsula have ratcheted up as the North has carried out a series of missile tests, including one which it said was capable of hitting the US mainland.
The secretive communist state also tested a hydrogen bomb last month.
US President Donald Trump has traded a series bombastic threats and insults with the North Korean leader.
Over the weekend he indicated military action remained on the agenda when he said "only one thing will work" when dealing with communist regime.
Kim Jong-un inspects weapon North Korea says is powerful hydrogen bomb

Show all 6
The first known use of a graphite bomb, or soft bomb, was in 1991 by the US in Iraq during the Gulf war.
Nato fighters also dropped a blackout bomb on Serbia in 1999 during Nato's military action against Kosovo.
The idea for the bombs purportedly came after a training accident in Southern California, when US military aircraft were dropping fine metal shards to confuse enemy radar.
When one aeroplane released the fragments near a power switching station, a large area of Orange County was reportedly plunged into darkness.
Register for free to continue reading
Registration is a free and easy way to support our truly independent journalism
By registering, you will also enjoy limited access to Premium articles, exclusive newsletters, commenting, and virtual events with our leading journalists
Already have an account? sign in
Join our new commenting forum
Join thought-provoking conversations, follow other Independent readers and see their replies