South Korea to hold summits with Japan and China to calm troubled waters of South China Sea and avert all-out war
Summits with Japan and China will also discuss curbing North Korea's nuclear ambitions. Donald Kirk reports from Seoul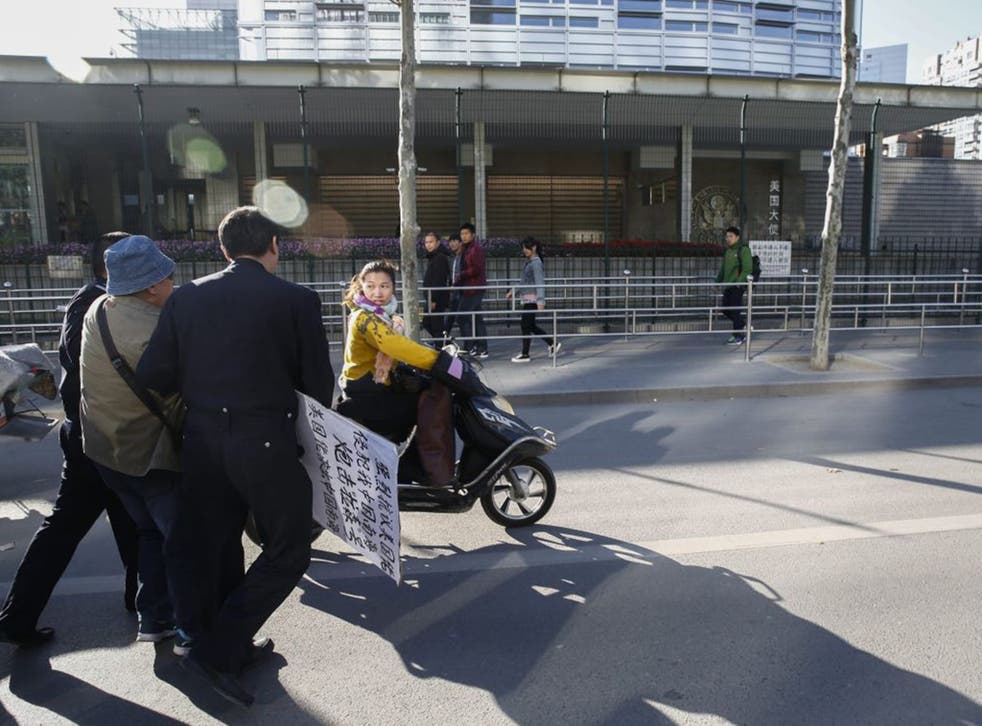 The leaders of the three major Northeast Asian countries, often at odds with each other, face what may be mission impossible this weekend – putting off conflict in the South China Sea between the US and China while reining in North Korea's nuclear ambitions.
President Park Geun-hye of South Korea, caught between the rising power of China and Korea's one-time colonial ruler, Japan, hosts leaders of both in three hasty summits that may determine whether the region faces war or peace. Considering the lingering hostility between Japan and China and Korea, they may have to settle for platitudes.
For Ms Park, the key word when talking about the South China Sea is "restraint" – a stance that upsets South Korea's military ally, the US, but that will please Li Keqiang, China's Prime Minister, arriving on Saturyday in Seoul .
Ms Park signalled what she'll say to the Chinese Premier when one of her senior staffers said South Korea "has been strongly calling for restraint of any action that affects peace and stability in the region". Put simply, she's not going to question Mr Li on China's claim to the South China Sea or the Senkaku Islands, which Japan clings to tenaciously.
The reason for her reticence, which some Americans see as "betrayal" of the alliance, is simple: she's counting on China to revive long dormant six-party talks on North Korea's nuclear programme – and persuade the North's "Supreme Leader", Kim Jong-un, not to conduct a fourth nuclear test.
Sharing those goals, a former South Korean Foreign Minister, Song Min-soon, said the US challenge to China in the South China Sea calls for "an honest broker" to stop the confrontation from spiralling out of control.
"Dangerous developments [there] are very dangerous for all Asia," he warned as the guided missile destroyer, USS Lassen, penetrated the 12-mile limit set by China around the Spratly Islands.
Mr Song sees the standoff in the South China Sea as rippling around the periphery of China to the Korean peninsula and Japan. "Let's stop this reckless action," he said at a meeting here of policy-makers and think-tanks recently. "Now we want to see an honest broker. It is time for us to have a modus vivendi."
If Ms Park and Mr Li see eye to eye, they may encounter strong opposition from Shinzo Abe, Japan's Prime Minister, when all three sit down tomorrow for a "trilateral summit" – the second of the three summits she's hosting. Mr Abe, arriving on Sunday, has supported the right of US warships to enter what the Chinese claim as their territorial waters, and where Japanese ships have conducted medical and rescue operations with Philippine forces – the first Japanese military in the region since the Second World War.
Given the differences, how can these three leaders rationalise their differences? One solution may be to engage in vague, if loaded, terminology. Senior Chinese and US diplomats suggested the terms at a conference this week.
Liu Zhenmi, Chinese Vice Foreign Minister, called for "mutual respect" despite "differences and disputes" on "history, territory, maritime jurisdiction and resources". In a studied rebuttal, Sung Kim, US Deputy Assistant Secretary of State and former ambassador to Korea, called for "adhering to international rules and norms" that "preserve a stable status quo" – the right of vessels to move freely in the South China Sea.
The three leaders should find it much easier to settle on what to say – though not on what to do – about North Korea. All have called for the North to give up its nuclear weapons along with the long-range missiles needed to carry them. All have supported sanctions against North Korea for missile and nuclear tests – though North Korea is still acquiring all its oil and half its food from China.
The most rancorous summit may be the third – when Ms Park hosts Mr Abe for their first meeting since her election nearly three years ago. Ms Park has vowed to confront Mr Abe on "comfort women" forced to serve Japanese soldiers in the Second World War. Mr Abe may make the usual apologies for Japan's wartime record but is sure to stick by Japan's refusal to provide compensation.
The US is delighted they're meeting at all. The White House and State Department applauded a Park-Abe summit – a chance to improve its relations with two vital Asian allies. The US sees cooperation among the US, Japan and Korea as a counterpoint to China's growing power.
Join our new commenting forum
Join thought-provoking conversations, follow other Independent readers and see their replies