Taiwan president urges China to engage in 'calm and rational' dialogue to maintain peace
President Tsia Ing-wen vows not to give in to recent attempts by Beijing to 'threaten and intimidate' the self-ruled island
May Bulman
Saturday 31 December 2016 22:46 Comments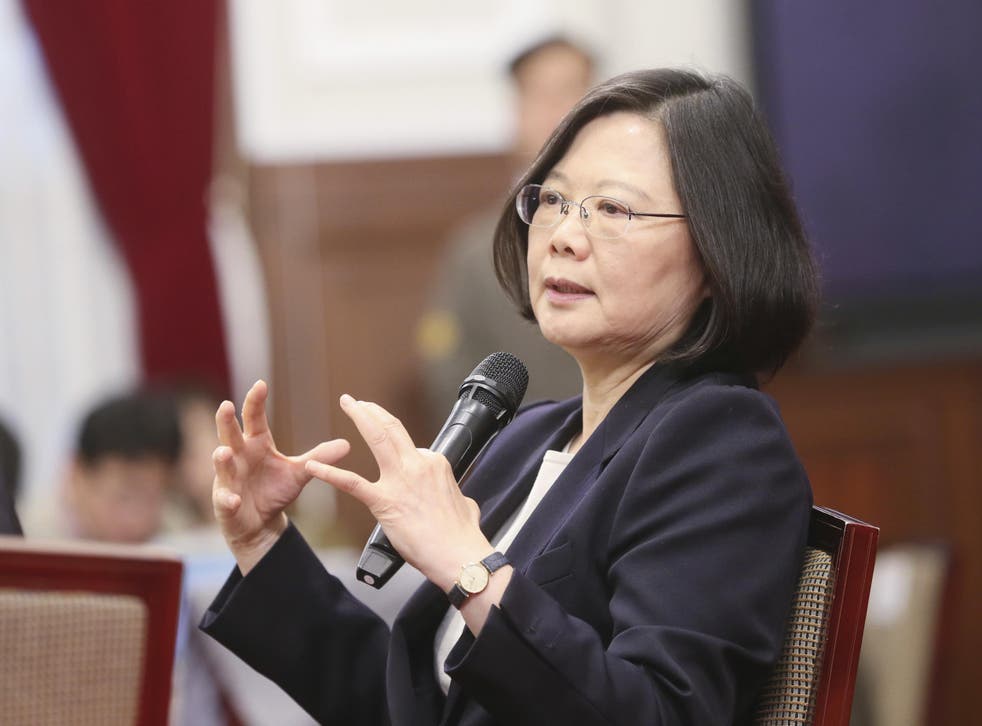 Taiwan's leader has urged China to engage in "calm and rational" talks to maintain peace, vowing not to give in to Beijing's recent moves to "threaten and intimidate" the self-ruled island.
In an end of year news conference, President Tsai Ing-wen said she believed such talks would allow for "peaceful and stable relations" to be maintained between the two nations, amid reports that China is considering strong military measures against the island.
"As long as we can be calm, rational, and maintain a flexible attitude, I believe we should be able to find a solution that allows both sides to maintain peaceful and stable relations," Ms Ing-wen said.
"[Beijing] has been gradually returning to the old ways of dividing, suppressing and even threatening and intimidating Taiwan.
"We hope that this is not a policy decision of the Beijing authorities. We will not yield to the pressure nor go back to the old ways of confrontation."
It comes amid reports China's military is considering strong measures to prevent Taiwan from moving toward independence, following indications that Donald Trump supports Taiwan's desire to be recognised as an independent state.
The President-elect had a conversation on the phone with Ms Tsai in early December, in a move that broke nearly four decades of US policy, and later said he did not feel "bound by a one-China policy".
World news in pictures

Show all 50
Tensions between Taiwan and China have grown since China suspended contacts with Ms Tsai's administration in June over her refusal to endorse the country's claim that Taiwan and the mainland are part of a single Chinese nation.
Earlier this week, China's first aircraft carrier and five other warships held drills that passed by Taiwan and sailed through the contested South China Sea, prompting Taipei to deploy fighter jets to monitor the fleet.
According to Reuters, three sources said on Saturday that the Chinese military was considering a range of measures against Taiwan, including conducting war games near the island and implementing a series of economic measures to cripple its economy.
The Taiwan issue has become a hot topic within the upper echelons of China's People's Liberation Army (PLA) in recent weeks, the sources reportedly added.
Beijing has also ratcheted up efforts to diplomatically isolate Taiwan, intervening to prevent the island's participation in international forums and establishing diplomatic relations with former Taiwan allies.
The number of Chinese tourists visiting the island has meanwhile drastically fallen.
President Tsai also said in her address that the incoming Trump administration could bring "changes in international affairs", adding that she expected 2017 to bring uncertainties for her administration, particularly in the first half.
Her office said on Friday that she and a delegation of Taiwanese officials would make two stops in the US as part of a visit to diplomatic allies in Central America next month - a visit China has repeatedly urged Washington to prevent.
World reaction to President Trump: In pictures

Show all 29
In response to Mr Trump's phone conversation with the Taiwanese leader, the Chinese government said it was "seriously concerned" about the President-elect's threat to change the US's stance on the recognition of the island as an independent state.
The issue is highly sensitive for China, which considers Taiwan as its sacred and inviolable territory and is deeply suspicious of President Tsai Ing-wen, whose ruling Democratic Progressive Party espouses the island's independence.
"If Trump challenges 'one China' after becoming president, this would cross our red line," said one source with ties to China's leadership after the phone call, according to Reuters.
The US is bound by law to provide Taiwan with the means to defend itself, but it is unclear whether or not it would send troops in the event of war between China and Taiwan.
Washington also acknowledges Beijing's position that there is only one China and Taiwan is its territory.
Register for free to continue reading
Registration is a free and easy way to support our truly independent journalism
By registering, you will also enjoy limited access to Premium articles, exclusive newsletters, commenting, and virtual events with our leading journalists
Already have an account? sign in
Join our new commenting forum
Join thought-provoking conversations, follow other Independent readers and see their replies