Facebook under fire for failing to remove footage of Thai man killing baby daughter for almost 24 hours
Man's wife says she does not blame 'outraged' viewers for sharing disturbing footage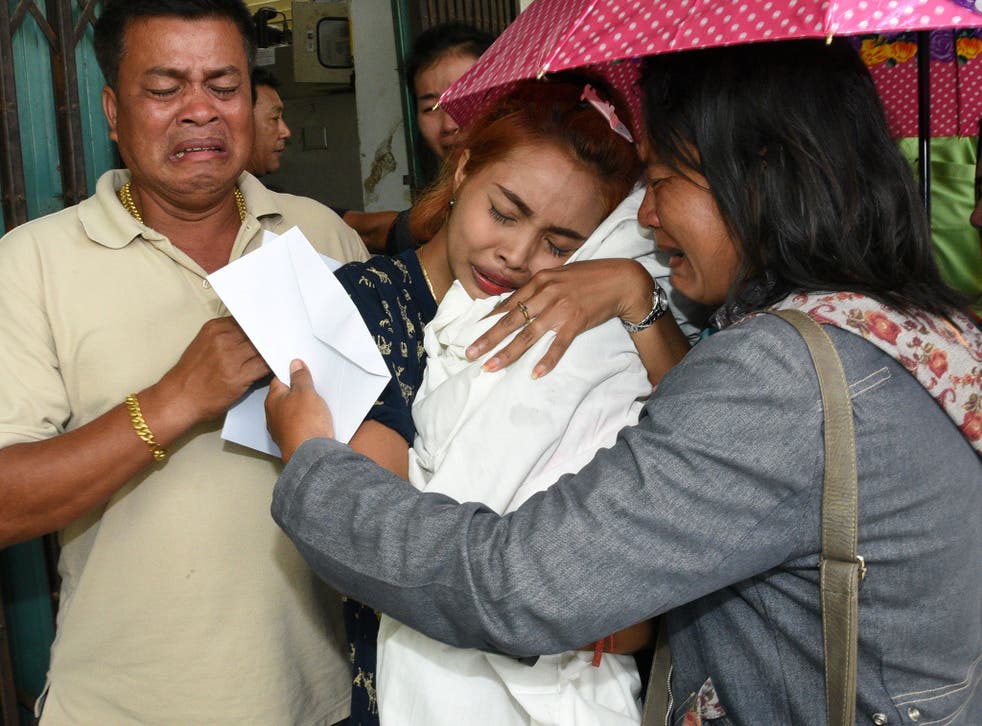 The wife of a Thai man who hanged their baby daughter and broadcast the footage on Facebook has said she is not angry with the social media giant.
The videos were online for more than 24 hours before being taken down, being shared by thousands of users and media organisations who were criticised for publishing the disturbing images.
They showed Wuttisan Wongtalay, 20, killing his 11-month-old child by hanging her at an abandoned hotel.
He broadcast the killing on Facebook Live on Monday, before killing himself. Relatives had alerted police but they arrived too late to stop the murder.
Mr Wongtalay's wife, Chiranut Trairat, said: "I am not angry at Facebook or blaming them on this.
"I understand that people shared the video because they were outraged and saddened by what happened."
She told the Associated Press her husband had been abusive in the past and spent two years in prison before their relationship.
World news in pictures

Show all 50
Thai citizens voiced outrage over two separate videos showing the child's killing.
"This is the most evil clip I've seen in my life," said one user, Avada Teeraponkoon. "I couldn't stand it for more than one second."
"How can he watch his own child stop breathing?" said another, Rujirek Polglang.
Before they were taken down, the first video had drawn 112,000 views by Tuesday afternoon, while the second video showed 258,000 views.
"In the future we will discuss inappropriate online content, whether on Facebook or YouTube or Instagram, and how we can speed up taking this content down," deputy national police spokesman Kissana Phatanacharoen said after the killing.
Police had asked the Ministry of Digital Economy to contact Facebook about removing the videos, which were removed at 5pm local time on Tuesday.
A spokesperson for the ministry said it would review how it handles similar cases in the future, adding: "We will take this as a lesson and come up with a solution...but this is not something we can do immediately."
Two radio journalists shot dead during Facebook Live broadcast
Police said the killing was the first in Thailand known to have been broadcast on Facebook, saying the crime was driven by jealousy because Wuttisan was afraid his wife would leave him for another man.
The murder in Phuket came less than two weeks after a man in Cleveland, Ohio, posted a video of himself shooting someone dead on Facebook.
In Thailand, the network's Live broadcasting feature previously came under fire when media used it to show footage of a university lecturer suspected of killing two colleagues, who was locked in a six-hour standoff with police.
After negotiations for his surrender failed, he shot himself dead on camera.
Facebook has come under increasing pressure to speed up blocking videos after a series of gruesome images, including murder, sexual assault and terror attacks were livestreamed or posted.
"This is an appalling incident and our hearts go out to the family of the victim," a spokesperson for the social network said.
"There is absolutely no place for content of this kind on Facebook and it has now been removed."
Its founder, Mark Zuckerberg, said last week that his company has "a lot of work" to do on the problem.
Additional reporting by agencies