Uighur man reunited with three-year-old son he had never met after years in Chinese detention
Australia's government last called on China to allow son and mother to leave the country, days after Canberra co-signed a letter denouncing its treatment of the Muslim minority
Shweta Sharma
Friday 11 December 2020 13:54 Comments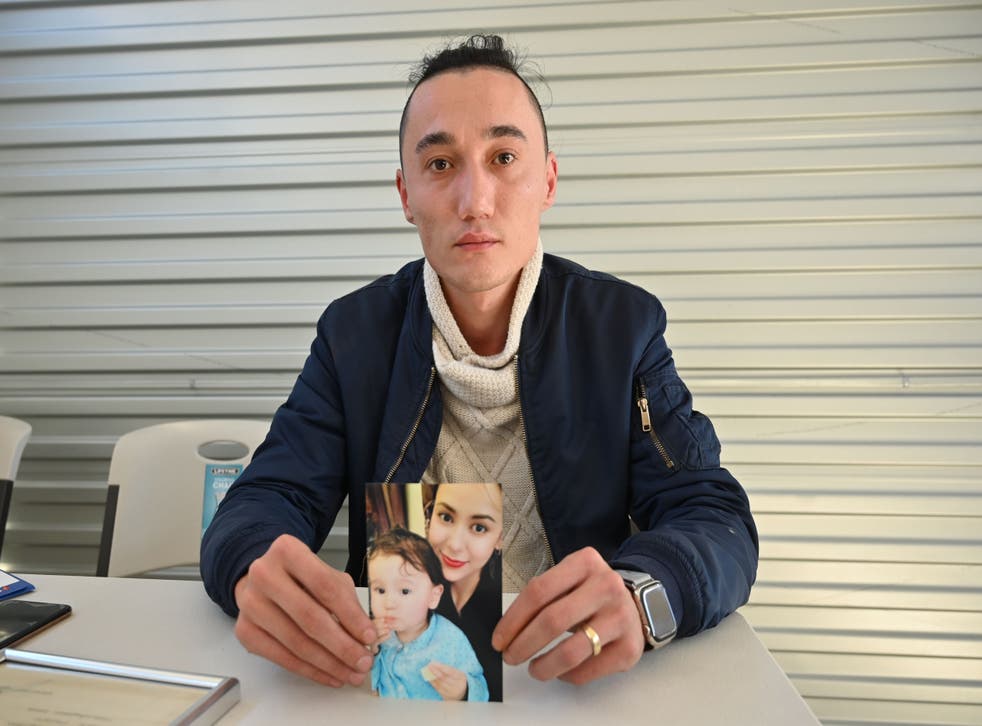 An Australian citizen originally from China's Uighur Muslim community was finally reunited with his wife and son after a three-year-long struggle to get them released from Xinjiang.
Sadam Abdusalam, who had never met his son before their arrival on Thursday at Sydney airport, shared the pictures of their emotional meeting on Twitter and thanked everyone for helping in the campaign to bring his family from detention camps in China.
"I am so overjoyed to inform everybody that yesterday I was reunited with my wife, who I have not seen for three years, and my son, who I had not met," he said.
"I never thought this day would come and I would dearly like to thank everyone who worked so hard to reunite us."
Mr Abdusalam has accused China of keeping his wife Nadila Wumaier "hostage" in Xinjiang after her passport was confiscated by the authorities.
"Last week she was taken to a Chinese police station and questioned for six hours. This is hostage diplomacy isn't it? What can the Australian government do save my wife and Australian wife and baby? I haven't seen them for three years," he said in an interview to ABC in May.
Ms Wumaier also claimed through a video message that she had previously been under house arrest.
Mr Abdusalamu, who has been living in Australia for a decade and got citizenship in 2013, went back to Xinjiang 2016 and married his girlfriend Ms Wumaier.
Mr Abdusalamu returned to Australia and later was denied a visa by the Chinese government when his wife gave birth to their son.
It became a high-profile human rights case when Chinese authorities detained Ms Wumaier for two weeks and her passport was confiscated on her release.
Meanwhile, their son Lufty was granted Australian citizenship in 2019 after Mr Abdusalamu appealed directly to the Australian government.
The Australian government also issued formal requests to Beijing in the past two years to allow Ms Wumaier to leave.
In response, the Chinese authorities said on an Australian TV that Ms Wumaier did not want to leave the country and their marriage is not recognised by the law.
However, hours after the claim, Australian TV shard the video of his wife on Twitter, saying: "I want to leave and be with my husband."
On Thursday, Mr Abdusalamu's son Lufty and Ms Wumaier reached Sydney after a long journey from Shanghai and took to social media to share the pictures. The two arrived in Brisbane two weeks earlier and were quarantined at a hotel.
China has long been accused of intensifying its crackdown on minority Uighur Muslims in the country's Xinjiang region in northwest China. Human Rights groups and activists claim about a million Uighurs are being held in detention camps.
Beijing has denied the accusations and said its policies are combating terrorism and religious extremism. It says the camps are vocational schools for their "political re-education" and help those involved find employment.
Register for free to continue reading
Registration is a free and easy way to support our truly independent journalism
By registering, you will also enjoy limited access to Premium articles, exclusive newsletters, commenting, and virtual events with our leading journalists
Already have an account? sign in
Join our new commenting forum
Join thought-provoking conversations, follow other Independent readers and see their replies