US and Chinese military planes in 'unsafe' encounter over contested South China Sea
Incident comes days after analysts warn of increased risk of skirmishes under Donald Trump
Lizzie Dearden
Friday 10 February 2017 09:20 Comments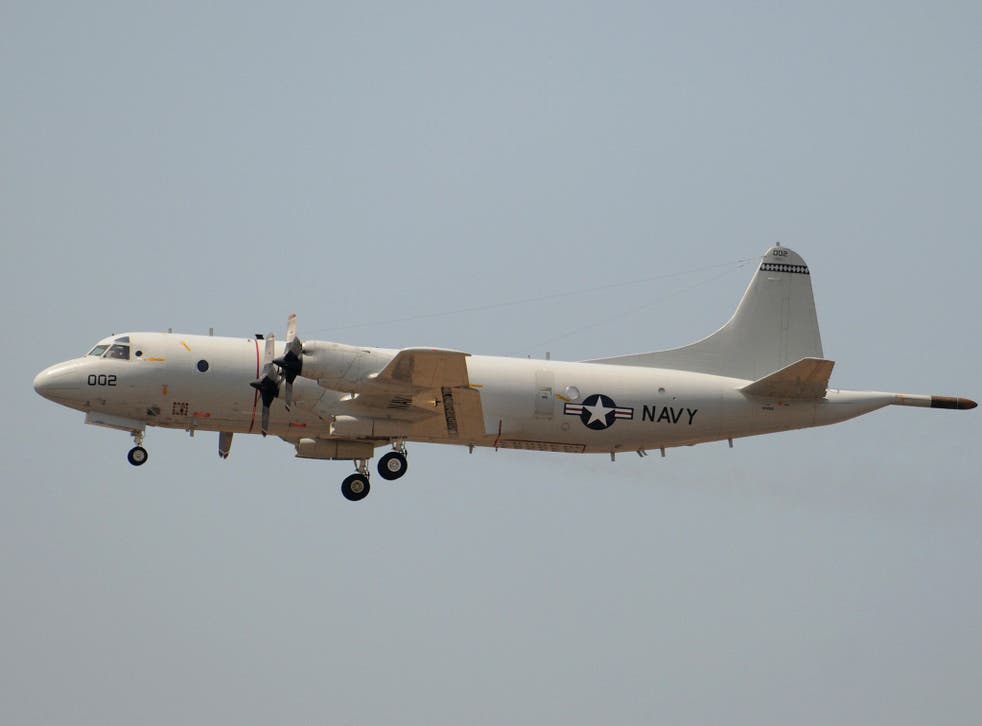 American and Chinese military aircraft have had an "unsafe" encounter over the contested South China Sea amid warnings that the risk of skirmishes is increasing in the contested region.
Major Robert Shuford, a spokesperson for US Pacific Command, said a US Navy patrol plane was involved in the interaction on Wednesday.
Calling it "unsafe", he said the P-3C Orion had been conducting a routine mission when it neared a Chinese KJ-200 surveillance aircraft.
"The Department of Defense and US Pacific Command are always concerned about unsafe interactions with Chinese military forces," Major Shuford said.
Rex Tillerson calls China's actions in the South China Sea 'illegal'
"We will address the issue in appropriate diplomatic and military channels."
A US official told Reuters the two aircraft came within 1,000 feet (305 meters) of each other near the Scarborough Shoal, between the Philippines and the Chinese mainland.
The official added that such incidents involving Chinese and American aircraft are infrequent, with only two having taken place in 2016.
In 2001, a collision between a US EP-3 surveillance plane and a Chinese naval air force jet in resulted in the death of the Chinese pilot and the 10-day detention of the American air crew by China.
Kerry Brown, an associate fellow in the Asia programme at Chatham House, warned earlier this month that there may be "skirmishes" between American and Chinese military assets at sea.
He told The Independent that Donald Trump's "provocative and chaotic approach" was increasing tensions, adding: "It's a no-win situation. Only through the act of the most amazing stupidity and provocation would conflict happen.
"But Mr Trump and his team have shown they are willing to do very high-risk things.
"It is significantly more probable that there would be a misunderstanding than it has been for many, many years. It is still improbable but significantly more likely."
Veerle Nouwens, a research analyst for Asia studies at the Royal United Services Institute (Rusi) said Mr Trump's approach was creating a "heightened risk of miscalculation" in the South China Sea.
The KJ-200 is a propeller airborne early warning and control aircraft (AEW&C) based originally on the old Soviet-designed An-12, used to detect aircraft, ships and vehicles at long range.
China's defence ministry told state media its pilot responded with "legal and professional measures".
"We hope the US side keeps in mind the present condition of relations between the two countries and militaries, adopts practical measures, and eliminates the origin of air and sea mishaps between the two countries," the Global Times quoted an unnamed official as saying.
China and the Philippines have been locked in a standoff over the Scarborough Shoal since 2012, with both countries claiming sovereignty over the rich fishing grounds, along with Taiwan.
Filipino authorities attempted to investigate evidence of illegal fishing but were blocked by Chinese maritime surveillance ships, causing the Philippine government to file a legal case in 2013 at the Permanent Court of Arbitration in the Hague.
The move infuriated Beijing, which refused to take part in proceedings, and the court largely rejected Chinese claims last year.
Tensions have eased since the election of President Rodrigo Duterte, who has sought to mend ties with China.
World reaction to President Trump: In pictures

Show all 29
But relations between the superpower and the US could hit a new period of turbulence under Mr Trump, who made a series of incendiary claims during his campaign, including that China was financially "raping" the US.
The new President has also shaken Beijing by questioning the One China policy, which does not formally recognise Taiwan, and speaking to the island nation's President over the phone in a break with decades of diplomatic policy.
Mr Trump reaffirmed America's support for the policy in a phone call with Chinese President Xi Jinping on Thursday evening, when the White House said the pair invited each other to visit their respective countries in an "extremely cordial" discussion.
Chinese state television reported that Mr Xi "praised" Mr Trump's affirmation that he would maintain only unofficial relations with Taiwan and said China was willing to work with the US to enhance ties and bring "more fruitful gains for the benefit of our two peoples and those in every country."
Some questioned why the US President had taken so long to call his counterpart given that he'd already spoken with more than a dozen world leaders, and his predecessors had extended good wishes to the China for last month's Lunar New Year.
Tensions had worsened when Mr Trump accused the Chinese military of "stealing" an underwater research vessel in the South China Sea in an "unprecedented act" in December.
Beijing said it removed the device from international waters to ensure the safe navigation of passing ships, and later returned the vessel amid continuing controversy over the contested region, where the US conducts "freedom of navigation" operations.
China is deeply suspicious of any American military activity in the resource-rich South China Sea, while the US has previously criticised the "militarisation" of maritime outposts and construction on a number of artificial islands and reefs.
Additional reporting by agencies
Register for free to continue reading
Registration is a free and easy way to support our truly independent journalism
By registering, you will also enjoy limited access to Premium articles, exclusive newsletters, commenting, and virtual events with our leading journalists
Already have an account? sign in
Join our new commenting forum
Join thought-provoking conversations, follow other Independent readers and see their replies