Girl, 2, survives fall from 12th storey balcony thanks to 'hero' delivery driver
'I couldn't believe I saved the girl's life,' says the delivery man who caught the falling baby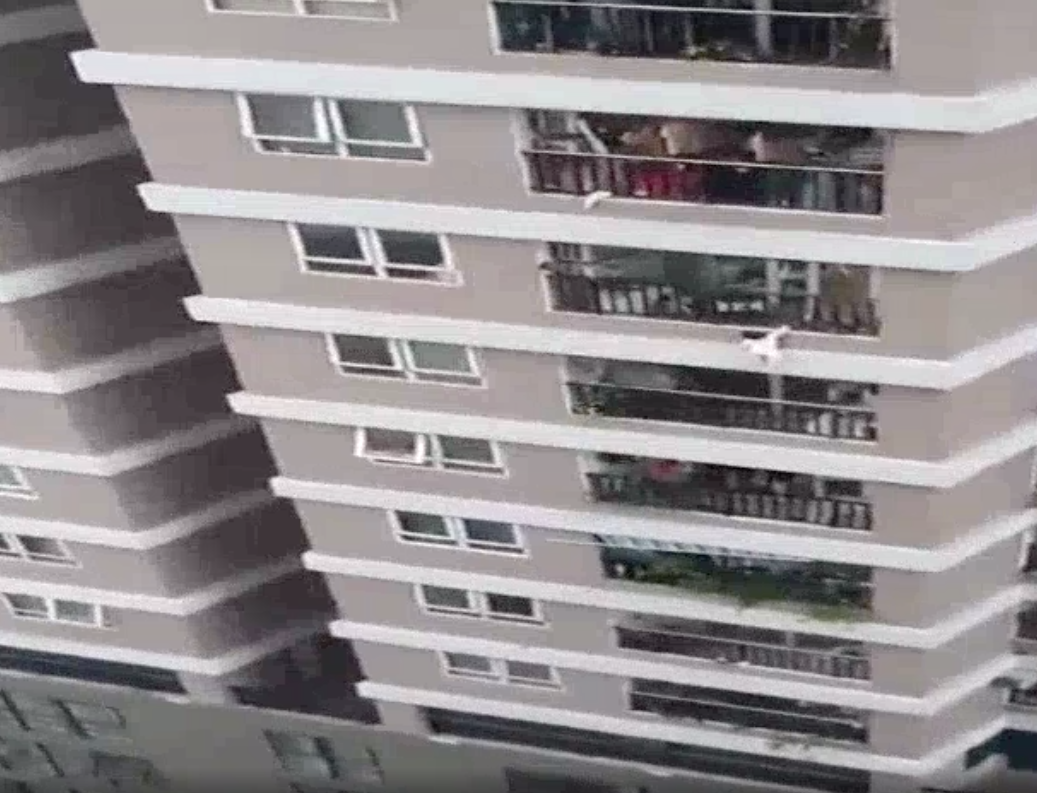 A delivery man in Vietnam is being hailed as a hero after he saved a little girl as she fell from a balcony of a high-rise in Hanoi.
Nguyen Ngoc Manh, a delivery professional with a packing service in the capital city, saw a 2-year-old girl hanging from the balcony when he arrived with a package for one of the residents in the society on Sunday evening.
"I was sitting in the car and waiting to deliver some belongings for a client in the opposite building while hearing a baby's bawling, just thought she was yelled [at] by her mothers," Mr Manh was quoted by Vietnam Times as saying. 
"However, no sooner had I heard someone screaming for help than I stuck my head out of the car, looking around, and saw a girl climbing out of the balcony," he says. "I plunged out of the car immediately and found ways to climb into the nearby building. I mounted on a 2-meter-high tile roof to seek a proper position to get the girl."
Although Mr Manh positioned himself to catch the baby and prevent her from falling on the ground, he says it was incidental that she fell on his lap.
"I tried to reach out my hand and took the maximum effort to catch the girl, [so] when the baby falls, I just can ward her off so that she would not fall directly to the ground. Luckily, the baby fell into my lap," he says.
Later, in an interview with VN Express, Mr Manh said: "Everything happened within a minute. I didn't understand how I could scale the roof that quickly. I couldn't believe I saved the girl's life."
But the horror of the day didn't end there. As Mr Manh immediately embraced the baby after she landed on his lap, he says he spotted blood dripping from her mouth. He immediately rushed her to a nearby hospital.
The girl, according to the report, has a broken arm and leg but is stable, while the delivery executive also suffered a sprain.
The residents of the society who witnessed and recorded his heroic act have praised him. Mr Manh has also become a hero in the country overnight with his photograph being circulated online. He says his phone has been buzzing constantly and his social media accounts suddenly have thousands of followers.
"It's not just changed my life... it has turned upside down. Normally my Facebook posts draw only a few dozen responses, now I get tens of thousands," Mr Manh said.
Though many netizens have called him a hero on social media, Manh said he disliked the moniker, believing anyone would have done the same given the circumstances.
"I don't see myself as a hero. I just want to do good," he was quoted by VNExpress as saying.
Join our commenting forum
Join thought-provoking conversations, follow other Independent readers and see their replies