Indonesian woman becomes latest person to be caned 'for standing near boyfriend'
Twenty-year-old becomes 14th person to be caned in Banda Aceh this month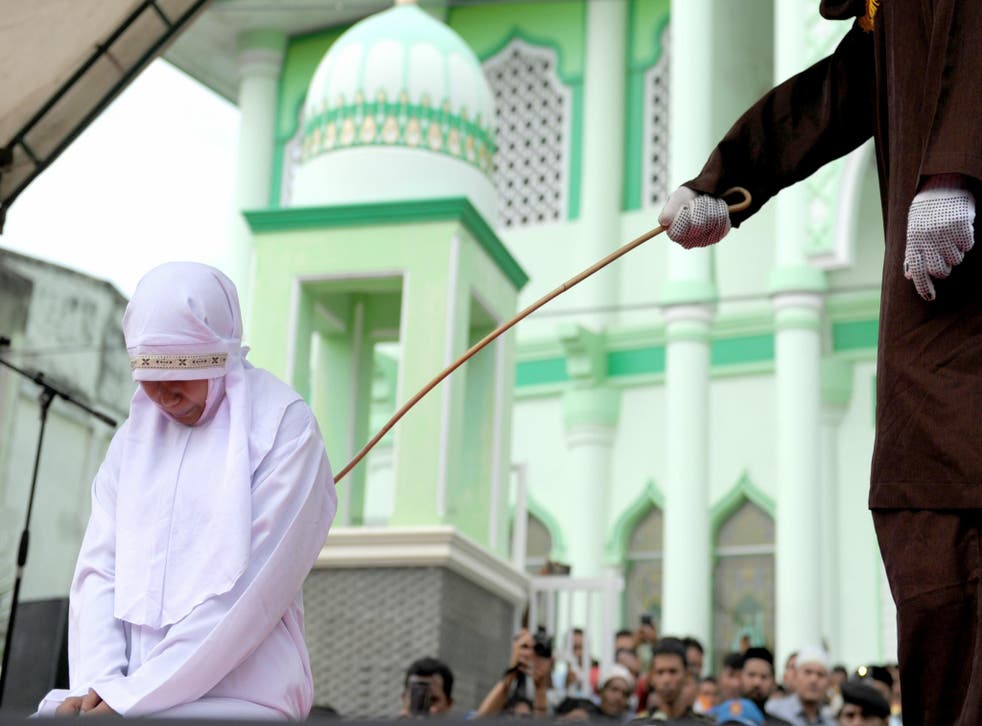 A 20-year-old woman in Indonesia has been publicly caned for standing too close to her boyfriend, becoming the 14th person to be flogged this month in the same province.
The unnamed woman was accused of breaking Islamic Sharia law, which strictly forbids unmarried couples to become intimate, and was flogged in front of a crowd in Banda Aceh province.
She was escorted onto a stage outside a mosque wearing a headdress and was lashed with a cane.
Incidents of the punishment have reportedly increased recently in Indonesia.
Last week, another woman was lashed 23 times by officials in the province, an incident which was criticised by human rights groups.
She was one of 13 people to be flogged on stage on that particular day, and one man was caned for "spending time with a member of the opposite sex in a private location", according to MailOnline.
Only one of the group due to be flogged, a 22-year-old woman, was granted a temporary reprieve, because she was pregnant.
Indonesia is the world's most populous Muslim-majority country, but Aceh is the only province which is covered by Sharia law.
World news in pictures

Show all 50
In the province, people can be caned for gambling, drinking alcohol, adultery and other sexual acts.
In October 2015, officials in Banda Aceh added a new passage to the Aceh Islamic Criminal Code, criminalising consensual sexual relations outside of marriage.
The UN Human Rights Committee and other human rights bodies raised concerns about laws criminalising "adultery" and other consensual sexual relations outside marriage, saying they violate the right to privacy.
In April a 60-year-old woman was caned for selling alcohol, the first time a non-Muslim had been handed such a punishment in Indonesia.
Join our new commenting forum
Join thought-provoking conversations, follow other Independent readers and see their replies