Yulin Dog Meat Festival 2016: 10,000 dogs to be killed and eaten at China's annual food event
Dogs are kept in cages, inhumanely killed on the street and served as 'dog hot pot'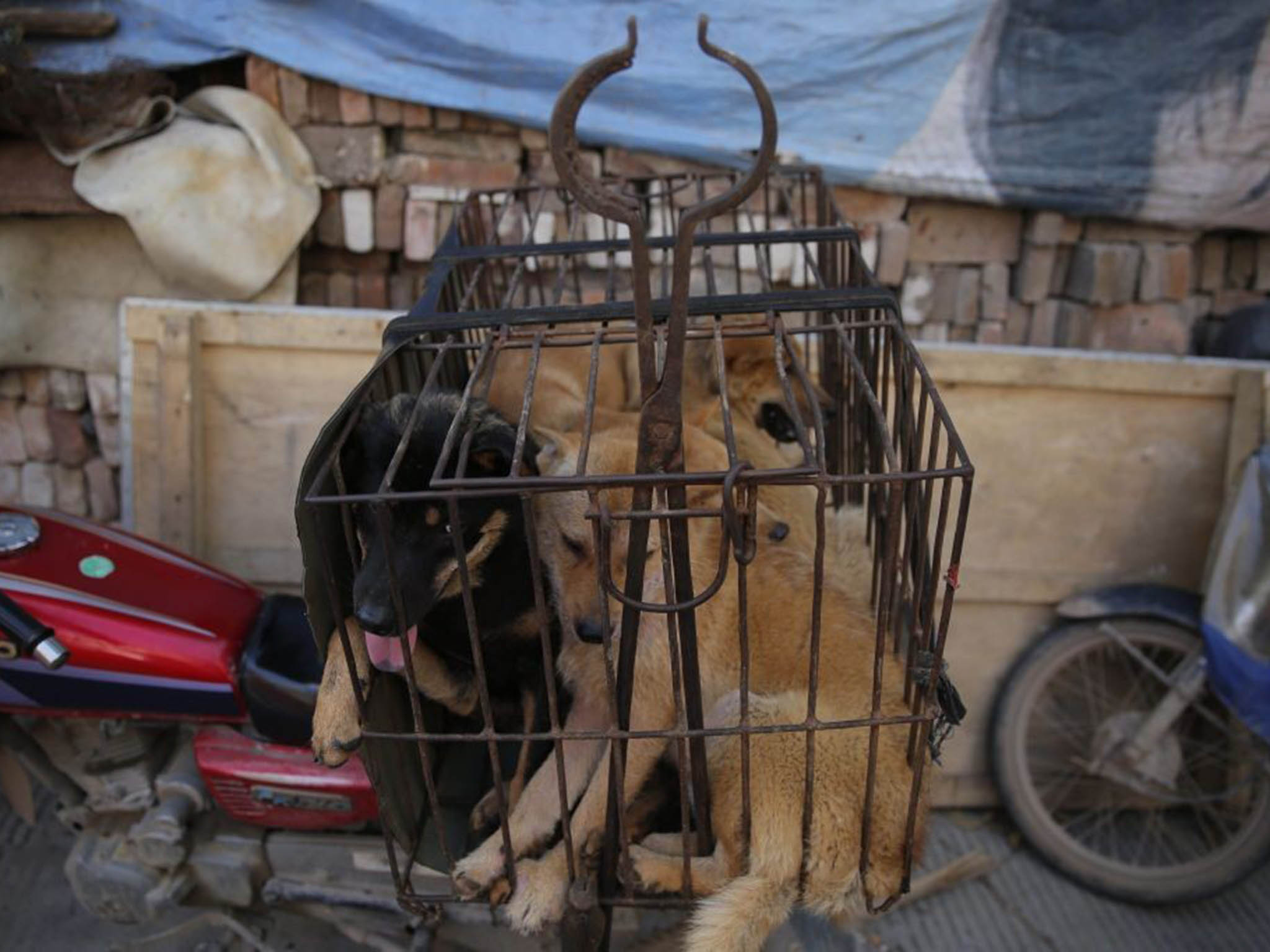 China's annual Yulin festival, in which thousands of dogs and cats will be murdered and eaten, has begun despite widespread international condemnation.
An estimated 10,000 dogs and cats are expected to be used for meat during the 10 days of the festival, which takes place at Guangxi Zhuang autonomous region in the south-east of the country.
Campaigners say the practice is cruel and a petition has amassed 2.5 million signatures calling for it to be banned, but local government officials say it is organised by private businesses and they are unable to prevent it.
Vendors of the dog meat say the animals are killed in a humane way, but those who oppose the event say dogs are caged with other animals and are either skinned alive or bludgeoned to death in public before being turned into meat and sold on the street.
There have been reports of seeing caged dogs wearing collars, suggested they might be stolen pets.
Some dogs are also transported more than 1,000 miles to the location of the festival in cramped conditions meaning many become ill and infections and diseases spread, which cause some to die.
The Stop Yulin Forever organisation, which led the petition, claims the animals even go days without food and water.
In pictures: Yulin Dog Meat Festival 2016
Show all 10
Critics say the festival has no cultural relevance while advocates say the tradition of eating dog meat dates back 500 years in China and other Asian countries, believing it would ward off heat in the summer.
But the festival, which coincides with the summer solstice, is a relatively new concept and only began in 2009, misrepresenting the idea it is a Chinese tradition.
The consumption and selling and buying of dog meat is legal in China and at its height of consumption in the third century AD was considered a delicacy. But dog theft, which is reported to fund much of the dog meat industry, is against the law.
Stop Yulin Forever also says that because of the festival, around 10 million dogs are killed for their meat every year in China. But it found that as more people are educated on the issue, numbers are declining.
Polls suggest the general Chinese community would agree to end the festival permanently, as 64 per cent voted in the state agency news Xinhua's results.
In 2015, the organisation found 20 per cent fewer dogs were killed for the Yulin event.
People for the Ethical Treatmenf of Animals (PETA) Director Mimi Bekhechi says: "The Yulin dog-meat festival is condemned internationally and by many people in China itself these days because, for most of us, the idea of killing, cooking and eating dogs – animals we know and love – is revolting.
"Of course, there's no rational reason why the idea of dismembering and devouring any animal shouldn't elicit the same revulsion – especially when animals killed for the table in Britain face horrors just like those the dogs in Yulin experience.
"During the festival, which lasts 10 days, up to 15,000 dogs will be bludgeoned and gutted, while during the same 10-day span, nearly 29 million terrified animals will be killed here to satisfy British appetites.
"Whether a dog, a pig, a chicken or a fish, no animal wants to suffer and die for our plates, and we urge everyone to condemn the slaughter of animals for meat."
Join our commenting forum
Join thought-provoking conversations, follow other Independent readers and see their replies