Cockatoo filmed tearing down anti-bird spikes at shopping centre
'The trail of destruction is magnificent,' impressed Facebook user says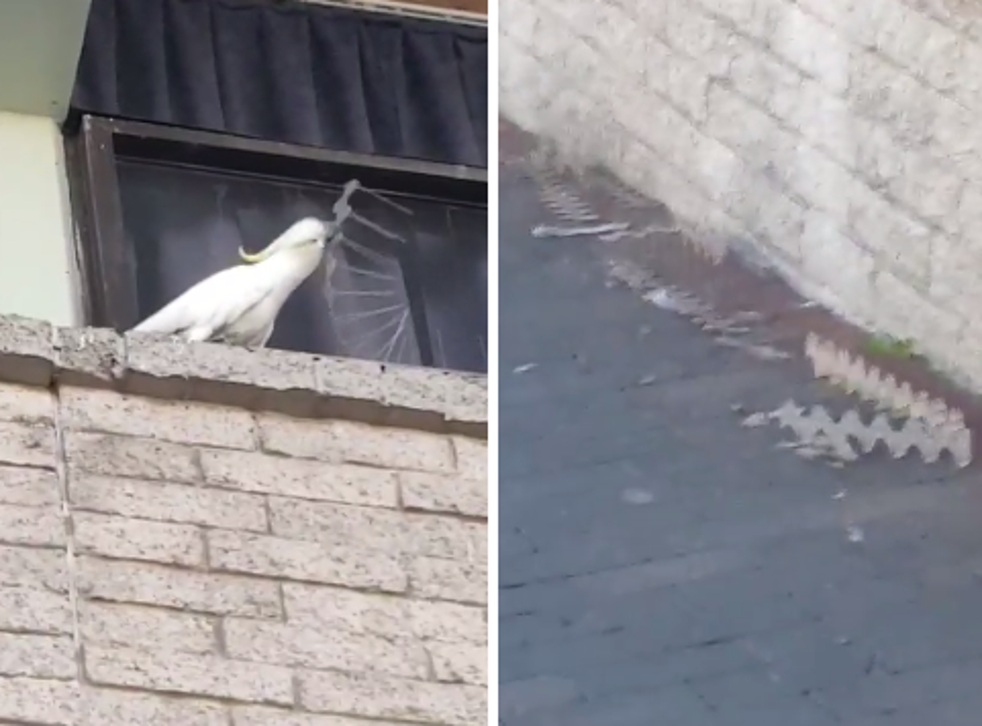 A cockatoo has been filmed tearing anti-nesting spikes from a shopping centre, freeing up the ledge for other birds in the Australian city of Katoomba.
In a video posted on social media, titled 'F*** the police", the sulphur-crested cockatoo is seen patiently ripping out sections of metal spikes and dropping them on the pavement outside the Town Centre Arcade on Katoomba Street.
The camera later pans down to reveal the bird has torn out dozens of the sections across the entire length of the wall.
The footage, which was posted on Monday by Isaac Sherring-Tito, has been shared more than 34,000 times on Facebook.
"The trail of destruction is magnificent," one user commented, while another said: "Cockatoos are badass".
One Twitter user who lives nearby in Wentworth Falls, New South Wales, said the bird had once tried to steal his shopping and that it "cons tourists out of their snacks".
"He is a liar and a thief," he added.
Cockatoos are known to be extremely social and intelligent; a University of Vienna study suggested the large parrots have levels of cognitive development to match four-year-old humans.
A number of incidents involving anti-bird spikes have caused anger in the UK in recent years, including a case in 2017 in which wealthy Bristol residents attached spikes to trees to protect their expensive cars from droppings.
Register for free to continue reading
Registration is a free and easy way to support our truly independent journalism
By registering, you will also enjoy limited access to Premium articles, exclusive newsletters, commenting, and virtual events with our leading journalists
Already have an account? sign in
Register for free to continue reading
Registration is a free and easy way to support our truly independent journalism
By registering, you will also enjoy limited access to Premium articles, exclusive newsletters, commenting, and virtual events with our leading journalists
Already have an account? sign in
Join our new commenting forum
Join thought-provoking conversations, follow other Independent readers and see their replies