Manus Island asylum seekers 'swallow razor blades' as hunger strikes enter ninth day
Rights group denies claims hunger strikes over resettlement plans have ended
Heather Saul
Wednesday 21 January 2015 14:54 Comments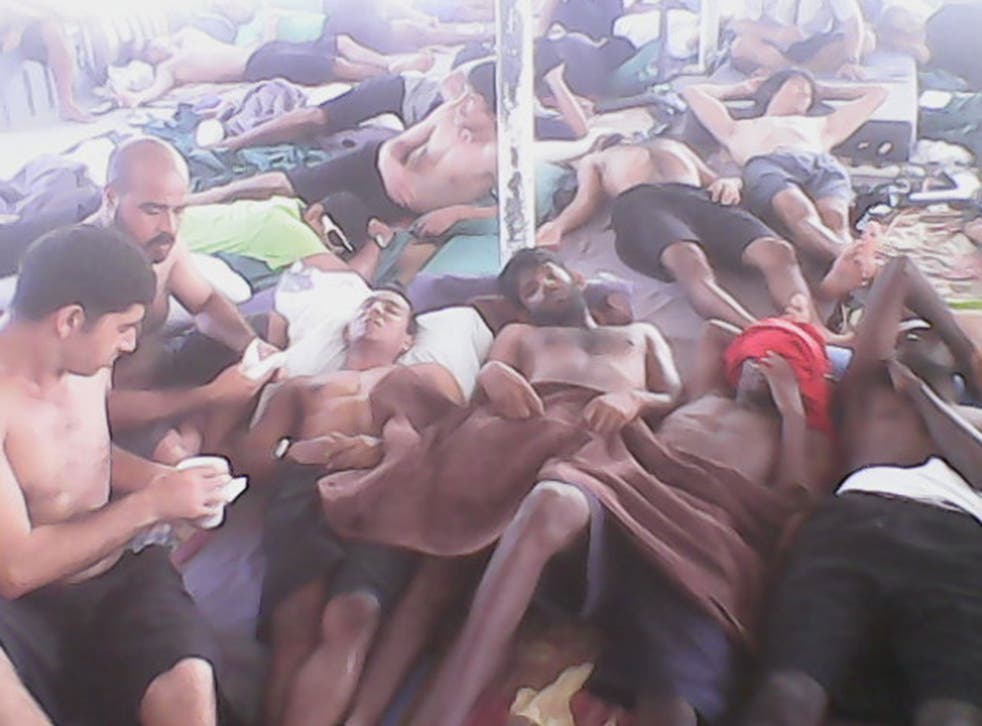 Rights advocates say more than 700 refugees at an Australian immigration centre are continuing a hunger strike over fears of being resettled, with some sewing their lips together, swallowing razor blades and even reportedly attempting to hang themselves.
This claim comes despite government statements saying protests had ended after security guards stormed the compound and allegedly took some detainees into solitary confinement.
The Manus Island detention centre in Papua New Guinea is used by Australia to process asylum seekers trying to enter the country, many of whom arrive there often in unsafe boats after paying people-smugglers in Indonesia.
Hunger strikes erupted last week after detainees granted refugee status were told they would be moved out of the detention centre and into an unguarded facility in the capital of Lorengau, where they fear they could be attacked by locals.
Manus Island is one of the poorest regions of Papua New Guinea and residents have repeatedly expressed anger at the prospect of refugees being resettled in a community already lacking jobs.
Ian Rintoul, executive director of Refugee Action Coalition, reported last week that between 20 and 25 people had sewn their lips together in protest. He says that others have since taken more extreme measures, including two who swallowed razor blades.
"It's about the fact that they are not safe - they would rather be detained than put into the community into Papua New Guinea," Mr Rintoul told The Independent.
"Those who swallowed razor blades did get treatment in the medical centre. They were returned to the compound last night but we don't know anything about their condition.
"This afternoon there were two people who attempted suicide by hanging in Mike compound. We don't know their welfare, although we do think that one was more seriously injured as a result."
Journalists are barred from visiting Manus Island, so information about the protests cannot be verified independently, according to Reuters.
Tensions escalated following a raid on compound by security forces on Monday who allegedly rounded up men considered to be "ring-leaders" of the protests from Delta compound and forcefully moved them to an isolation unit called Chauka compound.
Some protesters had barricaded themselves in the compound.
Immigration Minister Peter Dutton admitted "a degree of force" was used to try and negotiate an end to the protests, according to Sky News. However, the situation did not escalate "to the point where the police had to present themselves and be in conflict with the people that are in the centre".
The Prime Minister Tony Abbott said the protests had amounted to a "blockade". In a statement after the raid, he said: "The important thing is that order has been restored. The blockade of the compound had been lifted."
A group of 70 refugees have been imprisoned over their involvement in the protests, said Mr Rintoul. "The government made a very concerted attempt to round up the so-called leaders; more people have been taken from Delta compound and it is very clear that they have a black list of people being placed in Chauka compound."
Asylum seekers inside the compound also contradicted his assessment on Wednesday, saying the protests had spread further despite attempts to end them.
"Our ... hunger strike entered its ninth day and it will continue," a group of around two dozen refugees said in a handwritten letter posted on an advocacy group's website.
"We will continue our push until we reach our ultimate goal which is FREEDOM."
Mr Rintoul claimed the protests have halted the transfer of detainees, who were due to be moved tomorrow.
"That is not going to go ahead, he said. "Two individuals have willingly gone to those compounds who have not taken part in hunger strikes. The hunger strike has achieved its major aim – it's quite clear that there will not be any forcible transfers.
The office of the Minister for Immigration and Border Protection has been contacted for comment.
Register for free to continue reading
Registration is a free and easy way to support our truly independent journalism
By registering, you will also enjoy limited access to Premium articles, exclusive newsletters, commenting, and virtual events with our leading journalists
Already have an account? sign in
Join our new commenting forum
Join thought-provoking conversations, follow other Independent readers and see their replies