Two men stranded for four days in Australian bog forced to live on car roof to escape crocodiles
Beau Bryce-Maurice and Charlie Williams 'crying' after being found by rescuers
Tom Embury-Dennis
Thursday 23 November 2017 16:09 Comments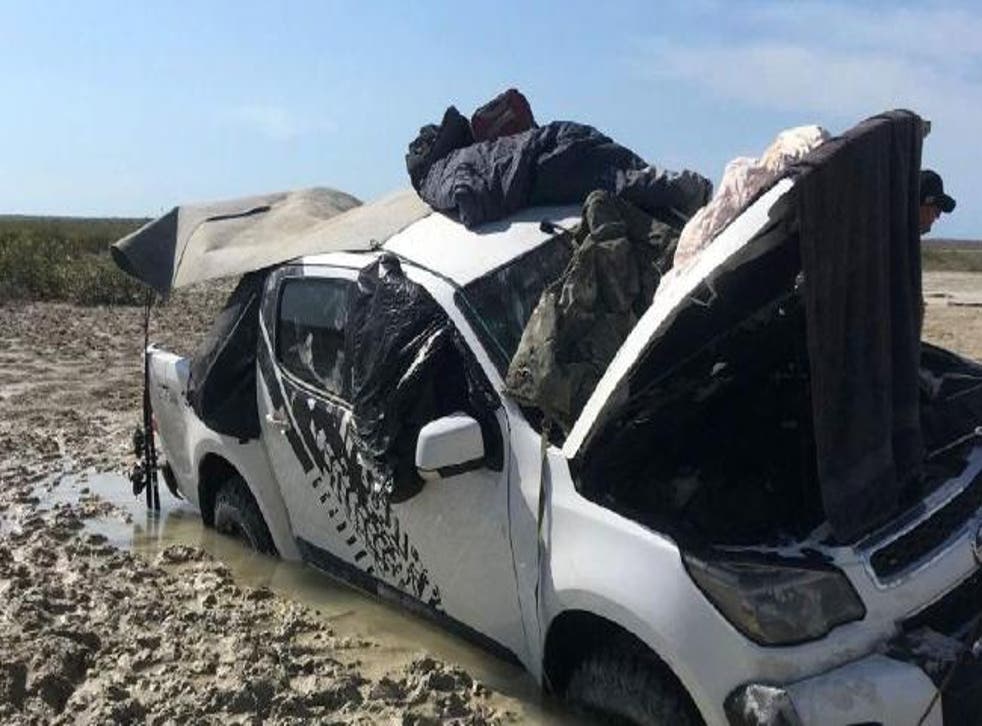 Two traumatised men stranded for days in a remote area of Australia were forced to live on the roof of their car under punishing heat to escape saltwater crocodiles.
Beau Bryce-Maurice, 37, Charlie Williams, 19, and their dog Mindee were on a fishing trip near the town of Broome when their car became trapped in a bog on Friday.
After the men failed to return home, police launched a massive land and air search operation on Tuesday and found them later that afternoon.
"Obviously in the Kimberley [region] here you've got to watch the crocs and snakes," Mark Balfour, Broome Police sergeant, told ABC News.
"I believe one of the gentlemen said a croc did come close to their vehicle while they were out there, so obviously they were a bit panicky about that."
After the crocodile tried to "go for the dog", the men climbed on top of the vehicle which was covered by high sea tides "on a number of occasions".
Australian woman saves shark 'with her bare hands' and chucks it back into ocean
"They were quite happy to see us and obviously quite upset, crying," he said.
"Being out there for five days in this kind of country and with the weather being quite hot, I don't know what would have been going through their heads.
"They were quite fatigued, dehydrated and heat-struck."
The pair recorded video messages during their ordeal as a message to their loved ones and to document what happened.
Into the Outback: Exploring Australia's Northern Territory

Show all 6
Mr Balfour told the BBC that the men had survived by rationing food and water, but had run out of supplies before rescue services arrived.
Temperatures in the area never dropped beneath 25C, with daily highs up to 35C.
Register for free to continue reading
Registration is a free and easy way to support our truly independent journalism
By registering, you will also enjoy limited access to Premium articles, exclusive newsletters, commenting, and virtual events with our leading journalists
Already have an account? sign in
Join our new commenting forum
Join thought-provoking conversations, follow other Independent readers and see their replies