Leaked documents reveal 'abuse and mistreatment' of refugees at Australian offshore detention centre
Asylum seekers have set themselves on fire and sewed their lips shut on the Pacific island
Lizzie Dearden
Wednesday 10 August 2016 11:30 Comments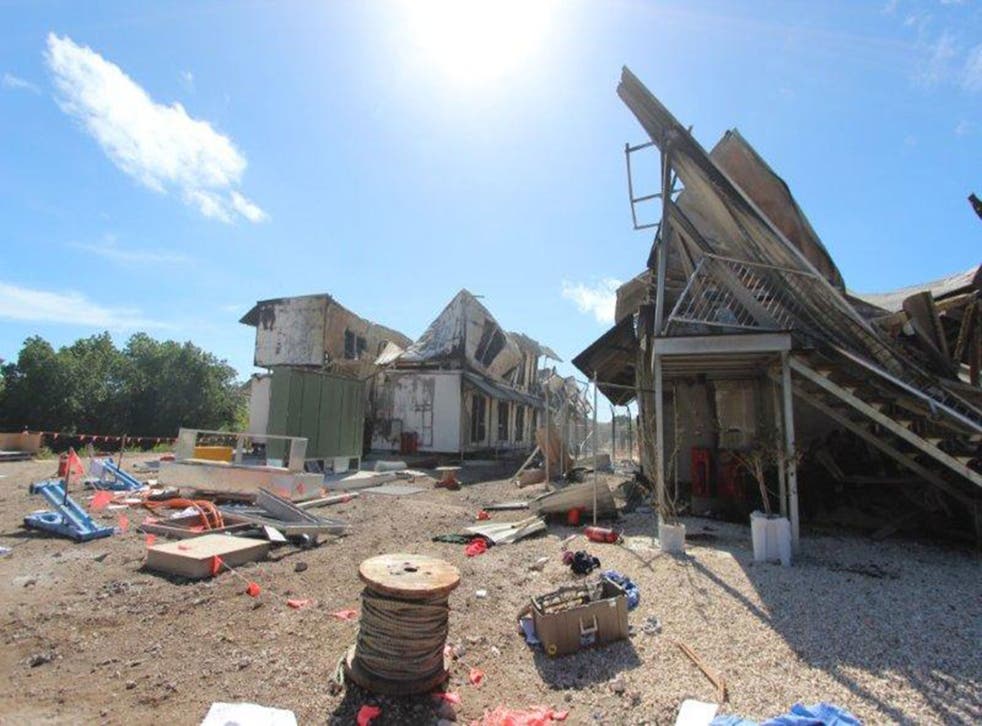 Horrific accounts of sexual abuse, beatings and attempted suicide at an offshore Australian detention centre for asylum seekers have been uncovered in a cache of leaked documents.
More than 2,000 incidents ranging from minor to critical were recorded in little over two years on the island of Nauru in what was condemned as a "system of routine dysfunction and cruelty".
The documents, obtained by the Guardian Australia, include reports drawn up by guards, case workers and teachers, more than half of which involved children.
Report: Severe abuse of Australia's asylum seekers in Nauru
They include allegations of a guard grabbing a boy and threatening to kill him, children being slapped and a male security officer demanding sexual favours from a young woman who requested a longer shower than the regulation two minutes.
Between August 2013 and October 2015, the Guardian found seven reports of sexual assault of children, 59 reports of assault on children, 30 of self-harm involving children and 159 of threatened self-harm involving children.
One of the leaked incident reports said a child had "written in her book that she was tired, doesn't like the camp and wants to die... 'I want death, I need death'".
Humanitarian groups have long demanded the closure of the Nauru Regional Processing Centre, where desperate refugees have set themselves on fire, sewn their lips shut and gone on hunger strike in protest against the conditions.
Under Australia's policy, asylum seekers intercepted at sea are sent to Nauru and another camp on Manus Island, in Papua New Guinea, and told they will never be settled in Australia.
The first refugees arrived on Nauru in September 2012 and the tiny Pacific island is now used for all women and children arriving on boats, mainly from countries including Iran, Sri Lanka, Pakistan, Bangladesh, Afghanistan and Iraq.
The closely protected camps, and Australia's hard-line immigration policy against illegal boat arrivals, have been widely criticised by the United Nations and human rights groups who say the government could easily accommodate the number of refugees arriving.
Australia's Prime Minister, Malcolm Turnbull, said the government would examine the leaked documents to see if any of the complaints had not been properly addressed.
"It will be carefully examined to see if there are complaints there or issues there that were not properly addressed," he said, while rejecting calls for a Royal Commission.
Scott Morrison, Australia's Treasurer and a former immigration minister, said the incident reports were not "a reporting of fact, they are reporting that an allegation".
His comments were echoed by the Australian Department for Immigration, which said it was checking the reported cases had been dealt with appropriately.
"The documents released are historical in nature and have been the subject of previous reporting by the department in relation to the overall number of recorded incidents over time," a spokesperson said.
"It's important to note many of these incident reports reflect unconfirmed allegations."
Amnesty International said the "Nauru files" enforced its own findings in an inspection of the island with Human Rights Watch, which it accused the Australian government of attempting to deny.
Anna Neistat, senior director for research at Amnesty International, said: "This leak has laid bare a system of 'routine dysfunction and cruelty' that is at once dizzying in its scale and utterly damning for the Australian authorities who tried so hard to maintain a veil of secrecy.
"The exposure of just how appalling the conditions on Nauru are – and the impact of this on refugees – has to end the government of Australia's denials.
World news in pictures

Show all 50
"Australia's offshore processing of refugees must end, and all of the refugees and asylum seekers on Nauru and Manus Island must be resettled immediately and given the medical and psychological support they need."
Allegations uncovered in a report earlier this month also included the denial of medical treatment for refugees, even those with life-threatening illnesses, alongside severe abuse, inhumane treatment and neglect.
Researchers said temperatures reached 50C inside the processing centre in the summer, which also suffered from torrential rains and flooding, with some refugees sleeping in tents and restricted to two-minute showers and "filthy" toilets.
Workers said they faced criminal charges and civil penalties under Australian law for disclosing information about the treatment of detainees, while Facebook is banned on Nauru and journalists must pay a £4,700 non-refundable visa fee to visit, although applications have been frequently denied.
Human Rights Watch's Australia director Elaine Pearson said the new files painted a "disturbing picture" of the abuse on Nauru, adding: "This policy is inhumane and irresponsible, and it means refugees and asylum seekers remain vulnerable to further abuse and mistreatment."
The UN Committee on the Rights of the Child will be considering Nauru alongside other territories in its upcoming session starting on 13 September.
Register for free to continue reading
Registration is a free and easy way to support our truly independent journalism
By registering, you will also enjoy limited access to Premium articles, exclusive newsletters, commenting, and virtual events with our leading journalists
Already have an account? sign in
Join our new commenting forum
Join thought-provoking conversations, follow other Independent readers and see their replies