Angela Merkel backs expulsion for asylum seekers committing crimes after Cologne attacks
News comes as riot police cope with thousands of anti-immigration Pegida protes descend on Cologne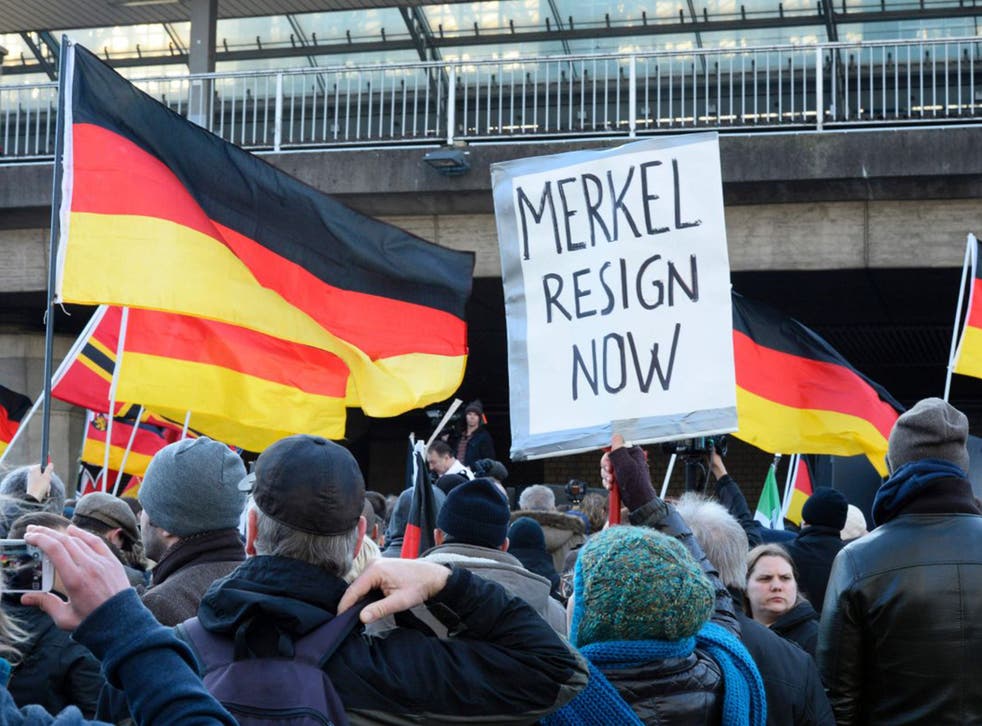 Chancellor Angela Merkel proposed measures for the rapid expulsion of criminal asylum seekers in a desperate bid to repair the catastrophic damage to her open-door refugee policies caused by the New Year's Eve sex attacks and robberies in Cologne and other German cities.
Her proposals came as Cologne riot police used a water canon to disperse an angry demonstration by what police said were about 1,700 members of the anti-immigration Pegida movement in the city on the afternoon of 9 January. The group has seized on the alleged involvement of some refugees and migrants in the attacks and stepped up its calls for a halt to the influx of people into the country.
In addition to the demonstration by Pegida, there were also protests by more than 1,000 people, mostly from German women's groups, waving placards demanding: "No to violence" and "Leave our bodies alone".
The attacks in Cologne have shocked the country, with more than 100 women having filed complaints of sexual assault and robbery, allegedly carried out by groups of mainly young men. One demonstrator in the protest by women's groups said that the action was "about making clear that we will not stop moving around freely here in Cologne".
With her once acclaimed "welcome culture" badly dented by the Cologne events, Ms Merkel told a meeting of her ruling Christian Democrats (CDU) in Mainz that anyone who committed crimes in Germany had to face the full force of the law "irrespective of their ethnic background" and "if asylum seekers are involved, yes this can mean losing their right to asylum".
"When crimes are committed and people place themselves outside the law, there must be consequences," she told journalists after the meeting. German law stipulates that asylum seekers can be sent home only if they have been sentenced to at least three years' imprisonment, and providing their lives are not at risk in their own countries.
Under Ms Merkel's proposals they could be denied asylum altogether if found guilty of committing crimes. Those on probation could also be deported. But so far Ms Merkel has categorically ruled out the idea of closing Germany's borders to refugee, despite a record intake of more than one million asylum seekers in 2015. Reports suggest that the influx will continue well into this year.
In pictures: Anti-Pegida protesters

Show all 10
Ms Merkel said on 9 January that the proposals had been accepted by the CDU, but will be discussed with her coalition partners. Any changes in the law would also need parliamentary approval.
"This is in the interests of the citizens of Germany, but also in the interests of the great majority of the refugees who are here," Merkel told party members in Mainz.
The Cologne attacks have dismayed grass-roots members of Ms Merkel's party. Many have called for much tougher measures. "The mood here has dropped into an abyss," Carsten Linnemann, a senior Christian Democrat in Mainz, was quoted as saying. "Cologne has changed everything – people are now suspicious," insisted Volker Bouffier, the Christian Democrat Prime Minister of Hesse state.
Ms Merkel has rejected calls for the closure of Germany's borders with Berlin Wall-style defences. She argues that such measures are impractical and that the problem must be tackled through international diplomacy and by strengthening controls on the European Union's frontiers
But with Germany facing a series of key regional state elections this year, her party is concerned that the negative implications of the Cologne attacks will result in big gains for racist far-right parties such as the Alternative for Germany party and the neo-Nazi National Democrats.
Police in Cologne and the other cities where the New Year's Eve attacks occurred said that more than 170 women had since brought charges against "persons unknown". They said they had fallen victim to gangs of muggers and sex attackers on 31 December and during the early hours of New Year's Day. Some female victims said they were forced to cope with crowds of attackers. One woman said she had her underwear "torn off" by a man who had his hands under her clothing.
Police say they have evidence that at least 31 people were involved in carrying out the attacks and that 18 of them were asylum seekers. The suspects comprised nine Algerians, eight Moroccans, five Iranians, four Syrians, one Iraqi, two Germans and a US citizen, although none of those was suspected of committing sexual assault. Separately, Cologne police said that they were investigating 21 people in connection with sexual assaults.
The police also said that more than 100 detectives are assigned to the case and are investigating 379 criminal complaints filed with them, about 40 per cent of which involve allegations of sexual offences.
However the strikingly low number of arrests – seven – and the small number of suspects positively identified are only two of the shortcomings levelled at Cologne police. Officers said that they had intervened early on New Year's Eve and dispersed a rowdy crowd that was indiscriminately letting off fireworks in front of the main train station.
But they admitted having failed to take proper action later in the evening and during the early hours of New Year's Day, when the majority of the muggings and sex attacks occurred. On 8 January, Cologne police chief Wolfgang Albers was suspended. There were similar sex attacks on women in Hamburg, Stuttgart and Bielefeld on New Year's Eve.
On 9 January, Germany's mass circulation newspaper Bild said it had evidence that police had special instructions regarding refugee crimes. The paper quoted an unnamed high-ranking Frankfurt police official who said: "We have strict instructions not to release information about crimes committed by refugees. We are only allowed to answer direct questions about such cases if they are posed by media representatives."
Join our new commenting forum
Join thought-provoking conversations, follow other Independent readers and see their replies