Angela Merkel demands Turkey treats detained German journalist fairly amid ongoing crackdown
Deniz Yücel is one of several journalists arrested after reporting on minister's hacked emails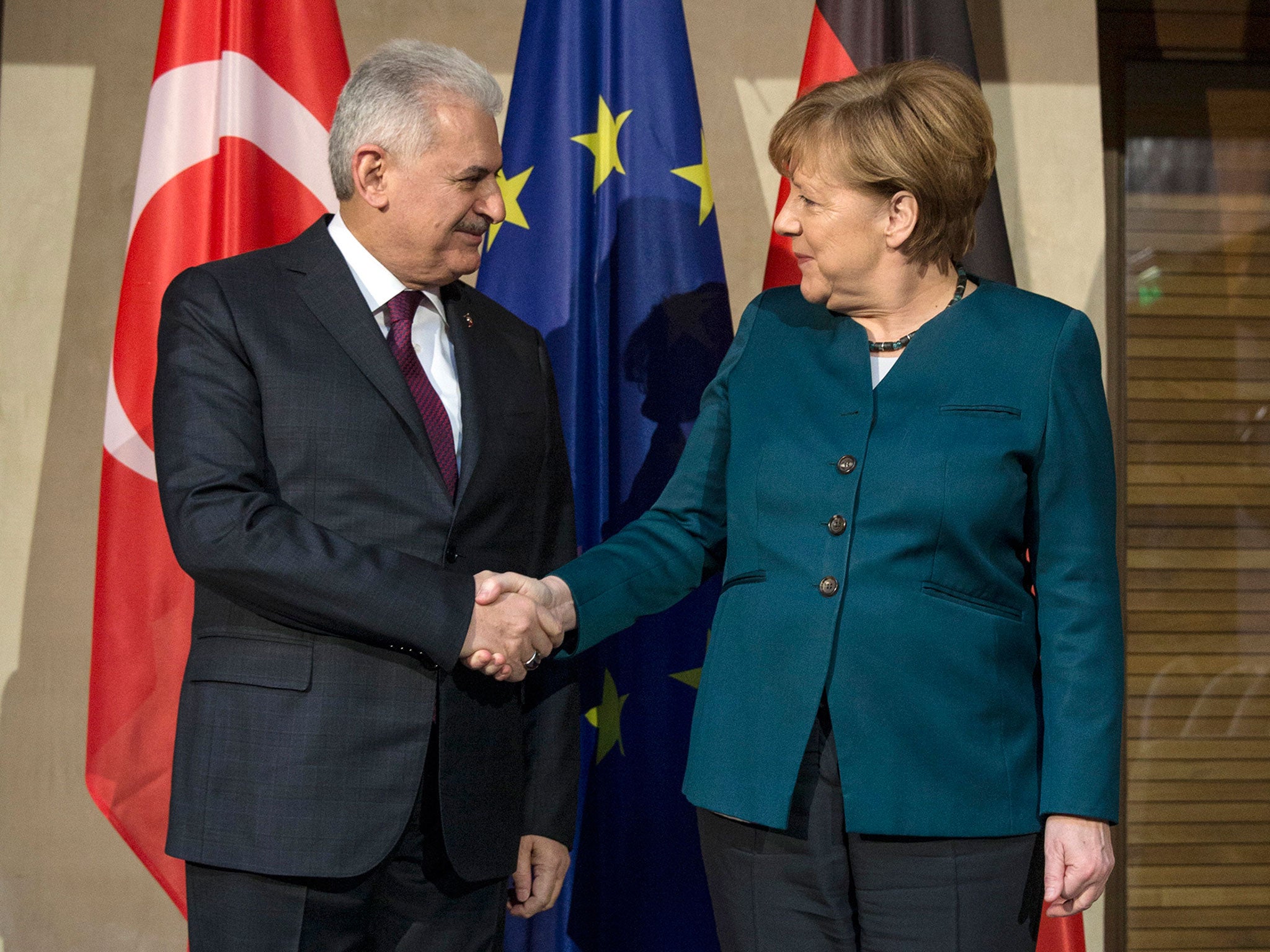 Angela Merkel has called on Turkey to fairly treat a German journalist detained on terror charges amid a continuing wave of crackdowns against journalists and dissidents in the wake of a failed coup.
The Chancellor raised Deniz Yücel's case with Turkish Prime Minister Binali Yildirim on the sidelines of an international conference in Munich, her spokesman said.
"She pointed out the importance of the German Embassy being given unrestricted consular access to Mr Yücel," Steffen Seibert told Reuters.
Turkey's failed coup strains relations with the West
"The Chancellor expressed the federal government's expectation that Deniz Yücel will be treated fairly and in accordance with the law."
The Turkey correspondent for Die Welt has been in custody for five days after reporting on a minister's hacked emails concerning media control and the use of fake Twitter accounts to influence the public in favour of the ruling AKP party.
Mr Yücel has been accused of being a member of a terrorist organisation, spreading "terrorist propaganda" and misusing information for reporting on the cache of almost 58,000 emails dating back 17 years.
Redhack, a Turkish activist group, allowed Wikileaks to publish Berat Albayrak's emails after the Turkish government refused its demands to release imprisoned opposition politicians and activists, and then blocked access to its sites.
Mr Albayrak, a prominent businessman before entering politics, is the Turkish President's son-in-law and was made energy minister just five months after being elected to parliament in 2015.
He has denied alleged links with a company suspected of smuggling Isis oil into Turkey, while the leaked emails include discussions over plans made by Recep Tayyip Erdogan's officials to employ pro-AKP trolls to influence Twitter during mass protests in 2013.
Hacked emails also appear to show Mr Albayrak lobbying to keep one of Turkey's largest media group's under the control of the government or an allied business, rather than returning it to its owners.
Mr Yücel, who holds both German and Turkish citizenship, visited a police station in Istanbul to answer investigators' questions over the hack on Tuesday and was taken into custody.
The 43-year-old's apartment was searched, Die Welt said he was one of at least seven other journalists arrested in connection with the emails, of whom three have been accused of belonging to different "terrorist" groups.
Under expanded powers allowed by Turkey's ongoing state of emergency, he can be held in police custody for up to 14 days without a hearing before a judge.
"Our correspondent Deniz Yücel does excellent work," said the newspaper's editor-in-chief, Ulf Poschardt.
"The Turkish government constantly stresses that Turkey is beholden to the rule of law. Therefore we trust that fair proceedings will prove his innocence."
In pictures: Turkey coup attempt
Show all 17
Germany's foreign ministry said it was doing everything it could to support him, with a statement adding: "We hope the ongoing investigation by Turkish authorities against Mr Yücel respects the rule of law and he is treated fairly, in particular with regard to the press freedom that's guaranteed by the Turkish constitution."
The incident threatened to worsen relations between Germany and Turkey, which have been damaged by ongoing tensions over Ankara's attempt to join the EU and gain visa-free travel in the Schengen zone.
But Mr Erdogan has refused to make required reforms to human rights protections, prompting a European Parliament vote to pause membership talks, and threatened to allow thousands of refugees into Europe by scrapping the EU-Turkey deal.
According to the Committee to Protect Journalists, a press freedom group based in New York, at least 81 journalists were imprisoned in Turkey last year – the biggest number worldwide.
Many of the arrests came after July's coup attempt, which prompted a government crackdown on alleged anti-government activists that included the closure of at least 100 news outlets and mass purges in politics, the military, civil service and judiciary.
Mr Erdogan accuses the Hizmet movement run by US-based cleric Fethullah Gülen of fomenting the coup, although it denies the allegations and American authorities have refused to deport the Turkish preacher.
Critics accuse the Turkish government of using terror allegations and false links to Hizmet in attempts to silence all dissent, with the crackdown prompting warnings from the United Nations.
Join our commenting forum
Join thought-provoking conversations, follow other Independent readers and see their replies