Austria to take Hungary to court if it refuses to take back refugees who cross shared border
Draft emergency measures backed by the Austrian government would allow it to turn migrants away directly at the border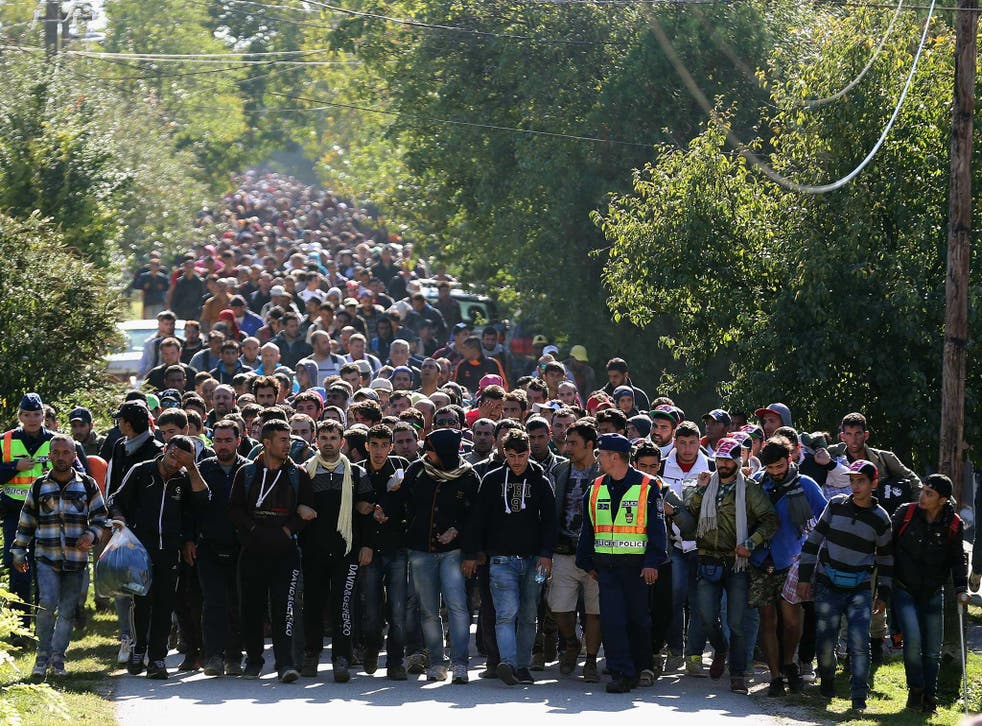 Austria's interior minister has threatened to sue Hungary if it refuses to take back refugees who had crossed their shared border.
And the Austrian government has backed draft measures allowing it to turn migrants away directly at the border after an annual threshold of 37,500 is exceeded.
The UN has criticised the emergency decree, saying it would "break a taboo" by abandoning efforts to protect refugees in Austria.
These steps came after support for the far-right Freedom Party (FPO) surged ahead of the ruling centrist parties in opinion polls.
The FPO's presidential candidate Norbert Hofer is at the helm of a pro-gun, anti-immigrant campaign in the run up to an presidential election re-run on 2 October.
European rules, widely ignored since last year, state refugees must seek asylum in the first EU state in which they set foot.
Aylan Kurdi - A year on, has anything changed
Hundreds of thousands of refugees have travelled from southern European countries to Austria, Germany or Sweden, making it impossible to implement the so-called Dublin agreement.
Countries in central and eastern Europe, including Hungary, have opposed any European attempts to force states to accept returned refugees or introduce a quota regime.
Austria initially welcomed large numbers of refugees from the Middle East and Afghanistan. However, the government started to toughen its asylum rules earlier this year and introduced an annual limit on the number of asylum requests it accepts.
The Hungarian government has previously declared the Dublin agreement finished and in July the Hungarian prime minister called migrants entering Europe "a poison".
When asked about Hungary's refusal to take back refugees, Austrian interior minister Wolfgang Sobotka said: "States or groups of states that permanently break the law have to expect legal consequences.
"In that case, the [Austrian] republic must sue. The republic must see that the European Union acts according to the law, full stop."
The new emergency decree, agreed upon by the governing coalition, said exceeding the asylum limit this year could endanger Austria's security by putting pressure on public services and leading to increased crime.
"Since World War Two, Austria has always adhered to the tradition of protecting refugees. Access to the asylum process has always been a matter of course," UNHCR Austrian director Christoph Pinter said in a statement.
"The planned emergency decree would break a taboo and mean a departure from refugee protection in Austria."
Refugee crisis - in pictures

Show all 27
If Mr Hofer, a former aeronautical engineer, wins the presidential election against former Green Party politician Alexander Van der Bellen, he will become the European Union's first far-right head of state.
Mr Hofer is said to have carried a Glock pistol with him on the campaign trail, declaring the public should arm themselves as a logical reaction to the refugee crisis.
The UK Government has announced it will build a 13ft wall in Calais to block refugees from crossing the channel.
The 13ft high barrier will stretch for one kilometre along the dual carriageway approaching the port and is designed to stop refugees from climbing into lorries and other vehicles.
Register for free to continue reading
Registration is a free and easy way to support our truly independent journalism
By registering, you will also enjoy limited access to Premium articles, exclusive newsletters, commenting, and virtual events with our leading journalists
Already have an account? sign in
Register for free to continue reading
Registration is a free and easy way to support our truly independent journalism
By registering, you will also enjoy limited access to Premium articles, exclusive newsletters, commenting, and virtual events with our leading journalists
Already have an account? sign in
Join our new commenting forum
Join thought-provoking conversations, follow other Independent readers and see their replies