Barcelona attack: Catalan city's Muslim community march against Isis chanting 'Not in my name'
Community rallies following terror attacks amid fear of Islamophobic reprisals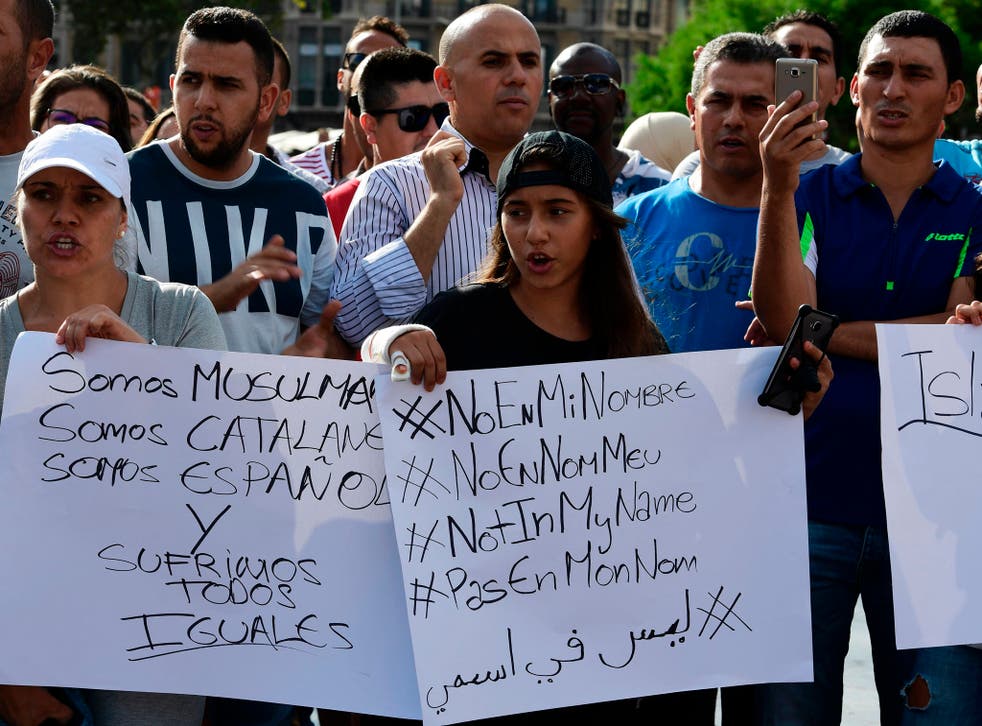 Members of the Muslim community in Barcelona have taken to the streets chanting "not in my name" following the devastating terror attack.
At least 14 people were killed in the twin terror attacks, after a van was driven into the crowd on the busy street of Las Ramblas in central Barcelona and a car rammed into people in the seaside town of Cambrils, killing one, later that evening.
Spanish authorities said the terror cell, made up of 12 members, may have been radicalised by a Moroccan imam who had links with the terrorists behind the attacks in Madrid in 2004 and Belgium in 2016.
Belgian media reported that the suspected ringleader of the attack, Moroccan imam Abdelbaki Es Satty, spent at least three months in Vilvoorde – a Brussels suburb noted for its links to radical Islamism.
The suburb's mayor confirmed Es Satty lived in the city from January to March 2016 – the month that saw Isis' attacks launched in nearby Brussels – but the Belgian immigration minister has claimed he was not registered with authorities.
The attack has lead to fears among the mainstream Muslim community that they will face reprisals and an anti-Islam backlash in the city.
Although the presence of the far-right in Spain remains small compared with other European countries, there has been a 500 per cent increase in the number of reported hate crimes against Muslims, according to campaign group the Citizens' Platform Against Islamophobia.
An editorial in a right-wing newspaper, La Razon, claimed Catalonia was "a nest of radical Salafism" and claimed Qatar businessmen were "funding indoctrination" in the region's mosques.
Barcelona Attack

Show all 30
Meanwhile mosques across Spain are reportedly being targeted by racist graffiti.
One mosque in Seville in the south of the country was dabbed with graffiti which threatened to behead Muslims with machetes and said "Killers you're going to pay".
In a similar incident, another mosque was attacked by flares in a gang in Granada.
The right-wing group thought to be behind the attacks, Hogar Social, has been accused of carrying out the attacks and were reportedly driven away by police officers, the Daily Mail reported.
Join our new commenting forum
Join thought-provoking conversations, follow other Independent readers and see their replies